With how the drone industry keeps growing every year, bringing new partnerships and manufacturers to the table, it's hard to stay informed of all the available products in the market. Choosing the right solution for a use case can be a daunting experience, be it new sensors, software, or the drones themselves. To hopefully minimize that, we're putting up a list of some of the best commercial drones in 2021, including some you might have missed. Note that since this focuses on our verticals and is quite a subjective topic, a drone not listed here doesn't mean it may not be great for your use case.
Enterprise Drones (over $10000)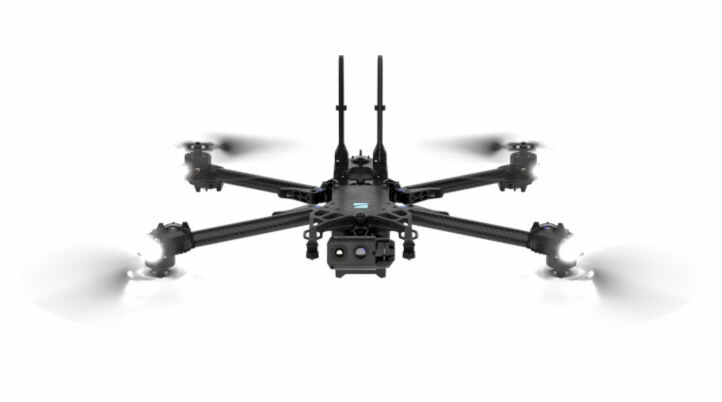 Skydio X2
One of the initial benefits of using Skydio drones in commercial applications is the speed at which pilots get up and running, shortening the time it takes to get scaled drone programs off the ground. Additionally, Skydio's navigation uses AI and computer vision, allowing drones to fly near objects that would typically down or confuse manual drones that rely on GPS navigation and magnetometers. Also, Skydio manufactures its drones in America.
Built for Construction Site Mapping, Situational Awareness, Asset Inspection, Search & Rescue, and more, the NDAA-compliant Skydio X2 features 360° obstacle avoidance, 4K60P HDR color and FLIR 320p thermal sensors, GPS flight and strobe lighting for night operations, 6km (5GHz) or 10km (1.8GHz) wireless range, and 35 minimum flight time. Its small form factor ruggedized airframe with foldable arms makes it an easy drone to transport and set up fast. The entire system goes from packed to airborne in under 75 seconds.
The company recently introduced the Skydio 2+ and Skydio 2+ Enterprise, adding essential battery, range, controller, and autonomy software improvements over the original Skydio 2 (not the X2). For more information, tune in to the "What's New with Skydio: Introducing Skydio 2+" webinar held by Commercial UAV News later this month.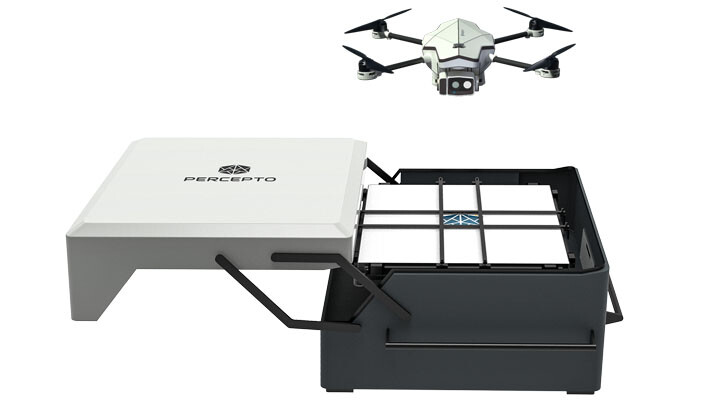 Percepto's Air Drone-in-a-Box solution
Designed for Inspections, Security & Safety, Modeling & Measurement, Emergency Response, and Compliance use cases, Percepto's drone-in-a-box solution, together with Percepto AIM, offer one of the most innovative solutions in the market due to its collaboration with Boston Dynamics' Spot, the four-legged robot.
Equipped with 24MP RGB and radiometric thermal cameras, Percepto's Air Max drone is customizable to suit specific inspection or mapping tasks with multiple lens configurations and OGI for gas-emission detection. According to the company, Air Max is "a field-proven solution that operates in the largest mining, oil & gas, and energy companies on six continents."
On the other hand, Percepto's Air Mobile drone is a more compact, cost-effective, and lighter-weight model designed for linear inspections, such as power lines and pipelines, and to monitor short-term projects across multiple sites. The drone can be easily deployed on a truck bed or moved from site to site, making it ideal for smaller sites or organizations taking their first steps with a drone-in-box program or larger sites that need greater deployment flexibility.
Both drones carry the same software capabilities when integrated into Percepto AIM. They are certified by regulatory authorities worldwide, equipped with an FAA-compliant parachute for increased safety and streamlined BVLOS approvals.
While this is the only drone-in-a-box solution featured in this list, there are countless other options out there, with some of them mentioned in a previous article Commercial UAV News wrote last year.

DJI Matrice 300 RTK paired with Zenmuse P1 and L1
DJI's M300 RTK is one of the company's flagship enterprise drones designed to operate in the most challenging circumstances safely. Offering up to 55 minutes of flight time, advanced AI capabilities, and 6 Directional Sensing & Positioning, the M300 RTK features an anti-collision beacon, object detection up to 98 feet away, an ADS-B receiver (AirSense) that picks up signals from manned aircraft alerting the drone pilot of its location, and more. It can carry up to six pounds and up to three different payloads simultaneously, and the battery can be changed while still providing power without shutting down the drone thanks to its Hot-Swappable Batteries system.
Ready for Public Safety, Inspections, and Construction, the M300 RTK is compatible with a wide array of sensors, including the Zenmuse P1 and L1, the first integrated lidar and photogrammetry drone solutions DJI launched in early 2021. These sensors improve the speed of drone data collection without compromising quality or impacting existing workflows.
The P1 features a 45-megapixel full-frame sensor with interchangeable fixed-focus lenses on a 3-axis stabilized gimbal, offering 3 cm horizontal and 5 cm vertical accuracy without GCPs and covering up to 3 km2 in a single flight. On the other hand, the L1 integrates a Livox Lidar module to generate precise 3D point cloud models, a high-accuracy IMU, and a camera with a 1-inch CMOS on a 3-axis stabilized gimbal, capturing, and generating point clouds in real-time at 240,000 pts/s at a detection range of 450 m (80% reflectivity).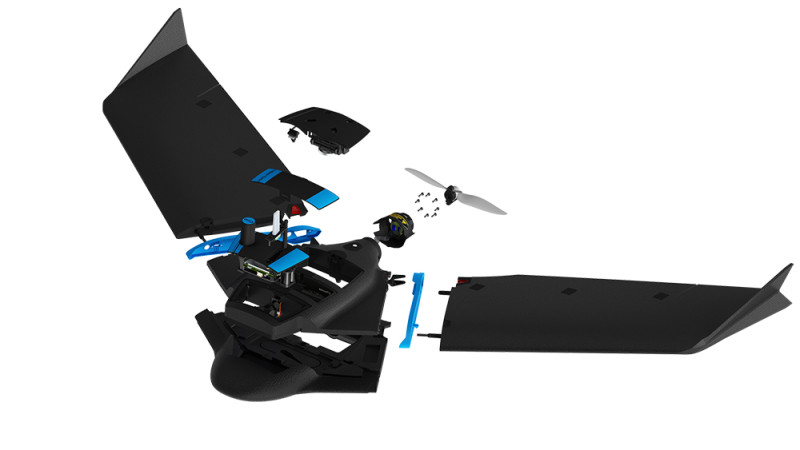 senseFly eBee Geo
Announced in early 2021, the eBee Geo drone allows surveying and GIS professionals to elevate their mapping potential. Offering the same premium-grade features as the eBee X but at a more affordable entry point, the eBee Geo allows surveyors to expand their project capabilities by helping them tackle jobs more safely, faster, and with greater efficiency than using a quadcopter or via terrestrial mapping methods.
With up to 45 minutes flight time, down to 2.5 cm absolute accuracy, and built with a lightweight and durable airframe, the eBee Geo includes senseFly's S.O.D.A. sensor. However, it isn't compatible with any other sensor. According to senseFly, the S.O.D.A. is "the first photogrammetry camera to be built for professional drone use, and captures amazingly sharp aerial images, across light conditions, with which to produce detailed, vivid orthomosaics and ultra-accurate 3D digital surface models". S.O.D.A. use cases include Surveying & cadastre, Topographic mapping, Urban Planning, Water management, Land Management, Environmental Monitoring, Disaster Management, Flood Simulation, and Forestry.
While senseFly launched the eBee Geo drone under Parrot's wing at the time, AgEagle now owns 100% of senseFly after a cash and stock transaction valued at US$23 million in late 2021.
Professional Drones (under $10000)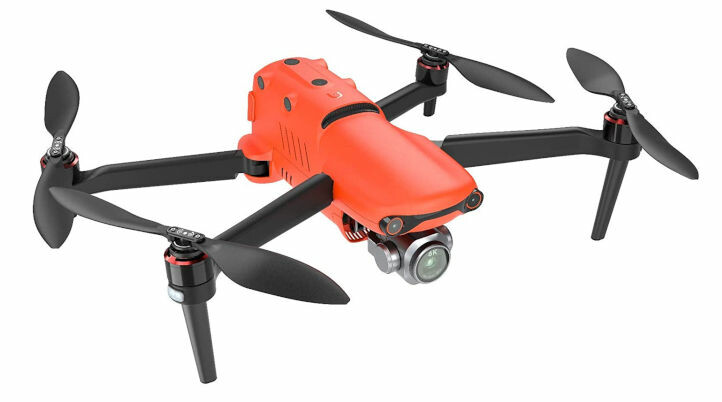 Autel Evo II Series
With 40-minutes of flight time, Autel Robotics' first 6K folding drone, the Autel Evo II, has one of the most extended flight times of any prosumer drone offered on the market. Equipped with 19 sensors — including 12 visual sensors, the primary camera, ultrasound, and dual IMUs — it features Omnidirectional Obstacle Avoidance that can quickly build three-dimensional maps and plan paths through complex terrain in real-time.
A unique feature of the EVO II is changing out the gimbal payload. The payload options vary between an 8K sensor, a 6K Pro Sensor, or a Dual sensor that combines an 8K sensor with a thermal sensor. All three cameras have a maximum bitrate of 120Mbps and a 10-bit color depth.
While not all the drones on the Autel EVO II series target professionals, the consumer versions (original & Pro) are a great package to add to many business workflows. For example, in 2020, Commercial UAV News wrote an article on how selecting the right drone for your Construction business might be challenging and compared the original Autel EVO (not the II version) against Yuneec H520/E90 and DJI Phantom 4 at a construction site. The Autel EVO came out on top, offering the most accurate positioning, the best image quality and color, the fastest deployment, and the ability to fly well in high winds when necessary.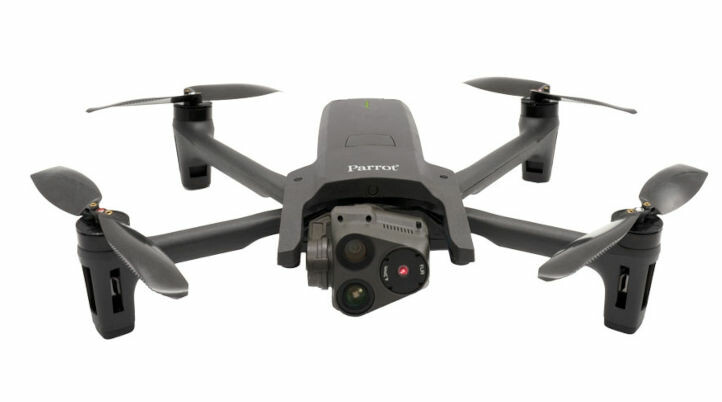 Parrot ANAFI USA
Manufactured in the U.S., Parrot's ANAFI USA offers the same high-end security, durability, and imaging capabilities as Parrot's Short-Range Reconnaissance (SRR) drone designed for the U.S. Army. ANAFI USA's data encryption and privacy features are compliant with the European Union's General Data Protection Regulation (GDPR), delivering best-in-class privacy and security for sensitive missions.
Designed for First Responders and Enterprise professionals, the ANAFI USA is an ultraportable, secure, durable aerial camera platform. It features an industry-first 32x zoom built around two 21-megapixel cameras to capture details from up to 5 km (3.1 mi) away, 4K HDR video, and thermal imaging capabilities.
Built with simplicity in mind, the drone weighs only 500g, flies for 32 minutes, and takes less than 55 seconds to unfold, turn on, establish the secure radio link, and take off. Powered by Parrot's FreeFlight 6 piloting software, enterprise drone users can easily prepare missions and set flight routes by coordinates in assisted framing or executed autonomously. Also, the drone works indoors, without GPS, allowing operators to take off inside a house, pilot the drone through a window to fly outside, and then come back.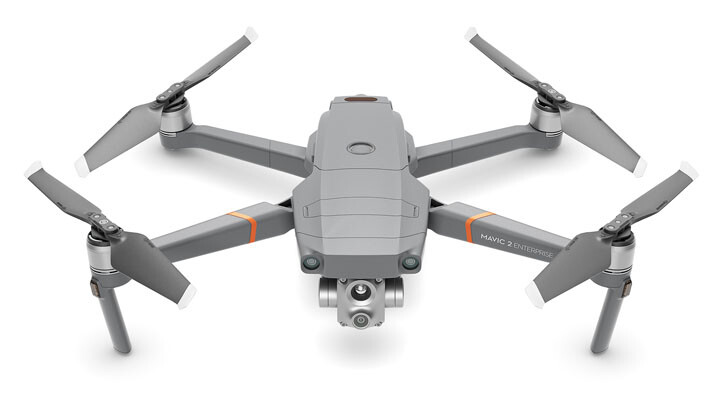 DJI Mavic 2 Enterprise Advanced
Introduced in early 2021, the compact and foldable Mavic 2 Enterprise Advanced (M2EA) offers a maximum flight time of 31 min, a 10 km HD video transmission, and six-way obstacle avoidance. Equipped with a 640x512 thermal camera and a 48MP visual camera, the M2EA supports up to 32× digital zoom and is capable of centimeter-level positioning accuracy with the RTK module. Pilots can switch between visual, thermal, or split-view feeds for different project needs.
Designed to improve workflows for customers using drones for critical and complex operations such as Search & Rescue, Public Safety, and Industrial Inspections, the M2EA allows "inspection professionals to pinpoint defects and anomalies with better detail and perform operations and maintenance more effectively," said Christina Zhang, Senior Director, Corporate Strategy & Communication at DJI.
The M2EA is the upgraded version of the Mavic 2 Enterprise unveiled in 2018. To demonstrate the "art of the possible", DJI used the drone to inspect an airplane at an American Airlines hangar.
Drone Delivery Drones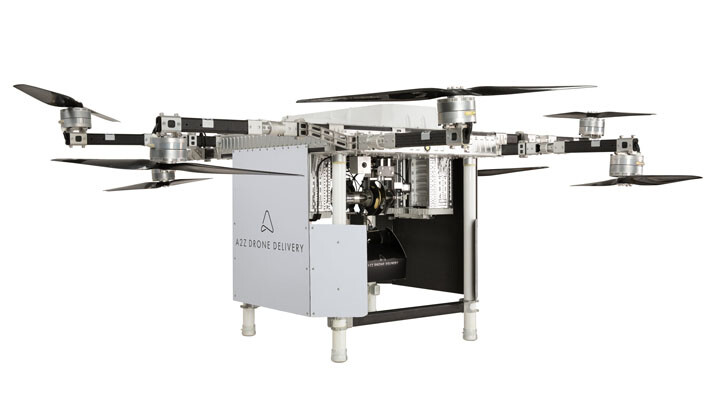 A2Z RDSX
Based on the concept of fishing, A2Z built the RDSX to "fish from the sky" and simplify drone delivery with an integrated system to deliver packages in seconds from high altitude at the push of a button. By integrating its proprietary Rapid Delivery System (RDS1), the RDSX stays high above ground during delivery (150 feet), keeping a maximum safety distance from recipients, reducing noise pollution, and minimizing privacy invasion.
Ideal for a wide range of applications, including shore-to-ship port delivery, life-saving medicine, search-and-rescue professionals quickly deploying equipment to remote areas, or for rapidly collecting samples throughout an expansive mining facility, the RDSX is ready to navigate beyond visual line of sight (BVLOS). It can operate in diverse conditions, including temperatures ranging from -20 to 45 Celsius, in up to 95% humidity, and from elevations up to 4,800 feet.
The unique selling point of the RDSX is its capacity to accommodate dual A2Z Drone Delivery RDS1 tethered freefall delivery devices for multi-package missions or a single tethered configuration to expand range when needed. The drone carries dual payloads, each up to two kilograms, on a round trip of 18 kilometers or 30 kilometers if configured with a single tether.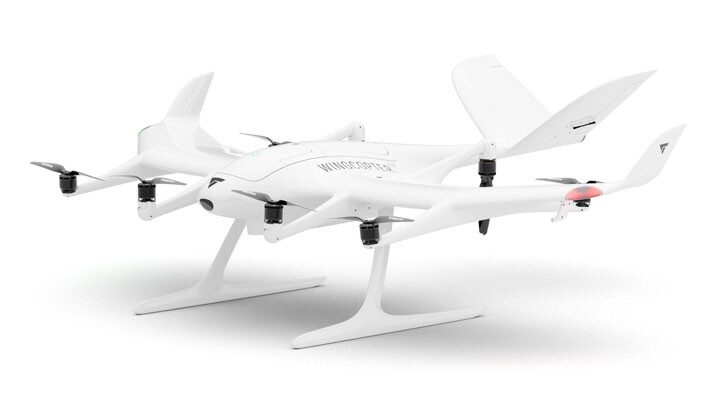 Wingcopter 198
In April 2021, Wingcopter announced the world's first triple-drop delivery drone to power logistical highways in the sky, the Wingcopter 198. As an all-electric, vertical-take-off-and-landing (eVTOL), fixed-wing drone, the Wingcopter 198 was designed from the ground up to meet aviation safety and reliability requirements.
By leveraging Wingcopter's broad experience in aviation innovation, the triple-drop delivery system establishes a new industry standard in drone technology and drone-based logistics. It can carry payloads of 6 kilograms (13 pounds) on one battery charge over 75 kilometers (47 miles), or up to 110 kilometers (68 miles) with less payload, even in challenging weather conditions. Therefore, the Wingcopter 198 is an optimal solution for any delivery fleet addressing the middle or last-mile gap, especially in rural areas or hard-to-reach places such as islands, mountainous regions, or offshore platforms and ships. The aircraft's top speed of 150 km/h (93 mph) enables on-demand express deliveries.
In addition, Wingcopter provides the tools for a single operator to perform a fleet operation of up to 10 Wingcopters simultaneously – that's 30 packages delivered all at once. "The Wingcopter 198 is a game-changer for drone-based deliveries, ready to create logistical highways in the sky. It can be perfectly utilized as a fleet solution in delivery networks to create new opportunities, everywhere", said Tom Plümmer, CEO of Wingcopter.