When the first drone-in-a-box solutions appeared, doors started opening toward automated workflows, including BVLOS flights, where drones could perform missions 24/7 without any human intervention. While the regulatory hurdles can still be a burden on utilizing the full potential of these solutions, there already are quite a few available that enable fully automated missions, conduct on-demand tasks, fly intelligently to collect aerial data, and improve security and visual data even in complex industrial environments.
While most drone-in-a-box solutions provide similar benefits and try to achieve the same goals, companies have different approaches to their development, which, in the end, can be the difference as to why you may choose one over another. Today, we're writing about some of those solutions, focusing on how each differentiates itself and who they are made for.
Skycharge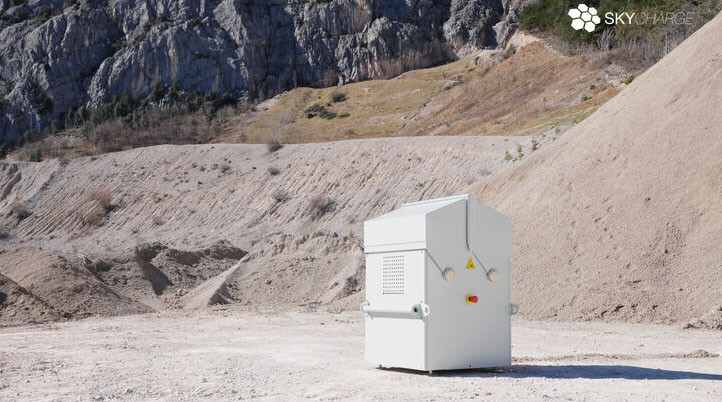 Founded in 2014, Berlin-based Skycharge believes charging pads and "droneports" currently constitute an essential part of an efficient and effective infrastructure to automating drone operations. The company has developed indoor and outdoor charging pads, as well as the recently launched Skyport DP5, a drone-in-a-box solution to keep drones operational without human involvement. Integrated with the BOLOGNINI S1 outdoor charging pad, Skyport DP5 provides all positive aspects of wired as well as wireless charging with a sturdy stainless steel zero-maintenance landing platform and class-leading 500W loss-free charging system.
One of the key differentiators of Skycharge's solution is that, although it features DJI Mavic and Parrot ANAFI support out-of-the-box, it can also be integrated with any custom drone powered by 11-50Vdc. Its installation is as easy as snapping the battery into the drone and installing a charging add-on to one of the legs without affecting the drone warranty. Since you can use any drone (that fits the docking station), and the landing pad area is made of a conductive charging platform, the charging process starts automatically regardless of position, dimension, and orientation of the drone.
Additionally, just like all Skycharge's products, the Skyport DP5 comes integrated with known mission planners including FlytBase's FlytNow, which is ready for Warehouse Management, Security & Surveillance, Infrastructure Inspection, Emergency Response, and Delivery & Fleet Survey.
HEISHA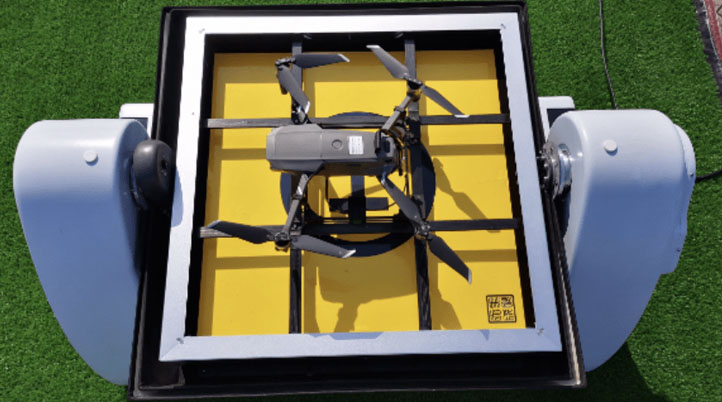 HEISHA Technology, another developer of drone charging pads and docking stations, launched DNEST, its first ready-to-use and fully automatic drone-in-a-box solution, in January 2021.
Equipped with a DJI Mavic 2 Zoom, DNEST's standard version, the D60 (corresponding to a 60x60cm charging pad), features a modular, light weight, and highly integrated design that is easy to maintain and transport. Although advertised as primarily a drone-in-a-box solution for private property security (like power plants, pastures and residential areas), it is also ready for construction and farm surveys, as well as mapping and monitoring.
Freesky, the software used together with DNEST, makes it easy to plan and execute drone operations. Users can set up an electronic fence to make sure the drone only flies within a certain area, preset a flight plan, and then run it automatically, from takeoff to landing, where the drone recharges automatically. If needed, users can take manual control of the drone through a computer's keyboard, which HEISHA claims is as simple as playing a videogame.
As HEISHA writes on its website, having a docking station shared by multiple drones is "an Achilles' heel in the whole industry that many customers have brought up repeatedly". In May 2021, HEISHA finally claimed to have solved this issue with the launch of a newer version of DNEST in partnership with Autel Robotics, enabling it to work with drones using 3S and 4S batteries. All Autel EVO II series drones are compatible, and users can switch freely between DJI- and Autel-compatible drones at any time.
For larger drones, HEISHA offers the D80 and D135 docking stations, which measure 80x80cm and 135x135cm, respectively. With a larger landing dock, the D80 is also compatible with Parrot, Yuneec, and Skydio's drones, while the D135 was designed for the DJI Matrice 300/210 and similar-sized drones. Just like the Autel DNES version, the D80 that can also be shared between DJI Mavic (2, enterprise, and enterprise advance), DJI Phantom 4, and Autel's drones at the same time.
Dronehub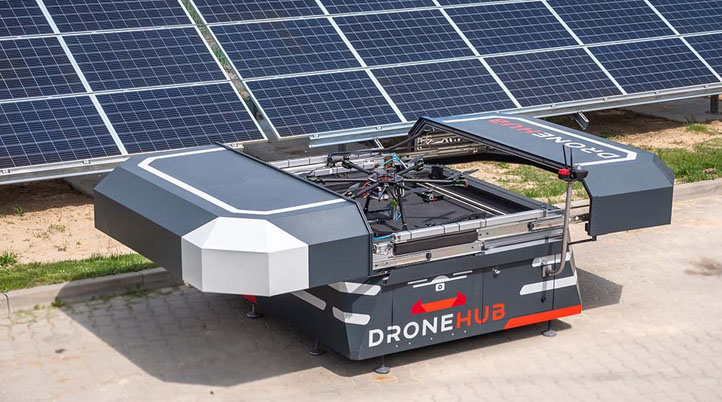 Based in Poland, Dronehub claims to be the only manufacturer in the world that offers monitoring, inspection, a measurement and cargo transport system, and mobile ground infrastructure. The company offers three drone-in-a-box solutions targeting different industries: a Monitoring Hub, a Cargo Hub, and a Mobile Hub. All of them include a fully autonomous drone with a range up to 35 km, wind up to 15 m/s (it can cover 40ha area within 30mins flight), with multiple exchangeable sensors (lidar/radar/FLIR/custom sensors compatible), a payload capability up to 5kg and 15 km range for the Cargo Hub version, and 5G connectivity.
Similar to the previously mentioned solutions, the Monitoring Hub is the typical drone-in-a-box to perform surveys, inspections, and surveillance for the oil & gas, precision agriculture, railway, insurance, and defense & security industries. The way it primarily differs from other solutions is in its battery charging system. According to Dronehub, its solution uses the world's first and only European system for automatic battery replacement in a drone. Unlike other solutions, Dronehub's docking station has multiple batteries stored inside that are replaced in just 2 minutes after a drone landing. The Hub's Battery Management system keeps them at optimum temperature level, significantly extending their lifetime and performance during flight.
Designed as a "post-machine" to quickly deliver parcels from one hub to another, the Cargo Hub is ready for time-sensitive deliveries in the urban environment, such as medicine, and for deliveries that would be difficult to make using traditional vehicles. Featuring an automated drone loading and unloading process, it is a suitable and safer solution for transporting goods, since air delivery helps to avoid signs of loss or damage caused by traditional road transportation, and it enhances the level of security because of fewer conflicts between delivery vehicles and other travel modes.
Finally, the Mobile Hub is a smaller hub that can be deployed ad-hoc at any location when drone services are required. It features an auto-leveling platform (patent-pending) enabling all-terrain usage, including on a boat (for offshore projects), and it also recharges drones without the need for a drone operator. Connected to a remote drone operations center, the Mobile Hub allows operators to remotely complete drone operations.
Percepto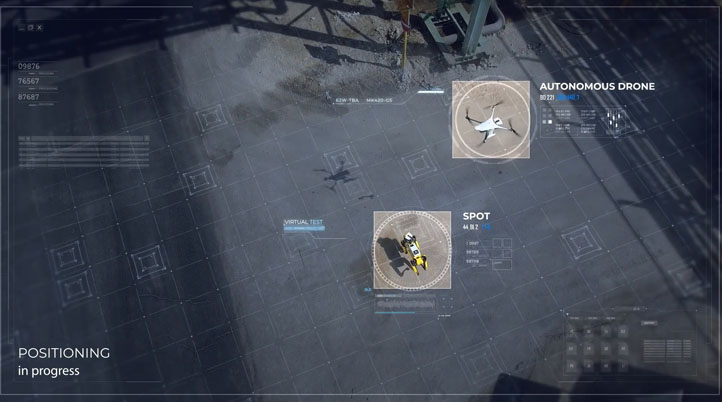 One of the most innovative drone-in-a-box solutions in recent years comes from Percepto in combination with Boston Dynamics' Spot. Together they introduced a commercial hybrid autonomous data-gathering model that is changing the way companies collect and analyze data in real-time.
Percepto's Sparrow autonomous drone solution conducts fully autonomous inspection, security, and emergency response tasks at industrial sites multiple times a day, boosting productivity and minimizing risks and costs. The Sparrow drone can fly in almost any type of weather condition or climate and its box can withstand extreme weather conditions – an advantage over other drones that may be grounded in the same conditions and an essential element for keeping up with scheduled autonomous missions. From Chile to Singapore, Percepto's Sparrow drone-in-a-box solution has already been deployed at the largest mining, oil & gas, utilities, and energy organizations including Verizon, Enel, Florida Power & Light, Delek US, and ICL Dead Sea.
Percepto's AIM (Autonomous Inspection & Monitoring) combines its drone-in-a-box solution with Spot to fully automate inspection and monitoring workflows, allowing companies to detect risks earlier, enhance measurement accuracy, spot trends easily and gain better situational awareness. Designed for construction, mining, oil & gas, utilities, and public safety, Spot is an agile mobile ground robot that can easily walk around, climb stairs, open doors, and more, while carrying up to 14kg of inspection equipment, such as RGB cameras or lidar.
By carrying Percepto's payloads for high-resolution imaging and thermal vision to detect issues including hot spots on machines or electrical conductors, water and steam leaks around plants, and equipment with degraded performance, Spot provides data that Percepto can unify not only with data from Sparrow but also from satellites, CCTV, and phones, "redefining the role of autonomous robotics in large-scale industrial sites". AIM also takes advantage of AI algorithms to automatically choose the right robot for each requested job. Additionally, robots use advanced computer vision capabilities to respond safely and effectively to changing conditions in real-time.
Recently, Percepto launched the first smart home for Spot providing capabilities that enable a full autonomous inspection cycle in outdoor remote environments, dramatically increasing speed of emergency response and protecting workers from hazardous situations.
Easy Aerial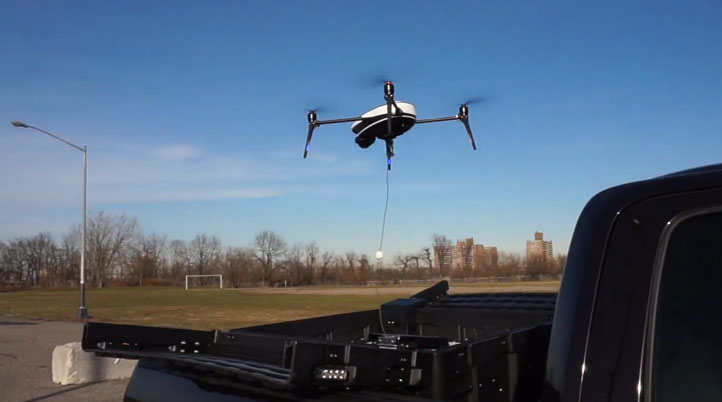 Whether conducting perimeter patrols or securing a border, monitoring a crowd or inspecting critical infrastructure, Easy Aerial's drone-in-a-box offers options tailored to a variety of operational requirements. Available in three configurations - tethered, free-flight (untethered) and the industry's first tethered/free-flight hybrid configuration - Easy Aerial's solution can be automatically deployed and commanded remotely from any location around the world, and can take off and land from a moving platform, such as a ground vehicle or watercraft.
SAMS (Smart Aerial Monitoring Systems), the free-flight solution, is available with either the Falcon or Osprey drone, which are two of Easy Aerial's five drones. The docking station can also recharge drones automatically, taking 35-45 minutes for a full charging cycle, and equips four cameras for 360-degree situational awareness around the deployment site. It also uses the Easy Remote Monitoring System - Easy Aerial's software suite - to command single or multiple drones and their payload sensors from anywhere and at any time through a command center desktop, smartphone, tablet, or proprietary controller.
On the other hand, there's the tethered solution, SAMS-T. By going tethered, Easy Aerial's other three drones - Alpine Swift, Albatross, and Raptor - benefit from unlimited flight time as well as HD video and telemetry transmission through the connected power line (data-over-power technology) avoiding the need for radio transmission. Being tethered also means the drone can fly even in extreme weather conditions and offers precise hovering over the ground station even in GPS-denied environments. The tether solution also supports operations from stationary or moving platforms traveling up to 25 mph.
On top of that, if users select the SAMS-T with the Raptor drone, they'll have access to the tethered/free-flight hybrid configuration. This means that, at any time during a mission, operators, a triggered alarm, or an onboard sensor that identifies a pre-selected object can release the Raptor from the tether – this will deploy a parachute to fall safely - and go into free-flight configuration before returning for a precision landing in the ground station, taking advantage of all the benefits from both configurations. The videos below showcase two use cases for the hybrid configuration.