The terms "industry expert" and "drone visionary" are not ones we use lightly, but both absolutely apply to Sebastian Babiarz, whose insights related to airspace integration and work to foster entirely new drone ecosystems is unrivaled. As an illustration of his status in the industry, he has previously discussed the bridge between the telecommunication industry and drones as well as what it will mean to enable European-wide U-space drone implementation. His efforts and insights are especially relevant to highlight with the news that Babiarz has joined the Dronehub team.
Dronehub, as a drone-in-the-box solution, is focused on making automated solutions that can provide undisturbed drone service 24/7 in nearly any weather condition. Since 2017, when the first Dronehub prototype was created, the organization has been developing solutions for automated drone services in the area of security, monitoring and parcel deliveries. By integrating IBM AI technology, their solutions can operate and automatically provide info with very little human interaction. All of these capabilities line up with the insights and work that Babiarz has championed to showcase how drone technology will create value across multiple industry sectors in the present and future.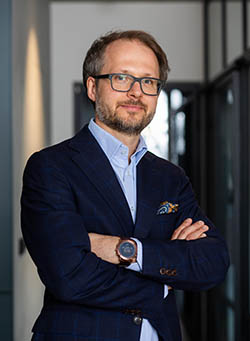 Babiarz has already mentioned what his responsibilities will be and how he's setting goals for himself at Dronehub, but we wanted to learn more. We talked with Babiarz about the lessons he's learned in the drone industry, how the value created in one industry with drones might translate to another, what role human pilots will play in a world of automated drones and much more.
Jeremiah Karpowicz: What have been some of your biggest lessons about the drone industry and UAV technology from your leadership roles in the space over the last five years? How will those lessons impact the next five years in this space?
Sebastian Babiarz: In 2015, there was an overt expectation that by 2020 the drone market would become a billion dollar market, as UTM would allow automation and drone operations at scale. Europe's SESAR and European Commission have been enabling huge funding programs to push R&D and increase market maturity. Many countries have been proceeding with trails and proofs of concepts to show what kind of value drones can create. For all of these reasons, a great deal of effort was invested around the world to make drone services happen, which further fueled these expectations.
Unfortunately, we are not yet to those 2016 projections. There are many reasons for that, but the main is that drones, despite their innovative nature and enormous potential to provide new kinds of services, are still in the development phase. The technology still needs to mature and to become trusted by society at large.
We should also say that business models around drone services is still evolving. Thankfully, it seems that we're coming closer to a sustainable formula. I think that the market visionaries from 2016 underestimated the regulatory process and social acceptance of what was then a very new and unknown technology.
All of that is partially why I'm confident that the next five years will bring acceleration in technology as well as in social acceptance. Both of those developments will provide us with multiple business cases that define the true value of drones to line up closer with those billion-dollar projections.
You've already talked about the tasks you'll be responsible for at Dronehub, but what else can you say about the sort of projects and initiatives you'll be focused on?
Dronehub is growing dynamically. My role as VP of Business development is to create a network of distributors and acquire partners on the EMEA markets – Europe, the Middle East and Africa. These are our priority markets where we want to build a leadership position. We want to be a leading provider of drone-in-a-box solutions for monitoring, measurement, inspection and delivery in industry, as well as to support public services. If needed, I'll also help define the customization of the Dronehub solution to meet any market expectations.
What makes the Dronehub solution distinct or different from some of the other drone-in-a-box solutions that are out there?
Dronehub is the only manufacturer in the world that offers monitoring, an inspection and measurement system, cargo transport system and mobile ground infrastructure. The goal of our systems is to optimize many processes that are performed by a human or even entire teams of employees.
It is also the world's first and only European producer of a docking station with automatic battery replacement in a drone. We have a patented battery swap mechanism which allows us to refly the drone within 2 min. Thanks to this innovative solution, drones can perform missions 24/7 without human intervention. The fully automated mode is powered by Watson AI from IBM, which makes it easy to adjust and configure a workflow as needed.
That partnership with IBM really does make our solution distinct, as the cooperation with this IT giant will allow us to implement new concepts and algorithms that will be used for the further development of our drone systems. This will open up new business and research opportunities for us. The fact that we're working with s company like IBM like this is also a confirmation that the direction of development we have chosen is the right one.
Lastly, what makes us different is how we're working with organizations like the European Space Agency and the European Defense Agency. Dronehub's portfolio also includes partnering with local and international companies such as PKN Orlen, Deutsche Bahn or Hubraum T-mobile.
Do you envision that the difference the technology can make in one industry will correlate or apply to others?
Commercial drones are designed to support industries in a way that is fit for purpose. However, many of the tasks they perform are applicable to various industries. The correlation between them is inevitable.
Activities such as monitoring, measurement, or inspection are the same for many sectors. Drones can perform equal tasks in various industries, but the real game-changer is the data analysis tailored to a particular client environment. This part of the drone services will be customized and will bring different advantages depending on the type of industry.
Do you see that ability to customize the Dronehub solution as being directly applicable to how you'll create value for your customers?

Industrial drones are going to be complex, which makes them expensive, so return on investment will be a very important factor when companies will purchase solutions like the Dronehub system. However, that complexity will also facilitate further business opportunities. The Dronehub system is highly automated which makes it an ideal tool to automatically replace a complicated sensor payload, on demand.
As co-president of GUTMA, what can you say about your upcoming efforts to enable the efficient integration of drones and drone-in-a-box systems into national airspace systems?
Since being created, the Global UTM Association (GUTMA) has been focusing on enabling drone services at scale. We have been building the UTM environment, maturing it and aligning within the global regulatory framework. This work has allowed us to establish UTM in terms of an automated service.
That's partly why this is the exact right time to start building automated drone services, with drone-in-a-box solutions being the perfect fit to define those services. We will support drone operators and original equipment manufacturers to enter a market and build sustainable business models. Doing so is a common interest for GUTMA and for Dronehub.
Those automated drone services are undoubtedly the key to unlocking the true value of the technology, but ultimately, what role do human pilots and operators have in a world of these automated drones?
This is a very important question, and I think that we have already understood that drone operators must be always in charge when drones are on duty. However, they don't have to really fly a drone but are instead monitoring and supervising. We know that this fact will not change for a long time, as regulations and social perception require that involvement. Nonetheless, we must be aware that in the future drones will move towards autonomy to enable the full value of this technology.
The adoption of automated drones is happening slowly but it's worth waiting for. Automation is truly the tipping point, and developing it into drone technology is the next level of digital transformation. We could compare drone automation with self-driving cars that have already been tested. The same is happening now in the drone industry. UAV technology is gaining momentum for automation development. And I'm thrilled to participate in this with the Dronehub team.