Ensuring safe and secure drone traffic management across all of Europe is the primary goal of U-space, and there have already been some major developments around enabling this kind of framework for the entire continent in 2019. The Implementing Act was adopted by the EASA Committee on February 28, 2019 while the Delegated Act was published by the European Commission on March 13. If there are no objections from EU Parliament, it will be deemed adopted after two months. What will this mean for European-wide U-space implementation though?
There are few better people to talk through what such development have and will mean for operators across the continent than
Sebastian Babiarz
, Head Strategic Business Development at AirMap. He's been involved with the U-space integration as part of GUTMA (Global UTM Association) for many years and is committed to enabling an environment that allows drones to provide dedicated services while being seamlessly connected with other devices in the air and on the ground.Sebastian is set to moderate the
SESAR-JU Demonstration Projects
presentations at
Commercial UAV Expo Europe
, where participants from SESAR JU, GOF USPACE, DOMUS and GEOSAFE will showcase how they're helping to ensure Europe is on course with its implementation of U-space. In preparation of that session, we talked with him about the impact of the Implementing Act & Delegated Act, whether U-space is being "switched on" in 2019, what he's most looking forward to at the Expo and much more.To learn more about the SESAR JU Demonstration Projects presentations taking place at Commercial UAV Expo Europe,
click here
.
 Jeremiah Karpowicz: Is the adoption of the Implementing Act & Delegated Act a major event for the drone industry in and of itself, or is it more important to focus on what this adoption will lead to and eventually enable?
Sebastian Babiarz: The Implementing Act and Delegated Act are building a foundation of U-space by regulating U1 capabilities. This is a very important step to move forward with U-space implementation. Both will be published at the Official Journal of the European Union mid-June 2019, and after one year of implementation, all EU Member states have to be ready to comply with it.It is important to focus on what this adoption will lead to eventually, as these rules are the first building blocks for a comprehensive set of regulations that will ensure safe, secure and green drone operations throughout the European Union.As part of the new requirements, drones will have to be individually identifiable, allowing the authorities to trace a particular drone if necessary. Having remote identification in place will drastically reduce the impact of drone-related incursions like the one we saw at Gatwick late last year. 
What do you feel will be some of the biggest opportunities that will be opened up with an appropriate framework for drone regulations that cover the entire continent?
While the Implementing and Delegated Act are just a U-space foundation, they will enable European-wide U-space implementation. We can envision that some countries will do the absolute minimum to comply with the new Regulations, but we are expecting that some of them will take further steps. Switzerland is an example where U1 and U2 will be rolled out in June 2019. 
How does that regulatory framework directly or indirectly impact Europe's regional U-Space initiative that you've been a part of in so many ways over the last few years?
We see a huge need for having European U-space regulations. Many countries are waiting for broader U-space guidelines to understand how they should implement a U-space system in their countries. A good example of that is the creation of a country-level Concept of Operations, where stakeholders will be defined. Without common European U-space regulations, it will lead to local implementations, which might not be interoperable. The European Commission is setting interoperability and a competitive environment as the key objectives for the U-space framework.
 Last time we connected,
you mentioned
the expectation was that U-space would get switched on in 2019. Is that "switching on" something we're experiencing right now?
Indeed, 2019 is a U-space trial and demonstration year. SESAR has enabled VLD projects, which will exhibit how U-space can be enabled today. A very important aspect of these demonstrations is Interoperability, which was a key objective. AirMap is a part of several SJU projects across France, Estonia, Finland, Spain, Netherlands, where together with our partners we will facilitate various drone operations (including cross-border flights, Smart City missions, and Air Taxi services) powered by U-space services.Yes, Swiss U-space has "switched on" airspace authorization in a trial that was
announced in March
.
This coming June 2019, skyguide powered by AirMap is rolling out Swiss nationwide U-space with U1/U2 capabilities, Switzerland is one of the European countries heavily supporting enablement of Drone economy. (
Swiss U-space ConOps
) 
I've been
talking with presenters
from the SESAR-JU Demonstration Projects presentations that you're set to moderate at Commercial UAV Europe, and the
VUTURA project is really exciting
. What kind of a difference will it make if picking a USP becomes a simple and easy process for operators?
The European Commission is heavily advocating for U-space to be a competitive and interoperable environment. VUTURA is a good example of that, where 2 USPs are connecting to serve their customers over the same area. Other projects which I will discuss on my
SESAR panel
are GOF and DOMUS. The first aims to have 3 USPs operating across 2 countries: Finland and Estonia (very challenging). DOMUS has some similarities to VUTURA with the few differences, like 3 USPs.AirMap advocates for a U-space architecture that allows for a marketplace with many USPs to provide services to drone operators and enterprise fleets. This allows for the drone economy to scale in a healthy and competitive way while ensuring access to U-space services for safety and compliance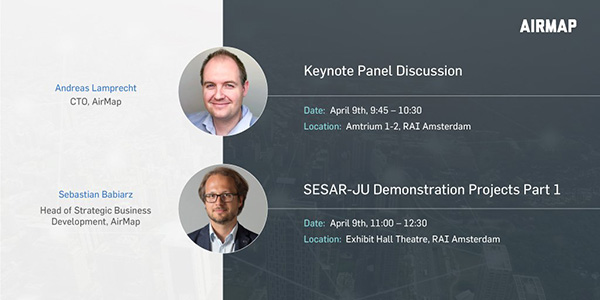 It was also great to hear that the GEOSAFE project is
dedicated to raising awareness
about the power and utility of geofencing. What kind of an impact will such efforts have on a U-space ecosystem that ensures the safe, secure and efficient handling of drone traffic?
Geofencing plays an important role in preventing drones from entering restricted areas, like airports, national parks (These are NFZs in many countries) and other public areas. It is an important extension to the current Implementing Act where a Geo-awareness database must be created in all European countries.We are teaming with our consortium partners to evaluate current market capabilities and validate how the U-space system will be enhanced by adding dynamic/active geofencing features. On my SESAR panel, we will also explore this topic.AirMap has deployed
geofencing alerts
as a first step in using geofencing technology to help prevent airspace conflicts. 
Are there any topics you're especially looking forward to seeing discussed as part of the SESAR-JU Demonstration Projects presentations?
SJU VLD is a great playground to understand how we should build a scalable and sustainable European U-space. This is an excellent exercise to understand how we can make U-space happen. We are in very deep discussions with our partners, very often competitors, to clarify various technical and political aspects. All are leading to more mature implementations. This is what European U-space needs.
 Is there one thing that's important or different about what's happening in the space in 2019 that should compel organizational stakeholders across Europe to look at or consider drone technology for commercial purposes in a way they might not have in the past?
We're starting to see a lot more drone-related incidents and conflicts in the airspace. This is likely due to the growing number of drones related to commercial use cases, which are contributing value to society. Organizational stakeholders should feel compelled to take notice and act now in implementing the right airspace management infrastructure to integrate drones safely into the airspace system with UTM. 
To learn more about the SESAR-JU Demonstration Projects presentations taking place at
Commercial UAV Expo Europe
,
click here
.