In stealth mode since 2015, Easy Aerial is a drone company developing a line of autonomous free-flight and tethered drone-in-a-box systems for perimeter security, border patrol, overwatch, agriculture, and industrial applications. With customers in the military, government, public safety, and private sectors, the company recently announced it has successfully raised $6.15M in Series A funding, which will help to meet growing commercial, government, and military demand in both the United States and internationally, as well as adding new sales and support offices in Israel.
With an initial vision to protect and save lives through autonomous UAV solutions, Easy Aerial's mission has expanded to protect assets and infrastructure, and to provide situational awareness to emergency personnel along with crowd and security management. The company's line of Smart Aerial Monitoring Systems (SAMS) offers a mobile, durable, and fully autonomous unmanned aerial monitoring solution for various applications at an affordable cost.
Included in Easy Aerial's SAMS is: the Falcon Drone, a lightweight and durable drone that can carry various payloads and fly up to 45 minutes; Easy Guard, a mobile, durable, and self-sustaining ground station that charges the Falcon Drone and provides comprehensive weather protection; and Easy RMS, a proprietary fleet manager and communication software that delivers both scheduled and on-demand missions, and provides live HD video as well as monitoring data in real-time.
Additionally, Easy Aerial offers a tethered SAMS (SAMS-T) to allow the drone to stay in the air for unlimited flight time while transmitting HD video and telemetry through the connected power line (data-over-power technology) avoiding the need for radio transmission.
Earlier this month, the US Air Force AFWERX Fusion challenge for the base of the future has selected Easy Aerial as a finalist of the top 92 participating teams. To that end, Easy Aerial developed an autonomous system for rapid maintenance and inspection of large aircraft featuring a tethered drone attached to a self-directed wheeled base station, which slowly moves in an oval pattern around the aircraft, taking high-resolution images and video from all angles. Images are available in real-time to the maintenance team and authorized personnel, and are securely stored and compared over time, identifying material changes. Similarly to Mainblades, not only does the system dramatically shorten the time necessary for routine and emergency maintenance inspections by eliminating the need for special large hangars or scaffolding, but personnel will also not be put at risk by remaining on the ground during the completion of the inspection.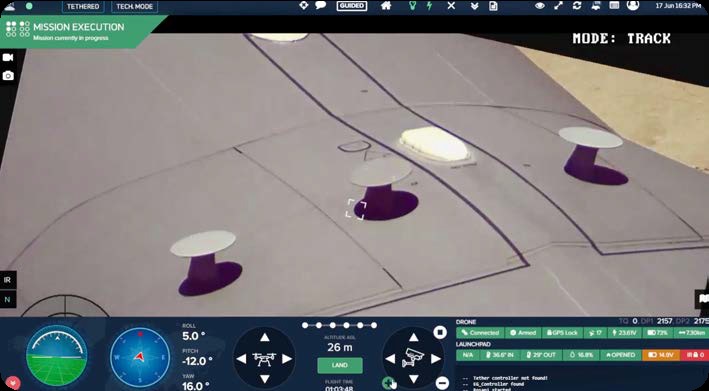 Commercial UAV News connected with Ido Gur, Co-Founder, and CEO of Easy Aerial, to understand what led to the creation of Easy Aerial, how the company's solution makes a difference, and what the future holds for it.
Commercial UAV News: How did Easy Aerial come to life?
Ido Gur: Throughout my Military career, I have seen technological advancements that have changed the paradigm in virtually every aspect of military operations. Despite many centuries of performing the identical task, perimeter security continues to require boots on the ground to visually inspect the boundary of a protected area. All too often a perimeter is breached, and the delayed response occurs only after the infiltrators have achieved their nefarious mission. Having served as the Director of the Advanced Drone Technology Group of the Israeli Air Force, it was apparent to me that a completely autonomous drone-in-a-box solution would result in a disruptive technology which would provide constant and on-demand extensive situational awareness from a bird's eye view, and would revolutionize the performance and success of a wide variety of intelligence, surveillance, and reconnaissance missions.
What are the advantages over other similar solutions already available in the market?
There are several well-designed solutions currently available in the market. Easy Aerial identified several key strategic performance criteria, which have resulted in the rapid adoption of our technology across a wide variety of military, governmental and industrial applications. Some of the key criteria include a rugged, completely autonomous, remotely deployable, and affordable solution where the entire system can be rapidly and easily transported between locations. The platform allows for rapid integration with various manned and unmanned ground systems in addition to virtually all sensors and C2 systems. Easy Aerial's platform incorporates universal modular systems approach for all of our products to maximize modularity and interoperability, providing for capability growth as the technology advances with time, reducing the cost of an already affordable system.
Since it is all automated, how complicated is it to build a drone-in-a-box solution when it comes to laws and regulations? For example, in terms of certification, how do BVLOS flights work with Easy Aerial? Is it easier to get approval for these kinds of flights?
In order to commercially fly a drone in the United States, the FAA mandates the operator pass the Part 107 drone license exam. Easy Aerial's customers - military, police, first responder, as well as other state and federal organizations, have exemptions and are able to utilize the BVLOS operational capabilities of the system. Easy Aerial has applied for an FAA Type Certificate, and once that is received, we are hopeful this will enable our commercial customers to take advantage of all of the embedded features of our solution.
Is there a real use case you could share that shows how Easy Aerial makes jobs easier and more efficient over other methods?
While we can't discuss specific use cases with our government and military customers, I can share that a US military organization is deploying our systems for base perimeter security. This is traditionally a tedious and routine job for personnel as they have to continually patrol the perimeter line day and night, rain or shine. And when a breach is detected by a fence alarm or motion sensor, valuable minutes are lost while the patrol transits to the location. By then the infiltrators will have breached the perimeter, or more often, they discover a false alarm, usually triggered by an animal. With our autonomous tethered and free flight solutions, perimeters are continually monitored from the comfort of a central command center displaying a bird's eye view of the perimeter area, and when an alarm is triggered, the drone can arrive on the scene within a few short minutes to provide immediate situational awareness and threat assessment.
Another example is a deployment with a Miami police department during Super Bowl 2020 to provide overwatch security during events leading up to the game. Our tethered systems acted as force multipliers by providing continual video streams to a central command center that was able to detect incidents and rapidly deploy officers to intervene or provide assistance.
Was the decision to design and manufacture in the United States something that just happened right from the start, or was it influenced by the recent bans on foreign technology? Have you seen a growth in interest because of this?
We started in 2014, and always intended to be an NYC based company, designing, developing, and manufacturing in our Brooklyn headquarters. We invest in our community by hiring local talent, military veterans, and supporting the area's aeronautical engineering schools.
Although we have experienced an increased interest in our systems since the ban on foreign-made products, demand and sales have steadily increased as we became better known within the industries and organizations we serve.
What's next for Easy Aerial?
We are working on several innovative new systems, including an automated solution to inspect large aircraft which will reduce inspection times tenfold while dramatically increasing personnel safety [mentioned above]. We are also developing a new hybrid system that will be announced in the coming weeks, so stay tuned for that.
What would you say to someone who's looking into your solution but isn't sure it is the right choice?
Our systems are modular and fully customizable for a myriad of applications. Give us a call - we are completely transparent and can answer any questions. We can also put you in touch with some of our customers. We feel our technology and solutions speak for themselves.