ANAFI USA, Parrot's latest commercial drone, came to life after the Defense Innovation Unit (DIU), a US Department of Defense (DoD) organization, contacted Parrot while looking to build a reconnaissance drone for the military from consumer and commercial drones. As a result, ANAFI USA is manufactured in the US, offering the same high-end security, durability, and imaging capabilities as Parrot's Short-Range Reconnaissance (SRR) drone designed for the US Army.
"The strategy content [which includes the CPU, the sensors, and the software] is American, or European, or Japanese," Henri Seydoux, founder and CEO at Parrot, said. "Some of the non-strategy content (plastic and metallic parts) comes from China."
Primarily designed for first responders, firefighters, search-and-rescue teams, security agencies, and surveying and inspection professionals, ANAFI USA's data encryption and privacy features are compliant with the European Union's General Data Protection Regulation (GDPR), meaning the drone does not share data by default without the consent of the user. Additionally, it offers the following security features:
SD encryption to ensure complete protection of photos and videos if the drone or the SD card is lost,
A secure WPA2 Wi-Fi connection to authenticate and encrypt the link between the remote controller and ANAFI USA,
Signed firmware to prevent any malicious modification of the drone software,
Usage of trusted standards and open protocols (such as Wi-Fi, WPA2, RTP/RTSP, H.264, and GUTMA) to ensure the utmost interoperability and security for all recorded data.
"In today's computing, when you use your computer at your office or even for your own purpose, you don't want to have your data leaking to unknown servers. This is a very important issue," Seydoux commented. "We believe our customers deserve a drone they can trust."
Equipped with two 21MP sensors, Parrot's drone features 4K HDR video, and a 32x zoom to allow operators to see details clearly from up to 5 km (3.1 mi) away. Combined with the included FLIR Boson thermal camera, operators can detect and zoom into hot spots from farther away. Also, the drone can withstand heavy rain, dusty environments, and ensures high-quality footage even at 15 m/s wind conditions.
Parrot's dedication to supporting first responders goes beyond building a secure, rugged, and US-manufactured drone; in a recent press release, they announced a partnership with the Airborne International Response Team (AIRT) and DRONERESPONDERS, which will include donations of their latest drone technology, as well as financial support for the 501(c)3 non-profit organization.
"Our partnership with AIRT and DRONERESPONDERS allows Parrot to collaborate directly with first responders using drone technology to make a positive impact within their communities," said Chris Roberts, Chief Sales and Marketing Officer for Parrot. "We are excited to get the ANAFI USA deployed into real-world response missions to help save lives and property."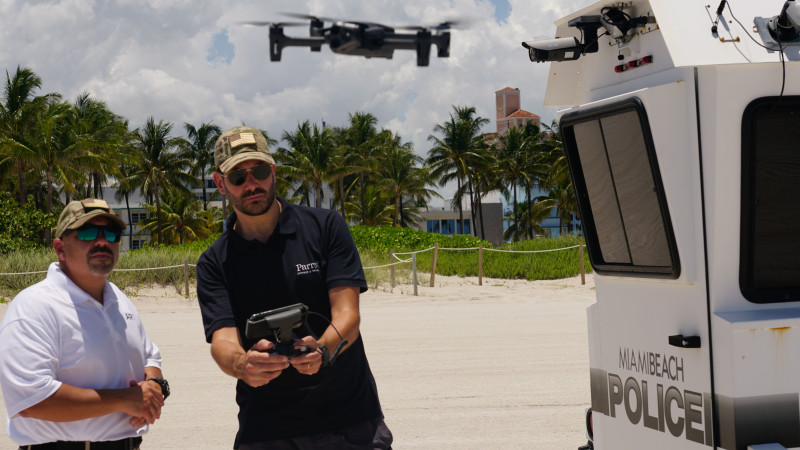 Built with simplicity in mind, the ANAFI USA weighs only 500g, flies for 32 minutes, and takes less than 55 seconds to unfold, turn on, establish the secure radio link, and take off. Powered by Parrot's FreeFlight 6 piloting software, enterprise drone users can easily prepare missions and set flight routes by coordinates in assisted framing or executed autonomously. Also, the drone works indoors, without GPS, allowing operators to take off inside a house, pilot the drone through a window to fly outside, and then come back.
"We want a drone that a kid takes from the box, loads an app into his iPhone, presses takeoff, and will be able to fly it without knowing anything about piloting or helicopters," Seydoux mentioned. "It should be as easy as a videogame, and we tried to do the same in real life."
Another way Parrot is making ANAFI USA a reference platform for professional use is through its software ecosystem. ANAFI USA is compatible with the Pix4Dreact mapping software and supports professional applications and services, such as Survae, DroneLogbook, Kittyhawk, DroneSense, Planck AeroSystems, and Skyward, A Verizon company.
"The first thing we did years ago was to provide an SDK for developers," Seydoux added. "Developers are companies, but also students in universities studying robotics, engineering that have made their projects with a Parrot drone. Also, we have dozens of companies that provide software with drones. The software ecosystem of the drone becomes larger and larger every year."
Available in August 2020, Parrot's newest drone will be sold by Parrot Drone Enterprise Partners (Drone Nerds, RMUS, and leading Enterprise Drone Resellers) at a cost of $7,000. For more information visit the company's website.