When DJI announced the Phantom 4 RTK at the European Drone Summit, I wondered why they didn't just wait and make that happen at AirWorks, which would be taking place just about two weeks later. Now that AirWorks is here, I have my answer: DJI didn't want anything to steal the spotlight from the launch of the Mavic 2 Enterprise.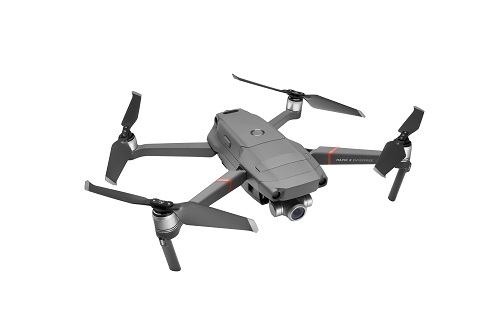 Confirming
many of the rumors
that had been floating around for the last few weeks and months, Mavic 2 Enterprise was finally unveiled and features numerous capabilities that were both expected and unexpected. While the zoom imaging, modular accessories, heightened security features and airspace protection were all elements that were expected, the array of advanced controls and accessories are set to open up new applications and opportunities. The ultra-compact and foldable design will help extend users' capabilities during critical operations like firefighting, emergency response, law enforcement, and infrastructure inspections.The unveiling of the DJI Mavic 2 is a big deal for many reasons, the least of which being that certain organizations that have been considering whether or not they want to experiment with the technology now have a tool that makes doing so easier than ever. Designed to be the most compact, powerful, reliable and safe tool to help professionals integrate drones into their operations, the DJI Mavic 2 has enhanced data security features and the ability to improve pilots' situational awareness. These professional features when coupled with the ease-of-use of the Mavic make the product a fit for anyone that wants to experiment with or simplify where and how drones are being utilized in the workplace.The Mavic 2 Enterprise accessories include:
M2E Spotlight – A dual spotlight with a brightness of 2,400 lumens aids operators in carrying out missions in dark or low-light areas. Spotlight is ideal for search and rescue as well as inspection applications.
M2E Speaker – A loudspeaker with a maximum projection of 100 decibels (1-meter distance) lets pilots play up to 10 custom voice recordings on demand, providing a communications channel to nearby individuals that can be critical during lifesaving emergency operations.
M2E Beacon – Designed to meet U.S. Federal Aviation Administration (FAA) Night Waiver standards, the M2E Beacon features a bright flashing strobe visible up to three miles away. This helps pilots carry out missions in low-light conditions or at night much more safely, and provides additional airspace awareness for operators of nearby drones and traditional aircraft.
The US retail price of a Mavic 2 Enterprise Universal Edition which includes an aircraft, a remote controller, one battery, all three mountable accessories and a protector case with flight tools, is $1,999 USD. A Fly More Kit which includes two batteries, one battery charging hub, one car charger, one USB connector, one soft case and two propellers is also available to users for $419 USD.Starting today, Mavic 2 Enterprise is available for purchase through authorized DJI Enterprise resellers worldwide. For more information on all the new features and capabilities of the Mavic 2 Enterprise, please visit
www.dji.com/mavic-2-enterprise
.