Commercial UAV News has often talked about how photogrammetry drones are disrupting the surveying and mapping industries. This cost-effective option has helped numerous businesses take advantage of the technology in innovative ways from building accurate orthomosaic 2D and 3D maps and models to obtaining stockpile reports and conducting change detection.
There are only a handful of drones specifically designed for photogrammetry, however, and because this is still a nascent field, they haven't always been able to completely address the needs of the industry. In most cases, to leverage this technology businesses have had to either build their photogrammetry drone solutions from multiple suppliers, get a costly custom-built option, or settle for drones in which photogrammetry was only one of the many functions for which it was used. This has been sufficient for most cases today, but the industry remains relatively small. In order to grow, there is clearly a need for innovation to enable large-scale adoption. Companies like DJI have been looking at ways to offer the industry these innovative solutions. With their most recent announcement of the release of a fully integrated photogrammetry solution, the Zenmuse P1, we are starting to see a transition toward purpose-built photogrammetry drones.
Some of the notable features of the P1 include a 45-megapixel full-frame low-noise high-sensitivity sensor with interchangeable 24/35/50mm fixed-focus lenses, up to 3 cm horizontal and 5 cm vertical accuracy, three-axis stabilized gimbal, quick shutter speed (taking a photo every 0.7 seconds), Smart Oblique Capture in which "P1's gimbal rotates and captures five different images from five different angles while flying along its set flight path", TimeSync 2.0 for synchronization at the microsecond level, and seamless DJI terra integration for easy post-processing. All of these features mean that the Zenmuse P1 is noticeably upgraded from DJI's previous photogrammetry systems, which is something that did not go unnoticed by Shannon Hixon, CEO of Hixon Manufacturing and Supply Company, when he was asked to put the P1 to the test.
Hixon Mfg. & Supply Co. has been supplying the surveying and engineering industries with equipment, training, and customer support for surveying, mapping, and GIS since 1985. Because they service geospatial professionals, their customers are not as familiar with drones and see them only as another tool to collect photogrammetry data. This means they are usually uninterested in building a system from pieces and parts from several different manufacturers, which can require specialized hardware or firmware for integration. They want a photogrammetry drone that is more or less ready to go out of the box, so Hixon specializes in and prioritizes finding the best out of the box solutions for their customers.
Before testing out the DJI P1, Hixon was doing a lot with fixed wing drones like the eBee Plus drone from senseFly—which specializes in surveying and mapping—as well as with other drones from the DJI line, like the Phantom 4 RTK (P4). These drones have been staples in the surveying and mapping industry, but there were some drawbacks that the new DJI P1 was able to solve, especially in terms of speed and performance.
"Phantom 4 RTK and drones like these are great because it's all in one box, ready to go," explained Hixon. "The RTK units work really well, they are straightforward and the same between them all. But the reason we really like the P1 for horizontal mapping is that the speed that the camera can actually record at doesn't limit the speed of the drone. It can write at less than a second per photo. Essentially, the P1 allows us to record massive amounts of quality data in one flight, more so than all of our other drones. It is a great camera that takes great looking pictures, but the speed we can fly the whole system at is amazing."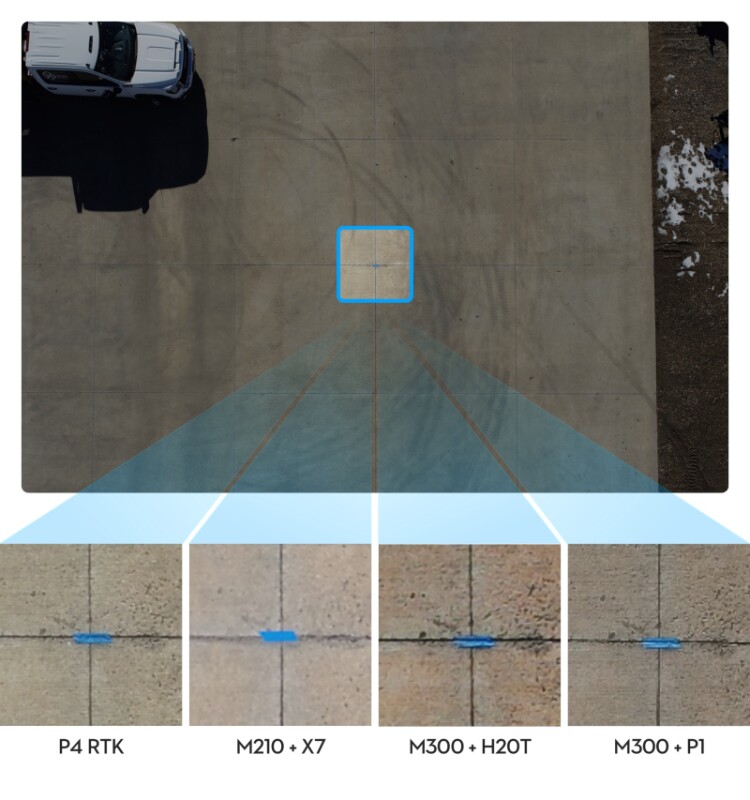 The speed at which a drone can fly and still record highly accurate data is an important feature; with the P1's ability to capture one photo every 0.7 seconds, you can capture the pictures you need without having to slow your drone down to do it. And because the P1 is integrated with DJI's M300 you are also getting longer flight times.
"The battery life of the M300 is 48 to 50 minutes for me, while the P4 was closer to 20 minutes," Hixon pointed out. "So, the collection times are huge, it is getting close to fixed wing speeds and flight times, which is a big deal since the M300's vertical take-off and landing solves a major issue inherent with fixed wing drones."
By extending flight times, speed, and the quantity of data collected, surveying and mapping professionals can cover larger areas before needing to change batteries, getting the job done faster, and potentially cheaper, without compromising on quality.
In addition, what Hixon found was that the photos were useable directly from the camera in almost every major mapping processing software they offered, making it easy to integrate into existing workflows.
"All the big names, like Pix4D, DroneDeploy, DJI Terra, and so on, could take the RTK information right away," he said. "It was all embedded correctly in the exit information, so it dropped seamlessly into the same exact workflow without making any changes. It is really nice to be able to move up that much in scale and not have to change your workflow."
Whenever a company is considering adopting new technology, the question is always about weighing the advantages with the potential drawbacks. How much it will cost and how long it will take to get up and running are major factors in whether a company will upgrade or not. Being able to do this at an affordable price, while still fitting into existing workflows is a key ingredient for adoption.
A seamless experience, high-quality output, and ease of use is something that DJI users have come to appreciate and expect, and, with its accessible price point, DJI's integrated photogrammetry drone solution is set to disrupt the survey and mapping industries in a big way.
To find out more about the Zenmuse P1 visit their website here.