Every business case worth its salt boils down to one key element: market size. The difference between a product that has potential buyers in the millions is much different than one that has potential buyers in the billions, and the funding for both can directly relate to that potential. "Billions" is a number that has been tossed around with unmanned aerial vehicles (UAV), and that's part of the reason the funding for this technology has been so robust. However, issues like regulation, competition, geography and much more all factor into the equation when determining that all-important market size. That's certainly been the case for drones, and it's why business market and analysis firms are dividing the world in a very different way when it comes to the issue of UAV business and market size and potential.
Talk about the size and potential of the United States (U.S.) market has been overblown for years now, but we're finally seeing more sensible estimates and predictions about the market size of this region. That's in stark contrast to the European market, where estimates related to the potential impact of drone technology have been far more conservative. At a surface level, this doesn't make a tremendous amount of sense, seeing as how the European Union economy expanded 1.4 percent year-over-year in the second quarter of 2019 alone, while the combined market share of the various nations in Europe is comparable to any other region besides the U.S. What's the reason for that discrepancy? It's mostly due to regulation.
It's convenient to think of "Europe" as a single homogenous marketplace, but in reality, not only is it a collection of country-specific markets but also country-specific regulations related to drone technology. That created complications and hesitation around commercial drone adoption, but all of that has changed with the publication of common drone rules for all of Europe. The rules will, amongst other things, help to protect the safety and the privacy of EU citizens while also enabling the free circulation of UAVs or UAS' and a level regulating playing field within the European Union. Experts have noted that this harmonization is absolutely critical for the development of the European industry.
Additionally, Europe has launched a very aggressive campaign to make sure the continent is first when it comes to the mainstream use of drones over their skies. Their U-Space initiative is aimed directly at implementing an air traffic control (ATC) system that welcomes and manages drones. In other words, it's the perfect addition of the isolated unmanned traffic management (UTM) system to an environment that also recognizes manned aircraft as part of the ecosystem. These developments are indicative of the fact that the continent is finally moving past the complicated jurisdictions that previously slowed development with drone technology. Manufacturers and regulators are finally working together to spearhead the effort to integrate unmanned aerial aircraft into their existing air traffic management faster than most other cohesive geographical markets.
What are the ramifications of this development? Simply put, the size of the opportunity is enormous in terms of efficiencies and profit but also in terms of being first to market and leading the charge. Out of the top 20 drone service providers in the world, numerous are based in Europe, with their respective market shares and sales figures showing considerable increases over the previous year. These companies have made the technology make sense under restrictive regulatory conditions, which means that value is only going to increase further as regulation eases and is simplified. These numbers are from the Drone Industry Insights team, who also issued a comprehensive report in which they treat the market size according to geography.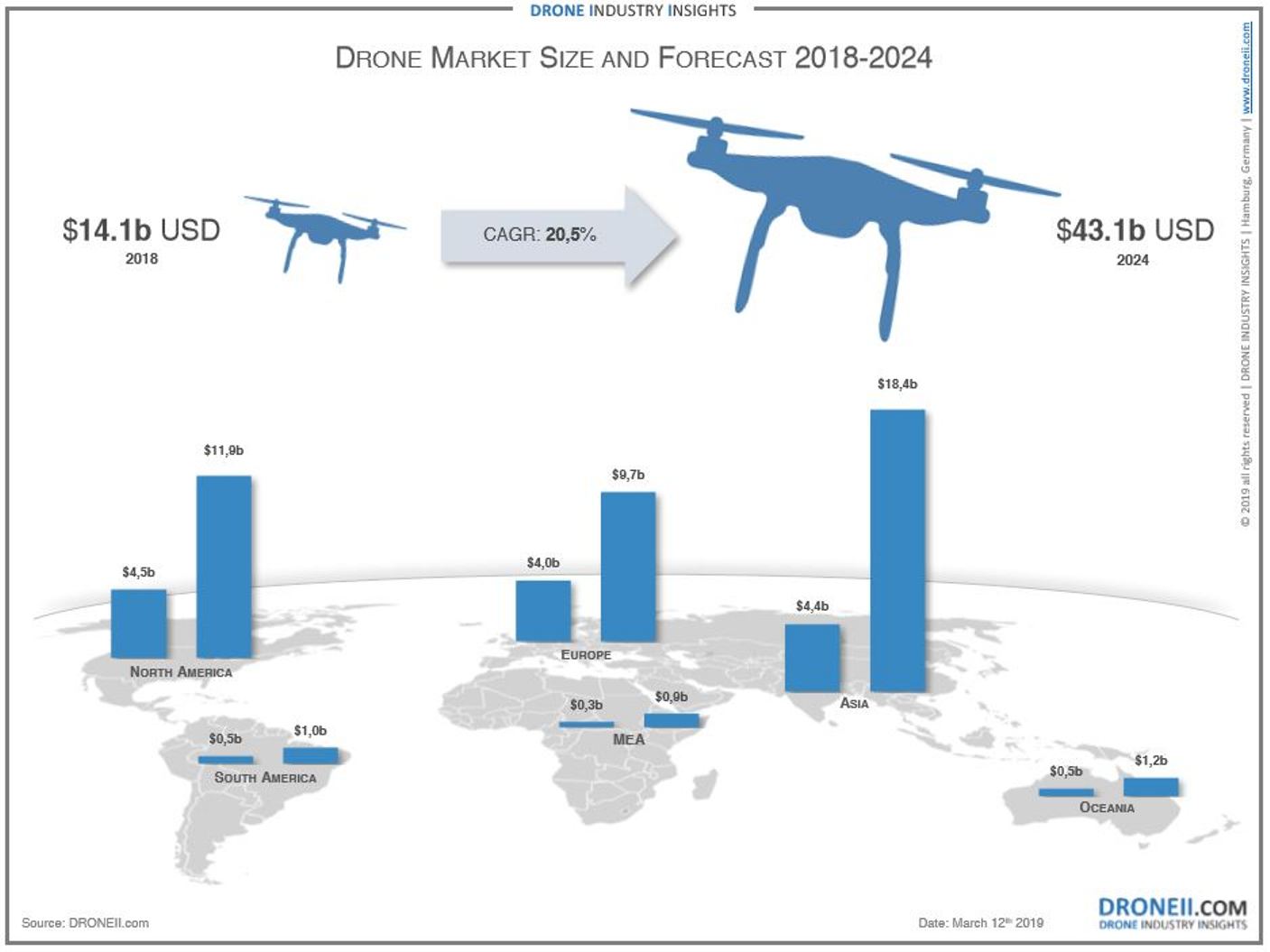 Their report forecasts the global drone market for the period 2019-2024, broken down by segment, industry, application method, region, and country. The figures, based on the DRONEII bottom-up market model, is aimed at providing investors with short and long-term strategic business decisions
But how big is the overall market? According to Tractica, a market intelligence and research firm based in Colorado, the revenue from commercial drones in Europe in 2015 was USD $99.53 million. That revenue is driving the growth they foresee in revenue from 2016 to 2025. Their report forecasts USD $251M in revenues for 2020, USD $1.2B for 2022, and USD $3B for 2025. Reports from other organizations highlight similar growth, as the innovative UTM company Involi prepared a report that said the European drone market was valued at €197 million in 2017 and is forecast to reach as much as €3.9 billion by 2039. France, Germany and the UK represent 57% of the 2017 market due to the size of their economies, their regulatory structure and the rapid adoption of technology. Some of the opportunities are centered on specific applications of drone technology though.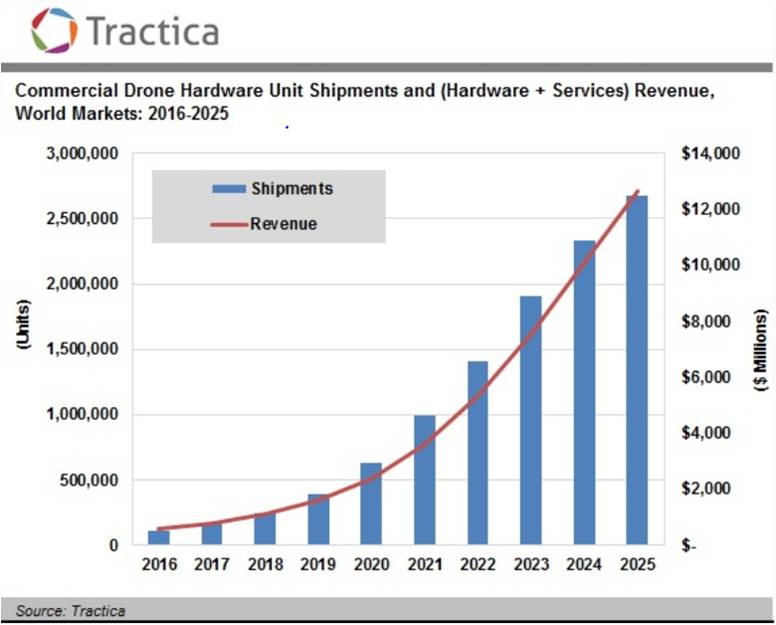 The largest drone applications expected to see increases are environmental mapping, monitoring and impact assessment which will account for €1.7 billion of spending by 2037. Spending on software for drone management and data analysis is forecasted to grow from €35 million in 2017 to €1.5 billion in 2037 in Europe only, at a CAGR of 21%.
Much of this growth will be the result of an increase in adoption in commercial drone adoption in many of these areas. There are around 10,000 commercial drone units in use in Europe according to SESAR's most recent report, but that same report predicts that 200,000 commercial drone units will be in use in 2025 and 395,000 in 2035. 150,000 of those units will be in agriculture alone.
By 2035, the application of drones will be more diverse with the energy sector employing up to 10,000 units, public safety and security using 60,000. Over 70,000 commercial drones will be dedicated to e-commerce and delivery with another 1,000 for mobility and transport. Media, insurance, real estate, telecommunication, academic research along with mining and construction will employ 100,000 units combined. The main opportunities associated with these applications will be tied to service activities (software data, & flying operations) that will absorb 80% of the total economic impact by 2035.
That growth is exciting for numerous reasons, but revenue for private companies in Europe in the next decade is not going to be uniform. That growth will peak between 2018 and 2022 according to the Tractica report.
It's no wonder that European aviation authorities are actively working to turn the continent into a powerhouse of unmanned aerial business as fast as possible, and those developments continue to take shape. At the beginning of September, SESAR, the joint undertaking of the European Community for aviation safety, published its transition plan for the future of the architecture of the European airspace. It's an impressive and ambitious plan to modernize air traffic control (ATC) or air traffic management (ATM) as they prefer to call it. The presence of UAVs in the report is not insignificant, but their document clearly deals with the challenges of increasing automation with manned flights and plants the seeds for future integration of unmanned vehicles.
"New Entrants represent an increasing body of actors who are seeking to implement new aviation concepts in airspace where there is currently little managed activity. The scope covers U-space to manage drones, typically in airspace below 500 feet, including over cities, and Higher Airspace Operations, in airspace above levels used by existing airspace users, typically above FL660. These actors are often new to aviation and use or intend to use new technologies and air vehicle concepts, experimental prototypes, or sometimes aircraft still in the R&D phase (e.g. supersonic or hyper-sonic projects), manned and unmanned, for which there is currently little or no regulation, standardization or certification requirements in place."
These are all factors into the compounded average growth rate (CAGR) of 20% that will effectively double the size of the drone market in Europe in less than five years. It's for these reasons that the European drone market represents what many have deemed an even more attractive market than the US or Asian markets in terms of return on investment (ROI). The technology is making a difference across the continent right now in industries that range from construction to law enfocement to agriculture, and those benefits have a clear path toward exponentially growing in the near future.