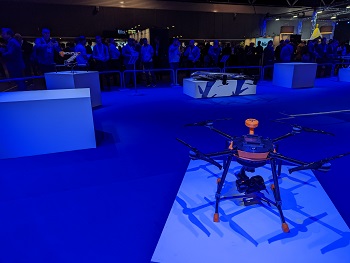 This year's edition of Amsterdam Drone Week defined the evolution of UAM and AAM ecosystems across the world in a very real way, with attendees being able to see and experience these distinctions across the show floor. Drone-in-box solutions as well as drone delivery options were just a few of the innovations that were showcased at the event.
What was also indirectly highlighted was just how much has changed in the drone industry since the last physical edition of the event took place. In that short amount of time, individual operators, enterprise organizations, regulators, and investors have adjusted their position on the technology. These adjustments speak to how sUAS and passenger drone solutions are maturing in a way that will redefine the airspace across the world.
On the operator side, ADW highlighted the value that teams working in various industries can enable right now during the industry sessions that were powered by Commercial UAV Expo. Whether it's the possibilities related to automation or inspection time that goes down by 30%, the ROI of the technology is being quantified in specific and notable ways.
On the enterprise side, organizations have begun to see how drones can help with the expansion of diverse workforces and sustainability in ways that previously weren't discussed. These elements are in addition to efficiencies that can scale across teams and entire organizations.
The EASA High Level Drone Conference brought together stakeholders in organizations like EASA, the European Commission, EUROCONTROL and more to detail how they're all working together to make UAM / AAM a reality.
When it comes to investment, Kay Wackwitz laid out specific numbers associated with new investment in the market, with 2021 seeing the most ever. It's a trend he sees continuing into 2022 and beyond as more stakeholders realize how drones can enable remote workflows and processes.
Additional updates related to defining exactly what counter-drone technology is, the World Economic Forum's launch of the Advanced and Urban Aerial Mobility Cities and Regions Coalition and changes to public acceptance of drone delivery are just a few other highlights from the event which truly reconnected the industry. Further info about what else was said during the event on social media is below.