Inspecting pieces of infrastructure, means of transportation like rails and at airports with drones can create efficiencies in multiple ways. It's easy enough to call out these efficiencies as being faster, cheaper or safer than traditional approaches, but what does it mean to turn thousands of photos into actionable information? How can these efficiencies be measured in terms of an ROI? Jarno de Jong from GEO INFRA and Jonas Stjernberg from Robots.expert moderated two panels during Amsterdam Drone Week to outline these specifics and much more.
Tsjerk Koolstra from Dutch Drone Company kicked off the first session by details how his company has used drones for onshore, offshore and confined space projects. He shared details about the John Frost Bridge inspection which saw DDC use several types of drones to inspect all areas of the bridge, including underneath the deck and pillars. Using a drone kept traffic from being disrupted and with the data collected by the drone they were able to create a digital twin that can now be remotely accessed. With it, people can avoid physically being at the location, saving money and reducing the risk of people working on scaffolds.
With tanks located all over the world, Vopak stores and handles products ranging from chemicals, oil, gases and LNG to biofuels and vegoils. Bart van der Meer, Innovation Engagement Leader at Vopak, has pioneered the use of drones as a means to improve their inspections, but the challenges with doing so are as much about people as they are process. What does it mean to shift people's focus? How can advocates enable belief in new tech with old thinking? It's a challenge that they're working through with partner Falcker, and Falcker CIO Duco Boer joined him on the stage to discuss what sorting through these challenges has meant from a technology perspective.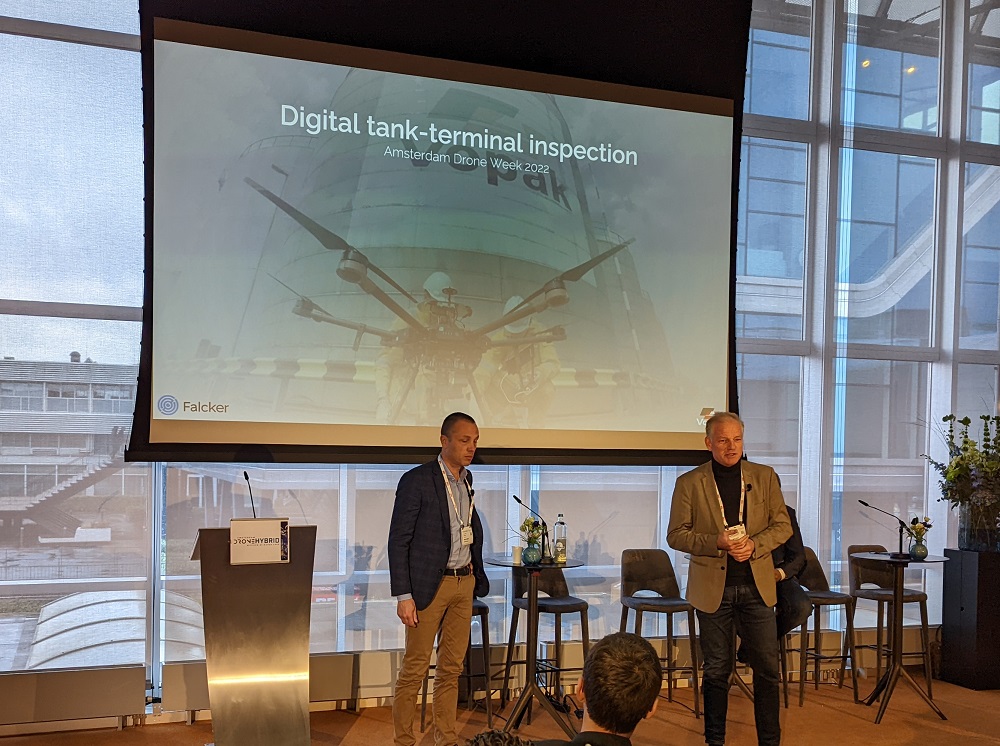 That technology challenge is about answering questions related to how to assess 1,000 photos per tank and what it means to use drones or traditional sensors to capture the info needed for an inspection. Once these decisions are made, the team can use AI-based funneling methods to closely review photos that identify corrosion and damage. That keeps people from having to review every single photo. These differences are defining the ROI of the technology in the short term,but Vopak team is working to switch to BVLOS operations using Percepto AIM to enable value in the long term. They see the technology as an autonomous platform to capture data which is switch they're pushing for, as autonomous solutions will majorly impact their costs.
Dennis Jansen from Antea Group highlighted what it means to create efficiencies with drones for bridge inspection but highlighted how context drives when and how the technology is applied. Why use a drone for a given task? Jansen answered that question with a look at his team's work on the Muiderspoorbrug that spans the Amsterdam-Rhine Canal and is part of the Amsterdam-Zutphen railway line. Over 11,000 photos were taken in a single drone flight which allowed the team to build a digital twin. These images also made it easy to identify specific areas of corrosion which you can see in the comparison below.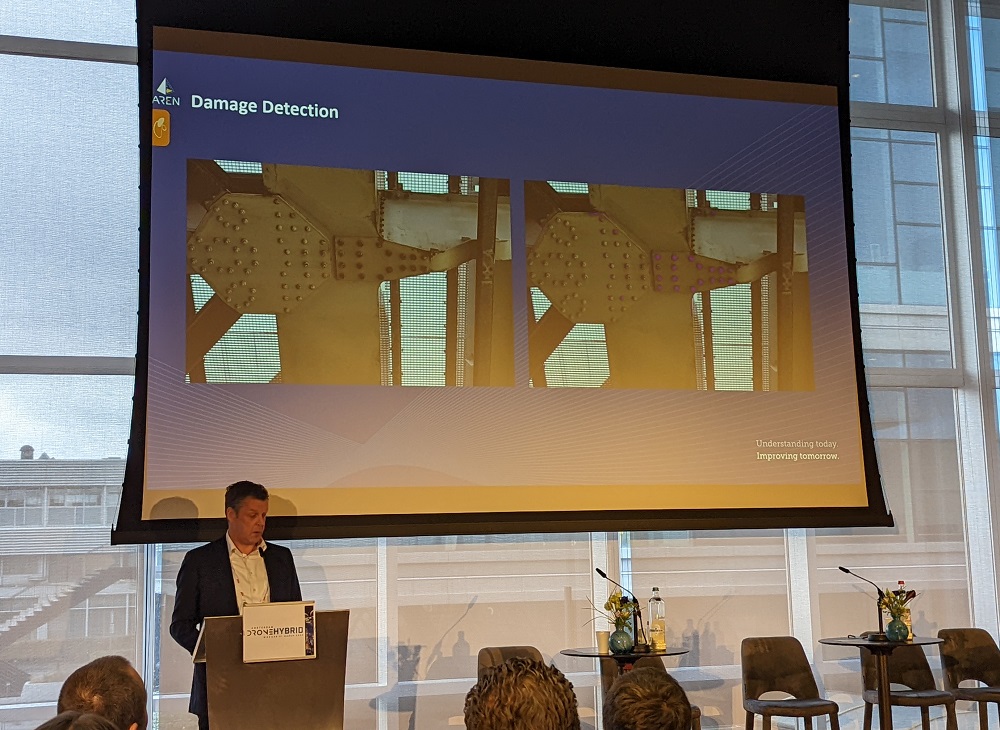 One of the key numbers that Jensen mentioned was that using a drone allowed the team to capture over 90% of the asset. Traditional approaches might see only 60% of it captured. Additionally, the use of drones greatly reduced the hindrance to vehicle traffic and maritime transport that is otherwise majorly disrupted during inspections.
Bureau Veritas is a French company specialized in testing, inspection and certification. David Huet was at ADW to detail how BV inspects ships and offshore units with drones with specific insights around renewal surveys. With over 11,500 vessels, the organization is always looking for ways to reduce inspections costs, and their use of drones has seen inspection time go down by 30%. The technology has allowed them to assess coating conditions and damage in a way that has defined a specific ROI for BV.
Jeroen van den Tweel from Prorail kicked off the second part of the session with some incredible insights around how the organization that takes care of maintenance and extensions of the national railway network infrastructure in the Netherlands is using the technology. With 7,000 km of track, there's so much to maintain but Prorail is also responsible for new construction. Using drones, they've been able to perform the inspection of overhead lines while keeping the trains running. Similarly, using drones they can perform bridge inspections without interrupting services, which had been a major issue.
As the Drone Subsidiary of SNCF Réseau (French Railway Network), Altametris creates, exploits and enhances digital heritage of all infrastructrures to secure and optimize their performance. Flavien Viguier discussed how the company has been doing so with drones by detailing how they've gone from raw data to business knowledge. He presented three use cases which explored clearance control based on rail extraction, defect detection for civil engineering structure inspection and the characterization of vegetation risk near the railway.
We provided a brief preview of the insights that Ahmad Bakkar from the Royal Schiphol Group at Rotterdam The Hague Airport fully detailed at ADW. All of it began with a handful of simple questions: can drones add value to airport operation? How does it work to fly a drone at the airport? To answer those questions, Bakkar put together experiments with the technology that explored runway inspections, delivery of airport parts, the inspection of airport stands, the de-icing process and the inspection of buildings. Using different locations, drones, and teams, he was able to provide specific details around how and where the technology would create an ROI.
Some of the most insightful pieces of the presentation were related to the biggest challenges that had to be sorted through, which included setting up the first tests, gaining access from stakeholders and explaining what was being done to these participants. Additionally, the bottom line savings that drones can enable when delivering a part from one airport hanger to another is notable. Delays associated with the traditional approach to the delivery of these parts can be an expense that quickly goes into five figures.
Bakkar's two takeaway from this work were as simple as they are notable: the business case for the use of drones at airports is there and achieving them is within reach.
This business case for using drones at airports was further detailed by Arnaud Guihard, who serves as the Asset Manager for Groupe ADP (Airport de Paris), in a similarly notable manner. A precision approach path indicator (PAPI) is a visual aid that provides guidance information to help a pilot acquire and maintain the correct approach to an airport. These systems need to be regularly maintained and Guihard has been able to use drones to pioneer a whole new way to capture information about this essential piece of equipment.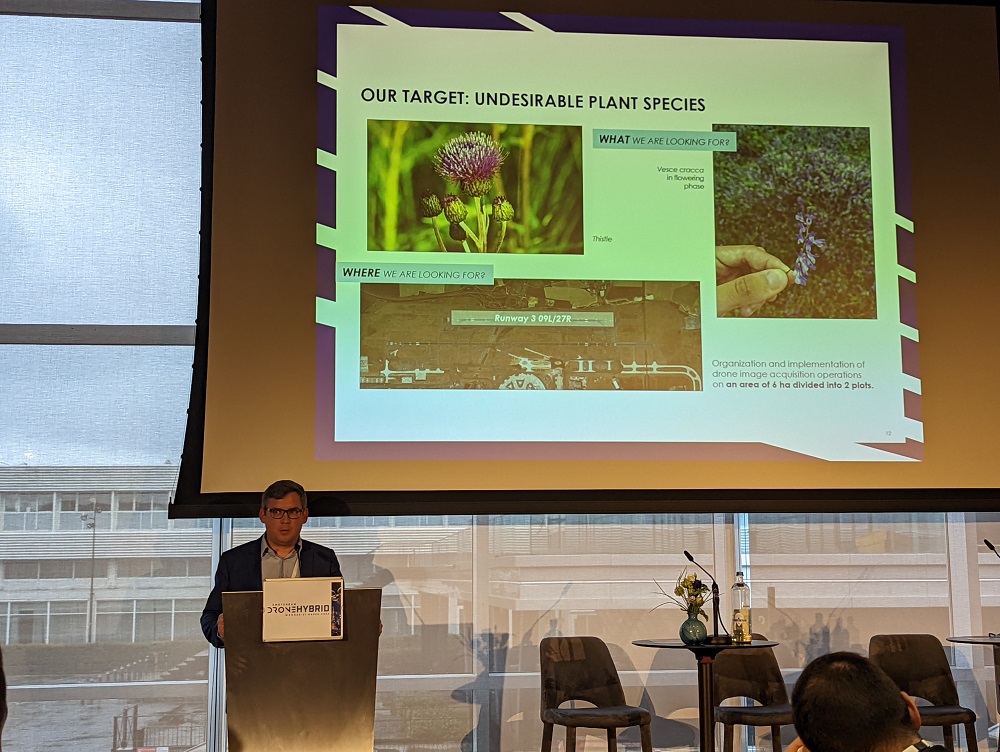 This use of the technology has opened up brand new opportunities elsewhere in the airport environment. Guihard mentioned how they're now using drones to monitor grassland. The team has developed a software solution for managing and processing visual data to define undesirable plant species, providing the team with information that have not been able to capture any other way.
Both de Jong and Stjernberg rounded out their sessions with some key takeways that highlighted the specific opportunities that the technology represents. While the challenges with people, process and regulation (especially in airport environments) are what most are initially focused on sorting out, the challenges with adoption quickly shift to being about analyzing and managing data to define an ROI. What it means to sort out this two-fold challenge requires very different sets of skills, but the ADW sessions proved how doing so will enable a defined ROI as well as unexpected value for teams and entire organizations.