Talk about the potential value of drone technology has driven interest and investment for many years now. While the drone industry is arguably beyond this hype phase, the reality of how and where it can create value is something that many are still trying to define in terms of application and ROI. Multiple presentations during the Energy & Utilities track of Amsterdam Drone Week laid out what these applications look like, how ROI can be measured and much more.
Moderated by Sebastian Babiarz, COO of Dronehub, each presenter detailed what it has meant for them to use drones to achieve significant cost savings, enhance safety and reduce inspection time. How those differences can scale and be further augmented with autonomous solutions was a throughline that each of them mentioned but approach in different ways.
Axpo Grid is Switzerland's largest producer of renewable energy and an international leader in energy trading and the marketing of solar and wind power. Kevin Geiger, Digital Engineer at Axpo Grid, talked about how the company got involved with drones as a means to enable digital asset modeling, a digital workforce, analytics and applications and automated maintenance. Doing so has allowed them to better deliver a full service and redefined their approach to visual inspections, which are supported by Grid Sysytem from eSmart Systems. Douglas Coene from eSmart Systems further defined this connection.
Doing so has enabled the company to be 40% more efficient, but what exactly does this mean? With the same time and same budget, inspectors can get more done. The detailed images captured via drones allow them to zoom in and view details that otherwise might have compelled another look at an asset. With this info, inspectors can determine whether they need to take action or nott, removing what would have otherwise been time and money to make that assessment. Their biggest challenges are related to hardware limitations, regulation, image capture and standardization but he talked through how the organization is looking to overcome each.
Martin Björnvall, Business Developer at Vattenfall Services Nordic AB, talked through what it has meant for the organization to go from non-existing drone operations to now having 400+ pilots and performing continuous drone operations. He explained how they scaled out as a service provider for the Swedish multinational power company owned by the Swedish State.
Vattenfall is a process-driven company so they needed clear instructions and rigid training. They also had to use products that could be immediately tested and utilized to get their program off the ground. The plan to do has allowed them to move into new areas of service and evolve their core business "man in the van" model in a more powerful way. This evolution has seen inspectors that were previously limited to their vans now able to capture so much more information but it has also expanded what they can do. Björnvall mentioned how drones are helping the team identify where displaced bird nests can be newly located in a way they had never been able to access.
Regulation and regulatory compliance along with connectivity and data management present challenges at scale but that is where the company is focused. They're driven by a single underlying principle:
Drones x intelligence = better action
Presenting PKN ORLEN' innovative use of drones for security and inspection purposes, Piotr Jerzemowski mentioned how the company is using drones for air quality tests, predictive maintenance, logistics monitoring, daily operational analysis, operational maintenance and to impact safety. The Polish oil refiner and petrol retailer started exploring the use of the technology a few years ago and Jerzemowski's team has been able to showcase how the technology is making a difference.
He detailed the results of a pilot project case study making use of autonomous drones in a box and AI for critical infrastructures security and inspection. Those results showed the bottom-line benefit but also hinted at the value VTOL drones will have for predictive maintenance on pipeline inspections.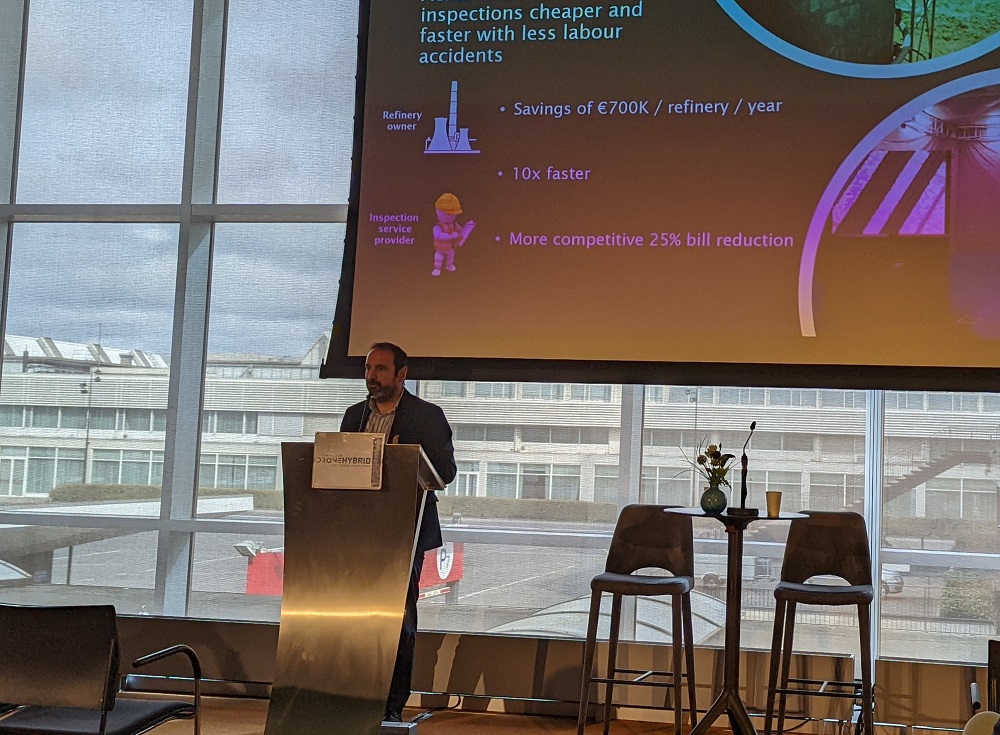 Dr. Antidio Viguria detailed two novel UAV configurations that allow contact inspection (for wall thickness measurements) both in large structures and in congested piping. It's something he's explored and studied a great deal as the CTO in Avionics and Systems for the Advanced Center for Aerospace Technologies in Spain.
To say that safety with oil and gas inspections is a big deal is an understatement. An actual inspection might take 30 seconds but getting and keeping the person performing that inspection safe could take hours. That's why oil and gas companies have seen clear benefits in their use of the technology. When using drones for the inspection of tanks, the detection of oil and gas leaks and assessing damage to oil rigs and pipelines, these companies have quantified six-figure savings. Dr. Viguria called out these efficiencies as part of a 25% billing reduction that drones represented when compared to traditional approaches.
Challenges with regulation and technical barriers such as battery life were mentioned by nearly every presenter, but they all highlighted the value that adoption has enabled in the present. This value can scale and be leveraged further thanks to opportunities that will come with using autonomous drones for longer-range tasks and tasks that take them out of sight of their operator. Connecting all of these elements together, Babiarz mentioned how automating processes and services thanks to changes in regulation and technology like drone-in-a-box solutions will see energy and utility companies of all types reconsider how they can further unlock this value.