Activity and interest from this year's Commercial UAV Expo has expanded far beyond the event. Much of that is a result of the conversations and discussions that were had by the nearly 2,000 commercial drone professionals that gathered in-person, but the technology that was on display across the exhibit floor drove and defined many of those discussions.
During the "Pitch the Press" session, these exhibitors had a unique opportunity to showcase their solutions to a group of editors and reporters that were looking to get a sense of the most innovative new solutions at the event. While the three companies that were selected as the winners have already been announced, there's much more to say about every solution that was highlighted. Here's a closer look at all of the products, services or offerings that were showcased during this year's "Pitch the Press" event.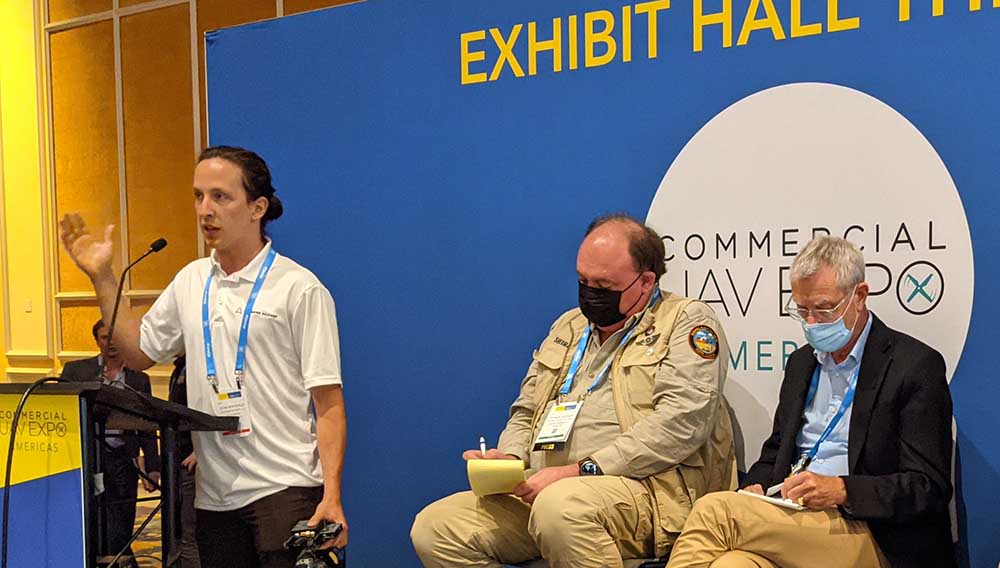 We've detailed the innovations that A2Z Drone Delivery announced during the event, but their presence at Commercial UAV Expo allowed attendees to see for themselves how the company is able to deliver more in less time. Featuring 2 RDS1s onboard, the RDSX can deliver two 2kg payloads up to 18km. Developed in collaboration with a leading logistics provider, the onboard RDS1s enable the RDSX to deliver these payloads safely and quickly.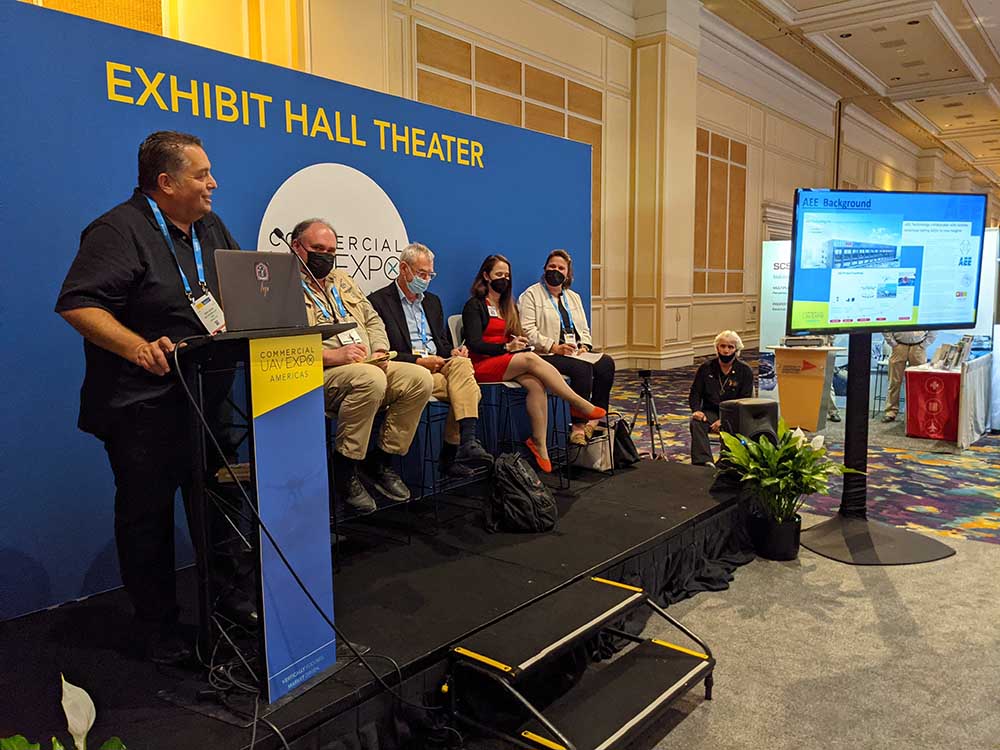 The new Mach 6 from AEE offers up to 50 minutes of flight time with a 13.2 Lbs payload capacity and six-mile range. With the abiity to carry up to 3 unique controllable payloads each with power supply and downlink capability at the same time, the drone is an ideal fit for survey and construction and public safety missions.
The UAV "Hammerhead" from Airlogix is a new fully electric drone with vertical take-off and forward flight mode, designed to fulfill a gap in middle mile deliveries. It can reach speeds up to 62 mph (90 km/h) and transport goods up to 44 lb (20 kg) to a distance of 62 mi (100 km). It is a unique fully electric vertical take-off and landing drone for middle-mile high-speed deliveries.
AirWorks built an AI-powered autonomous drafting software for firms in the built world. Their solution is designed to be the fastest and easiest way to get CAD drawings from drone-collected aerial imagery. With their AI-powered algorithms, the data files that customers upload are autonomously identified and categorized such that their software can then churn out a pixel-accurate engineering plan. AirWorks has the potential to reduce manual drafting time up to 70% when compared to traditional methods.
One of the three winners of Pitch the Press, audiences were excited to hear about the BRINC LEMUR S, which is a ruggedized indoor quadcopter equipped with two-way audio communications, LIDAR-based pilot assistance, IR night vision, 10 hours of perch time and glass breaking capabilities. Built to help facilitate de-escalation tactics, their drone does not operate using GPS, meaning there are no forced firmware or software updates, allowing it to be flown in extremely tight and demanding environments.
Commaris was another company that used Commercial UAV Expo to launch a brand new product, as the company unveiled the ultra-quiet Seeker eVTOL, a solution that brings modular payloads and long endurance to multiple industries. Whether someone needs situational awareness with long loiter and patrol capabilities or to map thousands of acres of agricultural land, the Seeker is designed to meet these requirements. After the session, our team spoke with Fred Bedard to learn more about the Seeker's capabilities.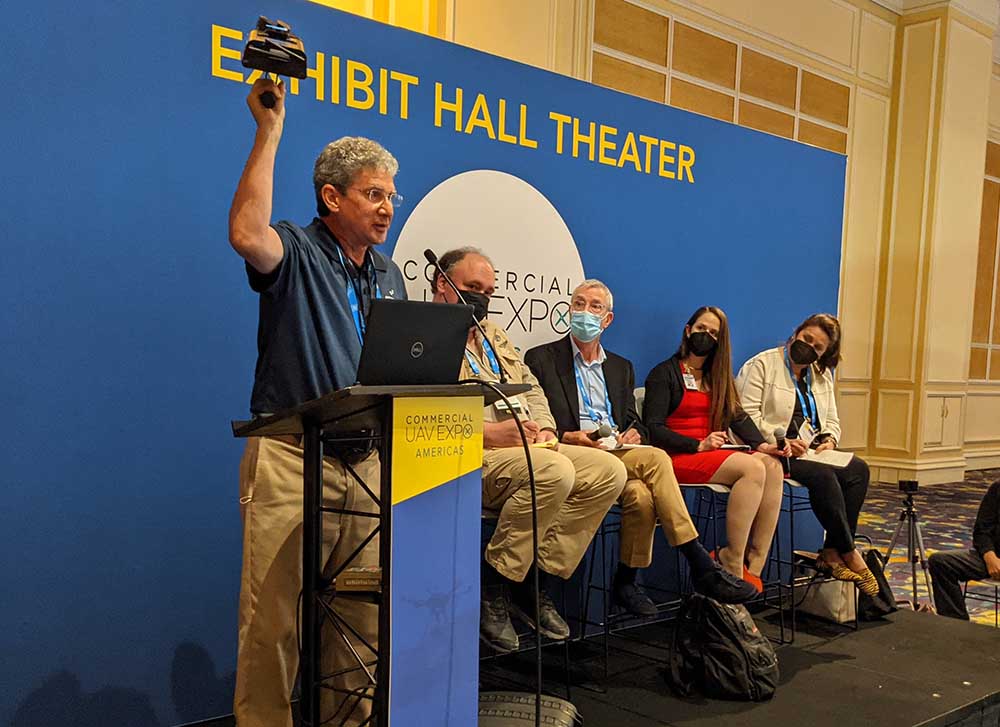 Lightweight but robust enough to withstand the demands of environments such as underground mines, Hovermap from Emesent can be mounted to a drone to provide autonomous mapping in challenging inaccessible areas. It has made automony simpler and more accessible for businesses to integrate into their existing fleet but the flexible design also allows it to be used for walking, vehicle or backpack mounted scans. Weighing only 1.8kg, it is easily portable and compatible with smaller drones such as the DJI M210.
Offering logistics, field services, tech support, preventative maintenance and repair services specifically for the unmanned drones and related robotic technology, Fortress UAV fills an industry gap and market need. At the Expo, Fortress UAV announced a strategic partnership with Guinn Partners that is aimed at augmenting these services. The alliance is aimed at engaging visionary brands in the drone, robotics and applied technology markets searching for a strategy, execution and go-to-market mentor or partner.
The InTerra SmarTarget system is a new concept for surveyors using drone photogrammetry to create topographic models. Users can process all imagery they capture with ground control points into a final deliverable in the field. Each kit includes five SmarTargets, five targets, USB charging/data hub all in a ruggedized case, field ready. It is designed to be the ground control point solution for drone pilots who want to save time and money.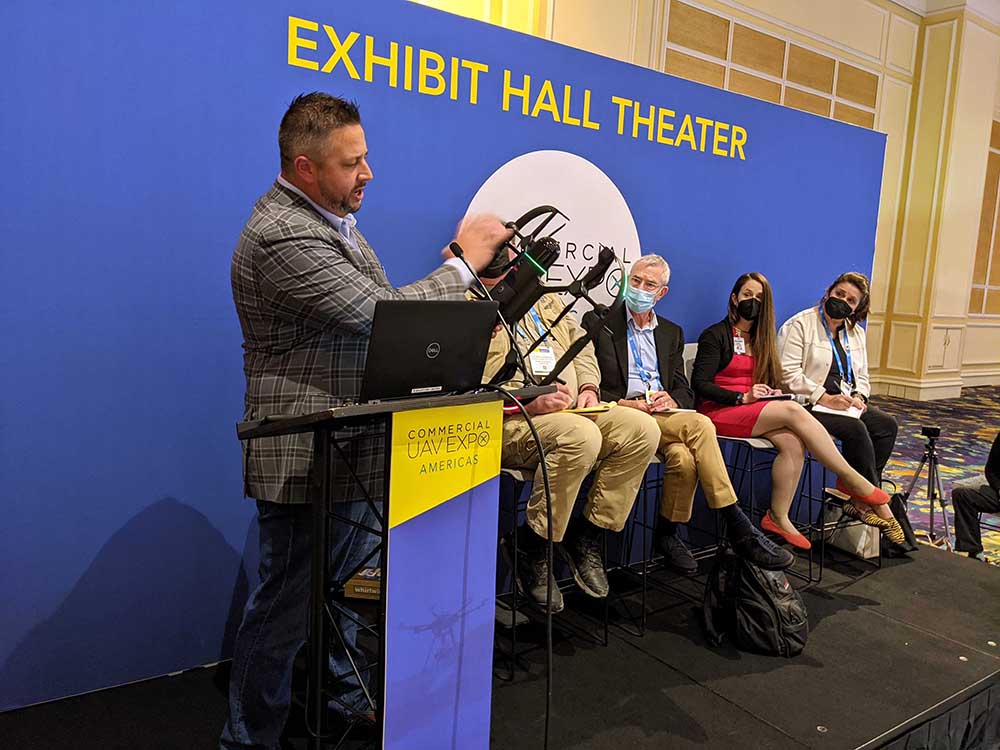 The BLK series from Leica Geosystems is known for democratizing technology and creating reality capture tools that are intuitive and accessible to users in many industries. That's what made their launch of the BLK2FLY at Commercial UAV Expo so notable. This autonomous flight platform built around the BLK and an autonomous reality capture platform for robot carriers is set to vault Leica and Hexagon into the autonomous space. Read more about it here.
MINT TMS is a cloud-based solution that allows access to all training and qualification related data for anyone at any time from anywhere. Training departments gain full transparency while maintaining all employee training and qualification data for the aviation industry in a secure, reliable, digital environment.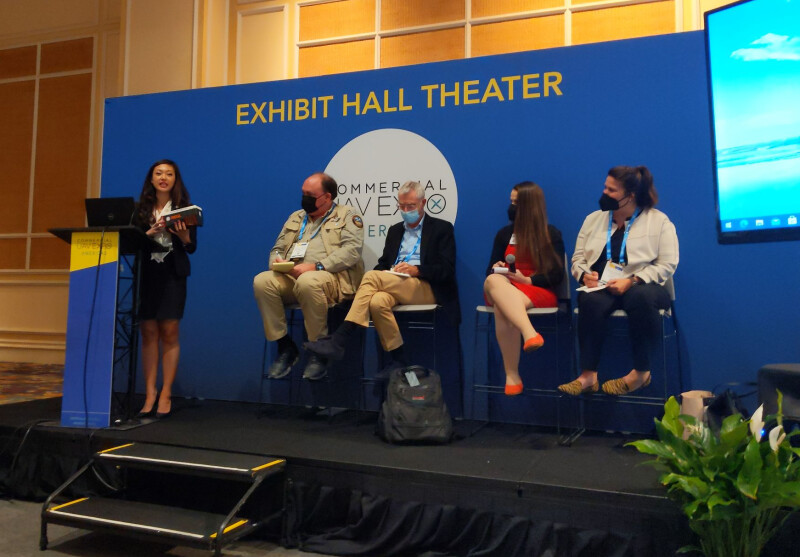 RIEGL used the Commercial UAV Expo to highlight the RIEGL VUX-120, which features a unique and sophisticated scan pattern consisting of scan lines with periodically changing directions. Referred to as Nadir-Forward-Backward scanning (NFB), this scan pattern indicates that the scan lines change consecutively from nadir, to forward positive 10 degrees, and then backwards negative 10 degrees.
SimActive has been a leading developer of photogrammetry software since 2003, and the company has recently added an industry-unique feature in Correlator3D for LiDAR exploitation in support of traditional photogrammetric workflows. It allows the use of existing LiDAR to generate GCP's to control drone flights and ultimately, the colorization of LiDAR data with a color balanced mosaic.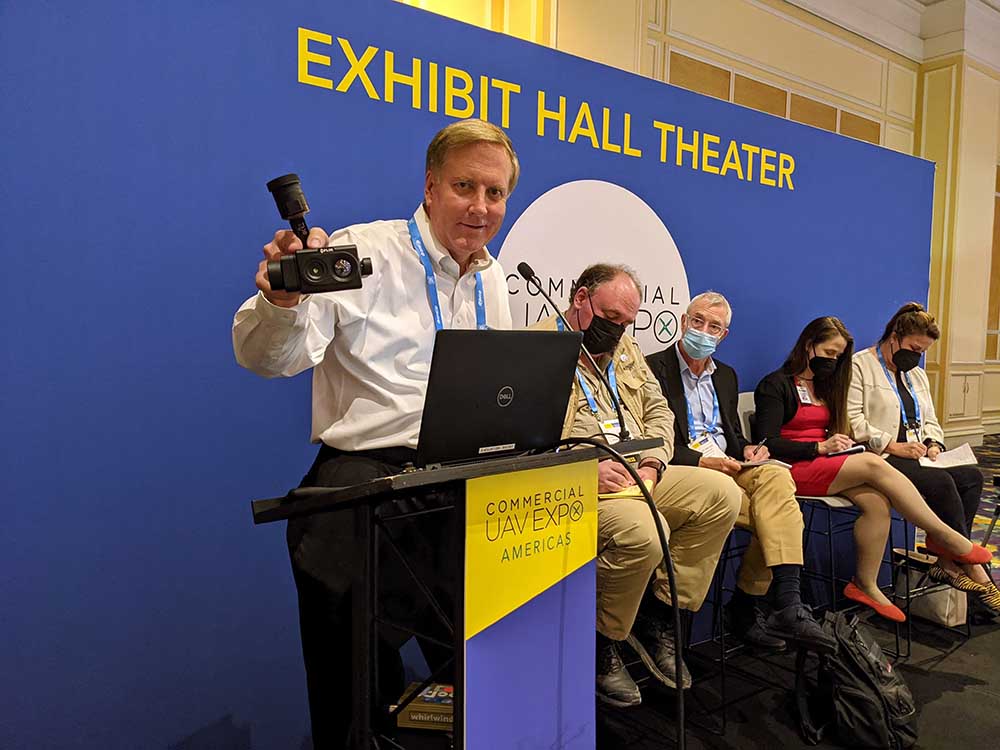 Teledyne FLIR showcased the VUE TZ20-R, which combines performance-leading thermal zoom with radiometry allowing for faster searches, safe stand-off inspection, and more efficient missions. It uses two radiometric Boson thermal cameras module that allow it to have four times better resolution at all zoom levels versus all competition. The thermal zoom combined with the new addition of radiometry allows safe stand-off operation when measuring temperature of inspected surfaces.
Undefined Technologies showed off the first-ever silent drone powered by ion propulsion. The fully electric AirTantrum technology, with minimum noise impact and zero carbon emissions, uses innovative physics principles to generate noise levels below 70 decibels and 'unprecedented' levels of thrust, 3X more than existing ion thruster technologies.
vHive Tech Ltd. is committed to being a one-stop shop for enterprise drone needs, including fully automated data acquisition, 3D data modelling and data analytics and delivering reporting needed to maintain assets. With vHive's enterprise solution customers can receive an end-to-end software platform for tower inspection and surveying, full digitization of field assets and what is designed to be the most scalable drone solution.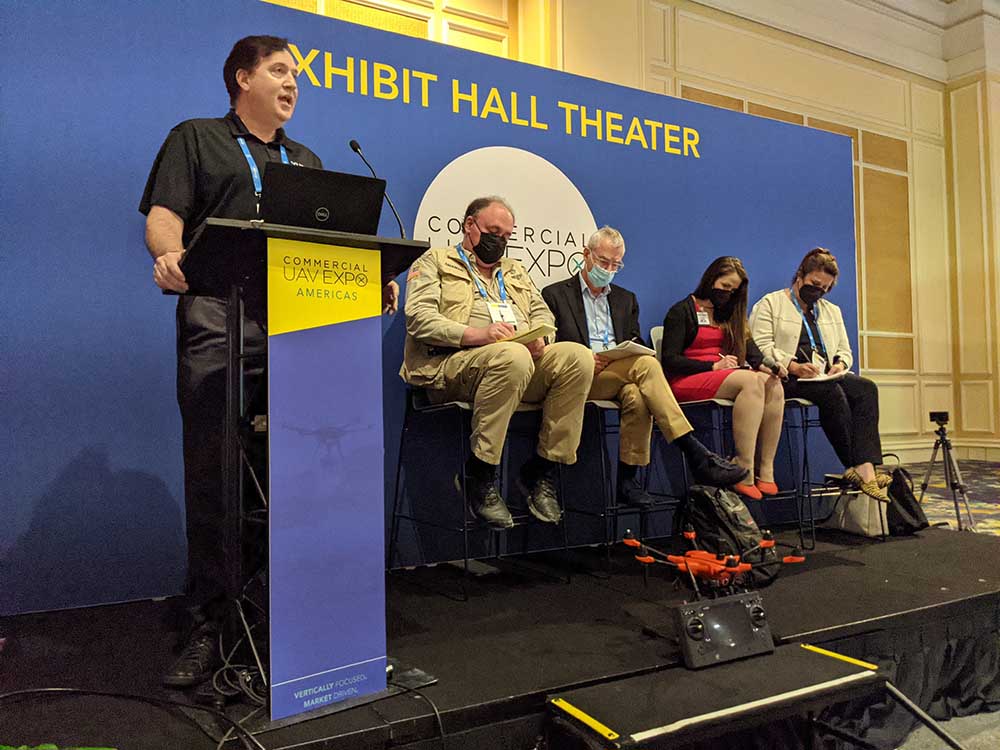 YUNEEC is an ATL Global company focused on unmanned aerial vehicles, technology, and software. Their H520E-RTK hexacopter is designed for precision, and reliability while also providing survey grade precision for mapping. Plug and play capabilities have created a broad array of use cases for fast deployment in any location. Portable and easy to use, the hexacopter design makes the H520E platform stable in winds up to 45 mph, and reliable even in the event of losing one rotor where the mission will complete.