It is impossible to talk about a vision for the future of the drone industry without talking about DJI. With a 74% global market share in sales across all price points and an even higher share (86%) of the core $1,000–$2,000 price segment, the company dominates the space at every level. Many people have launched businesses because of the quality and relative affordability of DJI drones, and their commitment to the enterprise segment has been evident for years now. The most recent example of which was the release of the P4 Multispectral Drone that was announced at AirWorks this past September. These sorts of practical applications and products that have been developed for specific users will define the future of the drone industry.
As DJI's Director of Business Development, Cynthia Huang is set to play a key role in that future. She has prior experience in operations, corporate venture capital, M&A, joint venture formation, and marketing. All of these roles have required her to take the lead during various points of a company's journey in order to define or build a solution and then strategically share that solution with a target market. At a global company like DJI, these past experiences are helping her to see all sides of an issue and to always look at the whole picture when setting strategy or defining the vision for the company and the industry.
Cynthia participated in the "Drone Industry Visionaries" session at the Commercial UAV Expo where she explored how this strategy and vision will impact the future of DJI and the drone industry as a whole. In a follow up to that discussion, we connected with her to find out more about DJI's commitment developing solutions that are specific to commercial users, how DJI secures data, how DJI products can be part of an enterprise drone program and more.
Jeremiah Karpowicz: DJI continues to be a giant in the global UAV market, why do you think DJI has been able to maintain this status? What do you think is the secret to your success?
Cynthia Huang: As a pioneer in the drone industry, DJI's secret to success is product innovation. We've consistently led the industry in delivering product features and form factors that our customers want, whether it's the ruggedized Matrice 200 Series drones that are great for industrial inspections, or the smaller Mavic 2 Enterprise Series that make drone technology so portable it can be part of a worker's toolbelt. Along the way, we've also developed industry leading safety technology like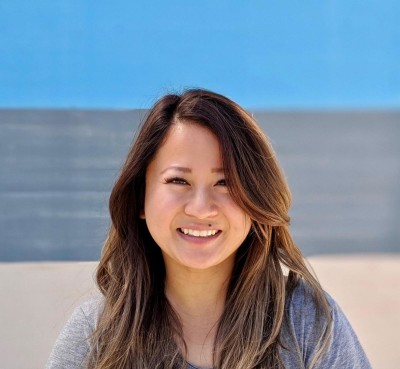 obstacle detection to help ensure pilots avoid crashes, as well as features like geofencing and our AirSense ADS-B technology to more safely integrate drone technology into the areas surrounding airports and the national airspace. In the same way that we've led the industry on safety features, we're also leading on security. Our newest enterprise drones feature password protected onboard data storage and an encrypted link between the RC and the drone, helping organizations that use drone technology better protect the data they capture.
Can you tell us a little bit about what your role as the director of business development in DJI has been and what your vision/goal is?
In my role, I work closely with our other enterprise teams in policy, government relations, sales, R&D, etc. to ensure strategic alignment as we support healthy growth and adoption in the many verticals that we serve. Identifying opportunities as well as challenges is at the core of my role. On a daily basis, I facilitate conversations and build relationships that promote the sharing of best practices and use cases while also ensuring that we remain cognizant of our market's feedback. Despite the drone industry being relatively new, so many incredible applications and use cases have already started scaling; I am incredibly excited to see a future where this powerful piece of technology can become a standard tool that continues to responsibly and sustainably transform industrial workflows.
How has DJI's vision concerning the impact that drone technology can make in the commercial space changed and developed?
We've come a long way from the days of the DIY hobbyist market and consumer drones that DJI has been widely known for. Today, DJI also serves the enterprise market with purpose-built drones for commercial/industrial work. But regardless of the market, DJI's vision remains the same and that's to make the best drone hardware at an affordable price so that customers can find innovative new uses for the technology.
How much of the philosophy in the enterprise sector stems from Frank's vision for the drone industry as a whole in terms of creating drones that needed to be simple, very reliable, small and reasonably priced?
Frank's vision still rings true. We're focused on making the best drone hardware at an affordable price so that customers can easily use and adopt the technology and find innovative new uses for drones across major industries like construction, agriculture, energy, public safety and infrastructure.
Do you foresee this vision further growing or changing based on technical innovations you're working on right now, opportunities that might be opened up in specific verticals, or as a result of regulation?
We are constantly pushing the limits of drone technology, whether that's longer flight time with intelligent battery technology and more efficient components, better obstacle sense and avoid technologies, or new sensors and payloads like thermal cameras. We're primarily focused on producing technology that can be used today. As regulations allow for more complex operations, we'll deliver new solutions that match. A great example of this is our Mavic 2 Enterprise Series drones, which include a built-in accessory port for a variety of accessories including a strobe beacon that helps operators comply with night waiver requirements without adding third party components that may affect flight dynamics or safety.
What can you tell us about DJI's vision to enable the commercial adoption of drones with a Phantom or Inspire as opposed to solutions that are specific to commercial users, like the P4 Multispectral or the Phantom 4 RTK?
Our vision is to make the industry's most broadly applicable drone technology, which is what you see with the Mavic and Phantom product lines. Occasionally you'll see us develop purpose-built technology like the P4 Multispectral that serves a specific industry like Agriculture. In these situations, we are trying to streamline workflows and create a fully integrated hardware platform so that our customers have an easier time adopting and scaling the technology. However, on top of all of our drone hardware is another important component of our strategy, which is to enable the adoption of commercial drones through our developer platform. With the platform and our developer tools, we enable software and hardware providers to develop solutions that make drones more relevant and capable in specific industries. A great example of this is our partnership with DroneDeploy where they have created a mobile app that automates using a DJI drone to survey and map construction sites, then imports and analyzes the data they collect to help save time and money on construction sites around the world.
DJI has made a key difference in specific verticals like Public Safety thanks to the efforts of people like Romeo and programs like the Disaster Relief Program. Does DJI have any plans to make this kind of impact in other verticals thanks to the effort of other specific leaders or programs?
Absolutely. In addition to the public safety industry, our business development team is focused on industries like agriculture, energy, construction and infrastructure. We partner very closely with leading organizations in each industry to help them deploy and scale drone technology and also to better understand their workflows so that we can continue to develop technology that meets their needs.
In 2019 some outcomes from this work include a joint white paper with North Carolina DOT and close cooperation with the US Department of the Interior.
I am directly overseeing such efforts in the energy and utilities space and am happy to say that we already have and are working further on developing key partnerships with industry leaders. While much of this work isn't as exciting as saving lives and empowering firefighters, the team is happy to be further supporting key industries across the commercial drone sector.
Do you envision DJI's market share will grow even larger than the nearly 75% that many experts have quantified?
It's hard to say what the future holds for the drone industry, but what I can say is that we will continue to focus on delivering the industry's most capable and affordable drones so that those using it have a safe and reliable tool to get their jobs done and can also find new ways to use drones to save time, money, and improve worker safety.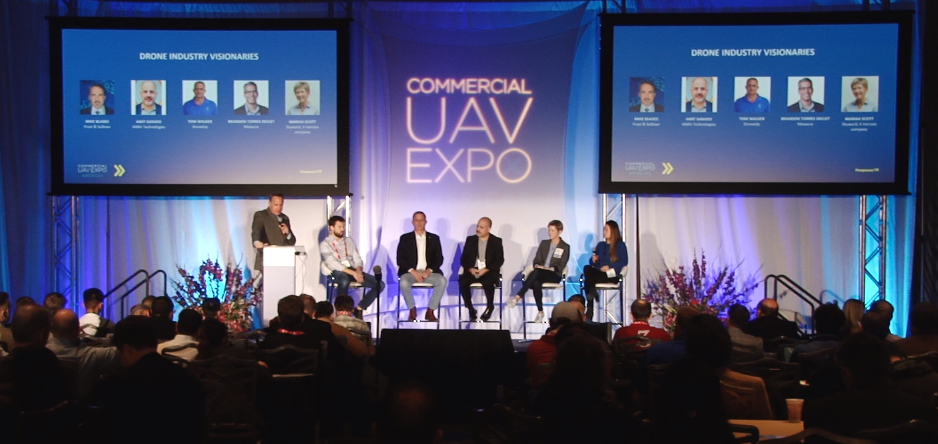 Where do you see drone technology heading in the future? How do you envision DJI playing a role in that future?
I believe we'll see more sophistication and automation in the drone technology of tomorrow. Already, some of our partners, like Automodality, are enabling DJI drones with state-of-the-art vision sensing systems that enable them to fly inspection missions autonomously in GPS denied environments like under bridges. Microsoft recently demonstrated how a DJI drone equipped with sophisticated artificial intelligence could identify and report defects during pipeline inspections in real time. As sensors and AI become more sophisticated and the processing power onboard DJI drones grows, thanks to products like the recently released DJI Manifold 2, I think we'll be amazed at what drones can do.
As mentioned previously, DJI recently came out with the P4 Multispectral, which was designed mostly for the agricultural industry, do you think you will be doing this with other industries as the UAV needs for these industries become more codified/specific? If so, which industries do you envision targeting next?
We are in the early days of commercial drone technology's use so our mission for the foreseeable future is to make the best broad-use technology that can be applied across multiple industries. I can't comment on future technology development, but can say that as we see hurdles to adoption of the technology, we try to develop solutions ourselves—as with the P4 Multispectral—or partner with companies that have specific domain expertise. A great example of the latter is our partnership with FLIR to develop the Zenmuse XT and XT2 thermal cameras that allow DJI drones to be used more effectively across industries from firefighting and search and rescue to industrial inspections.
Because DJI has such a high profile, it has also had to deal with a number of PR challenges, especially in the United States. What are some ways DJI has been addressing these challenges? What have you learned from these experiences?
As the industry leader, we naturally make for a large target. A lot of what our team has been managing is defending our brand over false claims made by certain federal agencies about how our technology works. But really what's going on is that DJI is caught in the middle of the ongoing U.S. vs. China political climate, and false rumors are being spread about us because of our heritage. To combat these challenges, we've been very proactive in meeting with customers and officials at the local, state and federal level to ensure that they understand how DJI's technology works as well as our track record of developing safe and secure drone technology. What we've learned is that being proactive and transparent is appreciated, especially because drone technology is so new and many decision makers simply don't understand how it works and what it can or can't do.
Because security has been a primary concern in the news, and the spotlight has been on DJI specifically to ensure data security, has this attention impacted the way DJI approaches security? In what ways does DJI secure data?
DJI has always given its customers full control over the data they generate and collect while flying our drones, and we've been transparent in saying that the easiest way to protect your company's drone data is to not share it with anyone, including DJI. To clear up misconceptions, we commissioned a third-party security audit of our systems by a leading U.S.-based cyber security consulting firm. Their findings proved that DJI does not automatically collect or transmit flight data on behalf of the user, and we don't have access to the data unless they proactively share it with us. When they do, all data is stored securely on Amazon or Alibaba cloud servers located in the U.S.
More broadly, as an emerging technology, drones are going through the same evolution that mobile devices like tablets and smartphones did when employees first brought their personal devices into the workplace. In the past couple of years, we've made great progress in giving organizations the software tools they need, like FlightHub, to securely manage their drone fleets and the data they collect. We've also added new features to our hardware like password protection and an encrypted link between the drone and the RC to help protect drone data against loss, theft or malicious attacks. We are focused on giving customers the right tools, but at the end of the day it is up to every business to instruct their employees on how to properly protect, store and transmit the data they're collecting with drones.
How and when should non-model operators and commercial/public organizations be considering when and how DJI products can be part of their drone program?
Odds are good that no matter what industry you're in, drone technology may provide you with a competitive advantage by saving you time, money or improving worker safety. One of the best ways to get educated about using drone technology is to attend an industry event like AUVSI's Xponential conference, Commercial UAV Expo or even DJI's annual AirWorks conference that focuses on the latest technology advancements in the industry, policy issues that affect how drones can be used, as well as networking with like-minded innovators to help you understand and implement drone technology in a safe, effective, and responsible manner.