The pace and scope of change in the drone industry is intense. With mergers and acquisitions and next-generation advances taking place on what seems like a daily basis, it can be difficult to keep track of how things are changing. However, today's announcement that Kittyhawk is being rebranded as Aloft will not slip under anyone's radar. It's not every day that an organization which has worked closely with the FAA to safely integrate drones into the NAS makes such a major change.
We've covered news and updates focused on the flight compliance app developed by the organization for many years now, highlighting everything from what were new features to enable automated drone flights to how their approach to Remote ID would impact the future of the airspace to their improved version of B4UFLY UAS app. Through it all, the company was steadfast with their commitment to helping the world's largest companies scale their drone operations by managing for safety, security and compliance. Does this shift represent a more fundamental change for the organization as a whole?
To find out, we connected with Founder & CEO Jon Hegranes. With news about the name change being official, we used the opportunity to connect with him to explore what else is changing for his company, how lessons from the past will define their path forward, whether or not this shift impacts their industry initiatives, and much more.
Jeremiah Karpowicz: With the announcement that Kittyhawk will move forward under the new Aloft name and brand, there's a lot that's going to be different with your company. What can you tell us about how you plan to utilize the foundation you've built over the past several years to move forward under a new name/brand?
Jon Hegranes: It's really about an extension of the type of growth that we've cultivated since we got started. We've gone from apps to API's in terms of how we're building airspace infrastructure and that sort of technical growth is directly connected to our evolution as a company.
If you look back, we started very simply with flight logging and that's the foundation that has allowed us to become the leader in airspace management that we are today. A lot of people know us today, but that began with a very simple task that was related to enabling the future of the airspace. That connection to the future of the airspace has been our mission from day one, it just looks a little bit different today than it did when we got started. And our brand is going to look a little different as well, but all of these changes are designed to better fit with our positioning in the market and how we're thinking about the future.
So this change isn't about offering a new or different type of platform? Or being a very different company from the one the industry is familiar with when it comes to defining where drone technology can create value?
We're not changing what we've been doing and have been focused on since day 1 and I think that's really been our secret sauce.
It goes back to what seems like a quaint notion that you should build technologies that people can use and get value from your technologies every step of the way. The problem that some people in this space fall into is that they're building too far ahead. If you don't get any sort of customer interaction, and if you don't get any sort of data, you're building in a vacuum that might not make sense for anyone. We're not moving away from that focus on what makes sense for our customers today and for the drone industry as a whole for tomorrow.
We know that the platform we've built and that we're using today isn't the complete answer going forward. It has to keep moving. It has to keep moving and changing and growing. And so do we.
That focus on baseline needs is connected to the early days of your company when the concept of a single platform to effectively unify the mission, aircraft, and data to empower safe and effective drone operations was relatively new. How were you able to position the value of your platform and how was that received at the time?
What really resonated was that concept of unification. But what did people really want and need to unify? They told us about the spreadsheets and apps they were using, but how could or should they bring them together? Those interactions and conversations led us to create some really powerful tools that explored and enabled this kind of unity on multiple levels, which is something that continues to evolve.
You can think about some of the capabilities we have now with workflows. We have customizable checklists and customizable risk assessments. All of the preflight checklists that our customers can run are customer-driven and inspired. Those early conversations were about hearing customers and partners say, "we need this," and us highlighting the value that we could deliver by giving it to them.
Speaking of early partners, Shell and Travelers Insurance were two of those early believers, so what can you tell us about what it meant to get companies of that size on board with your platform and how they quantified the value of your efforts?
Travelers Insurance was really centralized. They were at the forefront of understanding how drones could change the game for insurance claims, which compelled them to go through a detailed process to set everything up and create some amazing facilities to do training. It was really a top-down initiative to deploy drones en mass. They realized they could build that kind of program themselves though, so they looked at some major companies that could provide that kind of support. We weren't nearly as big as some of the ones they were looking at, but they chose us. What I found out later was that they did so because they liked our vision and our execution. They could see how we were forward-thinking and how we had technologies built-in that they weren't going to use right away, but having them there gave them options for the future.
Travelers made a conscious effort to train people on the software side because they have agents that need to deal with all types of insurance, ranging from floods to car crashes to roof inspections. So how could we make the training to support all of that be part of their immediate experience? That's why they were teaching people on our apps from day 1.
Shell had a pilot program going at one of their largest facilities and were really focused on being able to highlight how they could integrate drone technology into their established processes and teams without having to make new hires. The team there was super procedure focused, compliance focused and safety focused, and they saw how we could support them with all of that.
It was a big deal for us to work with both of those companies and they measured the value in very different ways, but the unifying factor was they both saw very simple ROI from it. We're talking about replacing ladders and replacing scaffolding, which can end up costing millions of dollars. When what used to take a couple of hours is now taking half an hour, and then 20 minutes, you see that in the bottom line in several ways.
In the insurance industry, the ROI can be realized after a couple of inspections. In energy, we have a case study that estimates the cost savings in the millions. A drone program can make a huge difference in those terms in just the first year without getting into things like BVLOS operations. Even at one person and one drone it's still a home run.
How did those lessons around applications and the value proposition of the technology translate to the approach you were able to take as your company grew in size and in other vertical markets?
What it got us to realize is that what's imperative for every drone program is to truly understand how the software platform is going to integrate with the hardware platform. And ultimately, how all of that works with the people who are running it.
Additionally, safety, security and compliance are foundational in so many ways. That's something that we see across all the verticals. Once you start to get deeper and deeper at an organization, that's when you have more eyeballs on this stuff. You're collecting a lot of data, you're you're sharing a lot of data and you're storing a lot of data, so how do you want it to all be centralized? If it's not centralized you don't have control over it, and that needs to happen with a trusted party.
Security has been a major focus for your organization over the last couple years but what can you say about the origin of this focus? What have your customers been telling you about their security needs?
It really stemmed from dealing with companies that had dedicated security or IT departments that were involved in what the organization was trying to enable with drone technology. As part of that process, we were asking things about whether or not someone had a server room, and if so, who had access to it. Only to find out they don't have a server room. Or if they did, it isn't ever locked or secured in a meaningful way. That compelled us to accelerate what would otherwise remain a baseline conversation.
Part of that was about being able to move things forward so that a company could do business with us, but also so that we were better able to serve the true enterprise needs. But we're also gluttons for punishment.
Last year we announced we were SOC 2 Type II certified, but we're now doing ISO 27001 as well. So we're continuing to add on to this and explore where can we go next. We know that will help really across our user base, because I think individual users appreciate data security and privacy just as much as the enterprise or government stakeholders do. The reality is that we live in an era when security breaches are a fact of life, and anyone using this technology needs to understand their security systems and processes in a way that allows you to cross your T's and dot your lowercase J's.
You've talked about how real-time authorization without real-time visibility, enforcement, or compliance leaves more problems than solutions for commercial operators. In what ways has that understanding influenced the way in which you're helping enterprise organizations approach the creation and implementation of commercial drone programs?
First, how do we ensure that someone can always have a complainant flight within a defined workflow? That's what we've enabled with Air Control and letting people define that workflow with checklists, risk assessments and airspace authorizations. What do you want to ensure that people do before they fly so that they're not going to get to that fly screen until they've done every step?
We've mostly helped preempt these issues, but you still have to have real-time visibility and then the historical record. More and more though, it's about internal compliance, internal efficiencies and internal reporting. You always need to be ready for the FAA element of this, but it's kind of similar to why you do your taxes. Yes, there's a legal requirement, but doing your taxes also lets you know how your operation is running. LAANC and the type of compliance you can ensure with Air Control is the same thing, because it lets you know you're doing the best job that you and your organization can do.
You can't grow without compliance. You can't scale. You can't really operate without safety, security and compliance and that's really the message we continue to promote and talk through with our users. How can we use this technology to help people do what they need to do? Answering that basic question allows you to get to a place where questions about real-time visibility and enforcement can get sorted out.
Are operators and stakeholders understanding that sort of thing in a way they might not have a few years ago? What's notably different about your conversations when it comes to how you can discuss these concepts or just the enterprise adoption of drones in a general sense?
More and more, people are taking a "don't get left behind mentality." That's been out there for years, but people are now really seeing and understanding the risk associated with not exploring their technology options.
A better understanding of the regulations and the risk involved is really helping higher-level executives understand what they're sacrificing if they don't get involved. I think we're getting beyond the Part 107 inspection use cases and we're seeing decision-making around more advanced operations and things like drone delivery that couldn't happen under Part 107 just a couple years ago. Not long ago there were more questions. Do I want to invest here? Is it too early? Now we're in that next phase where that trepidation is gone, which makes it more of a question of application and scope.
What's been very revealing of late is how our customers are talking about the secondary effects of the technology. Does your adoption of this technology create new opportunities for your workforce? Maybe those options weren't there before which means you now have less employee turnover that has a direct connection to your use of drones. We've seen a lot of that where employee performance and retention go up.
You've talked about and are committed to planning for and enabling a global UTM system, but how does that focus connect with the way in which you organization will move forward under this new brand? What sorts of new initiatives do you envision we'll see in this area?
One of the things that we're always thinking about as a company is how do we go beyond the means of compliance. We know that the current form of Remote ID is a very simple means of compliance. What's beyond that, and I think we've looked at that with the broader UTM, are regulations that can meet the market demands for things like drone delivery and these more advanced capabilities. They're going to require a lot more. Those are all things that will be part of the future of Aloft, but again, that's more about a continuation and evolution of what we've been doing since day 1.
Looking ahead, I think you're going to see crowdsourcing initiatives like the ones we've done with B4UFLY, where we gather more data sets, more flights and more intentions of flight to really showcase that this sort of airspace safety and situational awareness can be defined from a user perspective. People want to contribute to that, even when it's not mandated, or part of regulatory rulemaking. Defining a canonical place where people across the world can find the right data in the right time is something we want to be part of.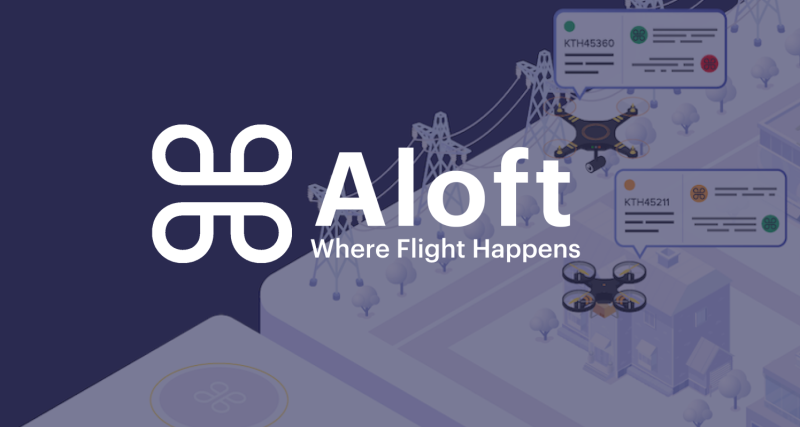 If there's one thing you want people to know about how the past of Kittyhawk will impact the future of your organization under this new name, what would it be?
I think it's really about seeing our culture of evolution in action.
We have the same mission as the day we began of enabling flight. We're tackling this really massive transformation in what aviation looks like as the airspace itself evolves, to the point that we have orders of magnitude of more flights that are happening all over the map. That's going to require a new level of infrastructure and a new level of airspace services that we're going to support and define.
Our company has already gone through multiple evolutions to best support this vision and to ensure our stakeholders are getting what they want and need from us. Our new name as Aloft speaks to all of that which is really centerpiece of the company that's continuing forward.