While drone technology has been proven to make countless tasks faster, cheaper or safer, it has not been able to do so at scale, partly because there is no defined approach to identify what a particular drone is doing in the airspace at any given time. A drone was recently used to inspect San Francisco's tallest building for potential damage, but that information that could not be ascertained from a centralized system. A new whitepaper from the Kittyhawk team explains not only what it would mean to enable this kind of transparency in the airspace with a Remote ID system, but also details the significance of doing so for the present and future of the technology and society as a whole.
Referring to Remote ID as a "digital license plate for drones," the whitepaper explains in detail why this concept is going to be so incredibly relevant for the commercial drone industry and how it will ultimately enable urban air mobility. In looking at the past, present and future of the concept, it's designed to address various notions of what Remote ID is, and what it isn't."There's a perception that Remote ID is going to mean a loss of liberty when in reality, this is a very necessary component for the industry to move forward," said Kittyhawk founder Joshua Ziering. "Ultimately, our customers are clamoring for this. They're looking for a way to demonstrate that they're operating responsibility and according to the regulations. Remote ID is something that's going to make everyone better."That notion lines up with Ziering's
mention of Remote ID being the drone industry's "olive branch"
to anyone unfamiliar with how drones are being lawfully operated. Concerns that drones are being used to spy or for far more nefarious purposes have held the technology back in numerous ways. Creating a Remote ID solution that answers the simple question of, "who's operating that drone?" will help everyone become familiar and comfortable with the technology to open up countless opportunities with it.The benefits of Remote ID are broken out into five specific areas in the whitepaper, with each detailing the distinct value of the solution as they relate to current challenges that range from regulation to operation to public trust. As an example of one of these benefits, the information being gathered by a Remote ID solution could help ensure incidents like the one that
took place at Gatwick Airport
are mitigated or completely avoided."If we were operating in a universe where Remote ID existed at scale, what happened at Gatwick would have been a lot more manageable," Andrew Elefant, Director of Policy at Kittyhawk, told Commercial UAV News. "The authorities could have immediately known whether or not a drone was in the area and could have taken appropriate action. The more information you have, the better decision you can make. Remote ID is going to let people make more informed decisions in any number of circumstances."Kittyhawk has
already demonstrated
what this solution could look like with InterUSS, which allows law enforcement, companies, other pilots, and the general public to identify drones operating in their vicinity. This network-based Remote ID solution is distinct from a broadcast-based Remote ID solution, and the whitepaper contains the best explanation around the differences between these approaches, which will impact how Remote ID is defined in the future.While Kittyhawk has
made numerous predictions
around what 2019 will bring to and for Remote ID, industry experts like Diana Cooper from Precisionhawk, Brendan Schulman from DJI, Ben Marcus from AipMap and Kate Fraser from Uber provide their own in the whitepaper. Most of these experts layout specific timelines around what we should expect from the FAA and when, although it's important not to focus on the potential future of Remote ID at the expense of how it can be enabled in the present.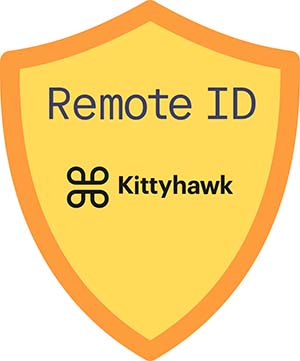 "There's no obligation to wait until the FAA creates a framework for Remote ID," said Ziering. "You can demonstrate Remote ID today, and many of our enterprise customers voluntarily share identification. There's no reason to say that just because there are no rules right now doesn't mean there's nothing to do. In fact, many of our customers choose to offer Remote ID right now. As an industry leader, we're happy to support a lot of different flavors of Remote ID. Whatever is effective for you and your team, we can make it work."The vision laid out in the
Remote ID & Commercial Drones
whitepaper is one that incentivizes transparency and inclusion to make sure that Remote ID is as capable as it is accessible. It's a vision that is ultimately a compromise between "anything goes" airspace and an NPNT (no permission, no takeoff) environment. This kind of solution will be a key factor in unlocking the true commercial potential of drone technology at scale. 
Learn more about the whitepaper
or
download it for free
.