WiBotic has always offered a solution that's a little bit different when it comes to drone battery and power options. Rather than trying to create a better battery, the company is focused on enabling smart wireless battery charging that allows drones to land and charge autonomously, thus allowing them to continue operating without the need for human battery swapping. With power being a bottleneck for many operators, the extended range that their solutions provide could open up countless opportunities related to BVLOS operations and other types of long range drone flights. A recent development for widespread use of this drone-powering technology could see those opportunities opened up sooner rather than later.
WiBotic has received equipment authorization from the Federal Communications Commission (FCC) for its high power transmitters and receivers. Their products are the first systems to receive FCC approval for use in mobile robots, drones, and other devices with larger batteries. It's a notable development for multiple reasons.
"Wireless power, in general, is a relatively new technology in the eyes of the FCC and other relevant certification and equipment authorization standards around the world," Ben Waters, WiBotic CEO, told Commercial UAV News. "That makes it challenging, because there are less streamlined processes for how you go about achieving the approvals, so we collaborated with the FCC and certified test laboratories to identify the relevant issues that we needed to address."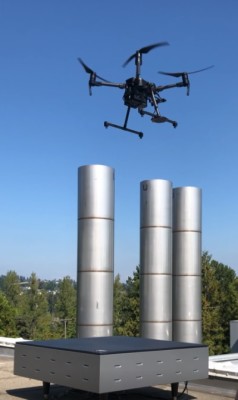 Those challenges include human safety related to RF emissions as well as ensuring that signals from the WiBotic solution would not interfere with other devices. That latter point is essential, because jamming the signal of a drone is a violation of FCC regulations. This process required a great deal of testing and countless iterations, but the company was ultimately able to meet the requirements.
This news doesn't necessarily mean that WiBotic is defining a standard for this type of powering technology in the way that a standard for wireless charging of cell phones was developed though. The type of compliance that would create a standard for powering drones doesn't exist yet for the higher power levels. Nonetheless, this development is set to make a real difference on individual projects and at scale.
"One of the key benefits we provide to the industry and to our customers is related to how they can use off-the-shelf drone components with our solution," said Matt Carlson, WiBotic VP business development. "Being battery agnostic means that a single transmitter in a landing pad can charge many different drones, including those with different battery chemistries or voltages. No matter the details, our solution is going to allow them to power their fleet in a way that they know is safe and reliable, starting with a product that is already FCC approved."
With the numerous regulatory and technical hurdles that can get in the way of this type of powering application, that compliance is essential. To ensure they'd receive it, WiBotic partnered with a certified test laboratory that had FCC approved testing facilities. They tested countless scenarios before submitting the documentation that resulted in approval. It was a process that meant numerous iterations of their firmware and solution, which speaks to the complexity and capability of their solution.
"Autonomous charging is quite different than what we've all become used to as consumers, where something is either charging when it's plugged in, or it's not charging because it isn't plugged in," Waters explains. "With autonomous charging, there are many more edge cases that present challenges because the device can be in different states of charging. For example, a device might be charging at full speed but then it suddenly needs to take action. So how do you gracefully make that shift without, for example, exceeding requirements for radiated emissions? Those are the questions we've had to address for our customers and now meet the relevant requirements outlined by the FCC."
That process has opened up different operating modes for various types of flights. WiBotic software enables a comprehensive visualization of all battery charging data across a fleet. This understanding is increasing efficiencies while reducing maintenance costs, although the technology could impact more than the bottom line.
Anyone looking to obtain advanced operation waivers from the FAA knows that the agency states that they don't want to see a business case, they want a safety case. Seeing as how the WiBotic solution could provide the kind of visibility and control over battery charging that is similar to what manned aircraft have been subject to, this charging and battery management solution could be a powerful element of that safety case. It could literally allow drone programs to get off the ground, which could just be the beginning of what drone integration looks like for an organization.
"This technology really opens the doors for companies to make highly reliable and safe drones and scale operations with confidence," Carlson said. "What's exciting is how all of this infrastructure can impact how end users solve the power problem in the short term but also sets them up for when FAA regulations change and things like BVLOS operations are opened up. Companies that figure out how their flights are going to be powered today won't have to make substantial hardware changes to be able to achieve fully autonomous beyond visual line of sight operations tomorrow."
Many battery manufacturers are focused on redefining power-to-weight ratios to keep drones in the air for longer amount of times, but there are physical limitations with batteries that constrain how much power they can store. Utilizing WiBotic wireless charging and fleet energy management solutions changes this paradigm and could reset expectations around how drone batteries are charged. This capability enables drones to become even more useful for important tasks, such as flying further for delivery applications or performing daily or even hourly inspections on site without operator intervention.
To learn more about WiBotic, visit their site.