A lot of changes characterized the drone industry in 2020 and 2021 that has Commercial UAV News and the industry excited for what 2022 has in store. One of the more exciting trends we've seen was witnessing American-made solutions become major players in the drone space, with companies like Skydio leading the charge.
Getting a foothold in the drone market has been a challenge for American companies for many years. Other American companies have tried to contend with DJI's majority share hold in the past, like 3DR and Airware, but they eventually left the market, leaving the behemoth relatively unscathed. Today, we are seeing that dynamic changing in a big way.
In 2021 alone, Skydio was named Company of the Year by Frost & Sullivan, was given numerous awards like the CES Innovation Award for its X2 drone, and AUVSI's Innovators Award for their 3D Scan software product. They were named one of the 10 most innovative companies in robotics by Fast Company and were given a $1 Billion Dollar valuation (the first American drone company to reach that benchmark). They were also tapped to supply short-range reconnaissance drones to the US Army, witnessed the approval of their technology, their dock-based Skydio drones, to operate autonomously along a large portion of the BNSF Railway, and launched their 3D Scan and Skydio Cloud software products–the first of many steps toward becoming a full-stack solution. By any metric, Skydio has seen phenomenal growth and success in 2021.
So, what were the conditions that led to this level of success? Skydio has attributed this to evolving market dynamics, its ability to attract top talent to the drone industry, and its focus on building solutions that work for enterprise customers. They believe that these factors have created an environment where companies who position themselves with the right culture, talent, and industry knowledge can compete with incumbent market leaders.
"Skydio is the fastest growing small UAS manufacturer in the world, and is almost single-handedly re-establishing an industrial base for commercial drones in the United States," Mike Blades, Former VP of Aerospace, Defense, and Security in the Americas at Frost & Sullivan stated, "Frost & Sullivan has identified autonomy and AI as the two main technologies that will drive commercial drone adoption in the future and Skydio is at the forefront of both."
Attractive Market Conditions
In Levitate Capital's most recent drone industry report, the enterprise, public safety, and defense markets are in a state of major growth. They predict that enterprise drones will be at $16 billion dollars in 2025 and $29 billion by 2030 from $3 billion in 2020. This is all to say, the market is set to get substantially bigger with a lot of that growth up for grabs. As the demand for drone technology grows, new and different manufacturers can step in to meet that demand. This means it is still anybody's game, and the players who are big today may not be as big tomorrow. Skydio is setting themselves up to be one of the major players by looking at that market and providing solutions that meet the needs of end users.
In addition to a bigger market, there has been increasing government support from multiple agencies like the DOJ, DOD, and DOI. Programs like the Short-Range Reconnaissance Program and Drone Infrastructure Inspection Grants (DIIG) are supporting our industry directly.
"Enterprise and government customers want two things when buying drones: they don't want to worry about crashing, and they don't want to worry about data security. Skydio is growing fast because we are the only company that checks both boxes," said Brendan Groves, VP Regulatory and Policy Affairs at Skydio. "At the federal level, policy makers understand that drones play a critical role in making America's infrastructure safer and more resilient. The DIIG Act would supercharge infrastructure resilience by funding grants for cities, states, and tribal governments to use drones to inspect infrastructure on a wider scale than ever before. The Act would also fund workforce development programs that will take our industry--and our economy--to new heights. The future of the industry is looking up."
These government entities are seeing the value and benefit that drone technology can provide citizens at the national and state level. Rather than classify them as military weapons or consumer toys, the government is finally starting to see the benefit in supporting this industry in a way that was only dreamed of several years ago.
In addition to government funding, there have been regulatory improvements from the FAA such as the Tactical Beyond Visual Line of Sight Waiver for Public Safety and Below Bridge BVLOS waivers like what was granted to NCDOT in North Carolina. With the BVLOS ARC, we should hit more regulatory milestones in the near future.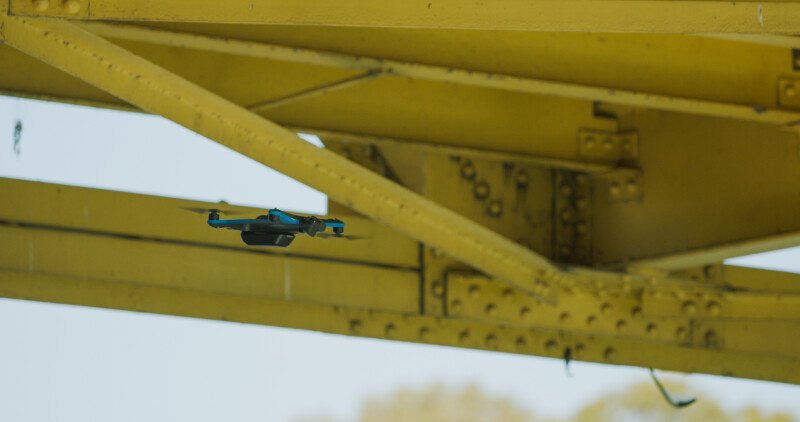 Vibrant Industry Culture - Becoming a Magnet for Top Talent
As the market grows and government support increases, the industry is attracting high-quality talent who see drones as an essential technology of the future. We've seen top talent from hardware companies like Tesla and Apple, software companies like VMware and ARCOS, the Department of Justice, the Department of Defense, top-tier law enforcement agencies like the NYPD, elite universities, bring their unique skill sets to the drone market. These seasoned professionals are infusing the drone industry with diverse insight, leadership, and knowledge that is going to position the drone industry as leaders in the technology market.
"Building market leading, high impact technology requires a diverse team that is bound together by a set of shared behaviors and actions. You need to build a team reflective of the world your technology is operating within for it to have it's highest impact," said Anna Birch, VP of People Ops at Skydio, in a recent article with Commercial UAV News. "What feeling does a drone flying overhead elicit? The way the arms move? Where do you place a button? If designed by a homogenous group you will be building something by and for one user. People often get so focused on the use case v. the person who will be operating. The more diverse backgrounds you have contributing the more likely you are to deliver the best product. Now comes the secret sauce, how does this group of individuals operate, behave together in pursuit of their vision and success."
Check out our full in-depth interview with Anna here
The result of this confluence of talent, diversity, market share, government support, and regulatory sophistication are companies within the U.S. who are motivated and able to compete with behemoths like DJI rather than play catch up by trying to provide a comparable solution. They are doing this by providing cutting edge, secure, industry-driven solutions that differentiates itself from the one-size-fits all approach of most of DJI's core product offerings.
Solutions that Work for Enterprise Customers
One of the most important trends we are seeing in American drone manufacturing is a focus on the end user. The goal is not to provide an American version of a DJI drone, but to supply enterprise customers with solutions that fit their everyday challenges and deliver real value.
For example, Skydio's Autonomy engine and Brinc's window-breaking drone technology are looking at how commercial industries are using drones and how they can serve those markets. Autonomy is enabling industries, who have been turned off by the complexity of drone operation, to finally adopt drone technology, and Brinc enables law enforcement to de-escalate some of the most dangerous scenarios without putting people at risk. These capabilities demonstrate how companies can carve out significant chunks of the market by focusing on the specific needs and wants of the enterprise or specific industry vertical.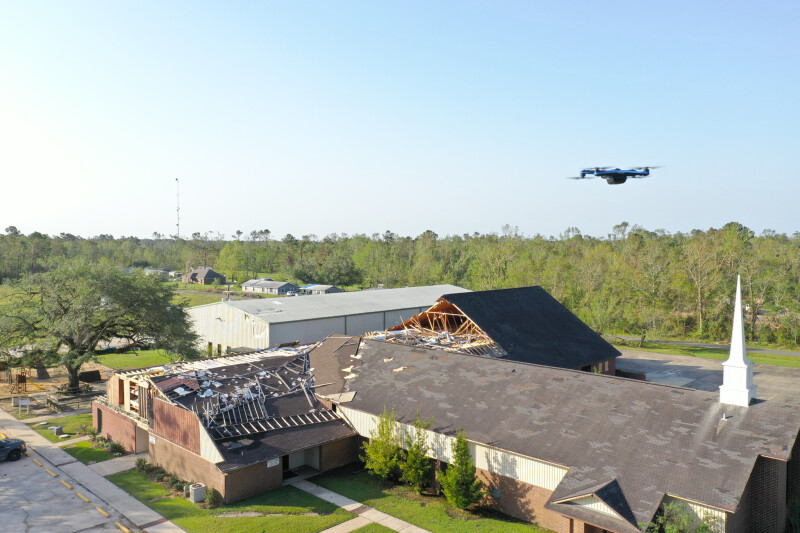 This industry focus has also led to the rise of full integrated workflows and developing onshore customer support. For example, in an effort to provide a complete solution, Skydio came out with the cloud and 3D Scan to make data accessible and actionable.
"Sundt Construction is excited to see drone manufacturers, like Skydio, analyzing the essential processes for construction and developing the ways we utilize and deliver actionable data to the frontlines of construction," said Dean Miller, Virtual Design in Construction Engineer at Sundt Construction.
By building a tool that can easily and seamlessly fit within a much bigger workflow, drone companies like Skydio are lowering the bar for entry by making it easier than ever to operate, integrate, and get the support they need to adopt.
Looking Ahead - A Healthier Drone Industry
So, what does the growth of American-made Companies in 2021 ultimately mean for the drone industry?
For starters, it means that consumers actually have choice. There are solutions out there that are not only providing services at similar price points but are differentiating themselves in meaningful ways. And secondly, and perhaps more importantly in the long term, we are seeing the development of a stable and mature market with multiple players—competition breeds creativity. Microsoft was challenged by Apple and have learned to coexist and differentiate themselves, so has Uber with Lyft.
For the industry to truly mature, the conversation in the future should be about what is the best tool for the task at hand rather than "how can we make this imperfect solution work?" Companies like Skydio, Brinc, and the many others out there who are working to provide affordable and solution-specific alternatives are an important step in that direction.