The drone industry is in a period of rapid growth and development, and no company embodies that journey more than Skydio, one of America's leading drone providers, who specializes in AI-based autonomous flight. Since launching its flagship consumer drone, the Skydio 2, in late 2019, the company has been on a remarkable growth trajectory. Skydio has raised two rounds of funding to exceed a $1B valuation, hired industry leaders across most of its functions, and increased its headcount by over 5x despite the global pandemic. We sat down with Skydio's VP of People Operations, Anna Birch, to learn more about how the Skydio team has managed to stick together through a time of tremendous uncertainty and change, and what the future holds for the drone industry's talent landscape.
Danielle Gagne: You've had an incredible career across various technologies. What was it about Skydio that led you to your current role?
Anna Birch: I was in cybersecurity for 10 years before joining Skydio. I woke up everyday knowing that I was working on technology that was having an impact. When deciding on my next move, it was critical for me to join a company whose mission and technology would make the world a more productive and safer place – not just another marketing widget or social network. That mission is what initially led me to Skydio, but as I learned more about the company, I found a passionate team and pioneering customer base that were working together to turn drones into everyday tools that can do dangerous jobs while keeping humans out of harm's way. I'm thrilled by the opportunity to help that team become the very best it can be while growing through a really challenging time for the planet. Oh and also, it's flying robots and AI - what could be any cooler than that??
What are some of the most exciting parts of your role?
My role involves a lot of figuring things out for the first time. Nobody has ever grown an American drone company to Skydio's current size before - let alone the scale we aspire to reach. So we need to figure out how to build a team capable of delivering game-changing technology that impacts people's lives, and doing it efficiently enough to serve a wide range of customers from individual hobbyists to large enterprises to the federal government. We need so many different types of expertise, all working seamlessly together, to pull this off. I'm focused on growing our team in ways that add capacity and new skills, making sure our teams collaborate effectively through a vibrant company culture, and making sure we maximize the experience of every individual Skydian to bring their best self to this important work.
Skydio is one of the largest drone companies in North America now. What are some of the challenges with growing so quickly, especially in the current market conditions?
There are a ton of challenges to growth that impact the entire organization - number one being that we have a ton of new customers to serve, and we care about giving each of them an incredible experience with our products. This has been challenging, especially during a pandemic where it's at times been hard to meet in person to work on hardware or manufacturing, and shocks to global supply chains have stressed our teams. In People Ops, one of our goals is to make sure we find the right people, to grow a team filled with passionate people who will go the extra mile to ensure a great Skydio experience, no matter where they sit in the organization. Growing that team comes with all kinds of challenges, though, from IT (for example, equipping people with computers while they are remote and a microchip shortage that impacts supply) to logistics (we outgrew our office during work-from-home and will be returning to a completely new location!) to helping our teams storm and norm while operating in a remote environment. It has helped a ton that our team is so focused on our mission, and that our collaborative culture has helped us patiently navigate these factors that some may see as growing pains.
You raise the great point that talent seems to be flocking to Skydio from all sectors - what are some of the factors that are encouraging people to build their careers there?
First, is the same factor that led me here - watching the Skydio mission to make the world more productive, creative, and safe play out in society in front of us. Drones have become more accessible, we are seeing the use of drones in our daily life which makes it easier to see oneself designing, building, marketing, selling, and testing the technology. Drone technology unlocks incredible possibilities. People want to work on technology that can have a positive impact on society. There is a growing desire in the workforce for people to be part of a team that builds responsible, impactful technology.
Next, is that as Skydio has grown, we have developed needs for so many diverse perspectives and skillsets. As a younger company, we had an appetite for highly technical talent with backgrounds in drones. Today, we need expertise in a variety of functional areas, from marketing to manufacturing to finance. If you look across the company, a high percentage of our new hires, including leadership, are entering the drone industry for the first time. This is critical to serving our customer base: We are building technology that interacts with people in all different contexts and environments, all over the world – whether providing support during a life safety event, inspecting a building or filming a kids soccer game it is critical that the people who are designing, building, testing the technology are representative of the world in which we are flying. Designing and building technology that successfully interacts with the real world requires a diverse team and perspectives, not just a room full of drone experts. Some companies limit themselves by only trying to hire so-called industry insiders. All you need to work at Skydio is a set of talents and skills, a can-do and can-learn attitude, and a passion for solving these problems for our customers.
And finally, talent attracts talent. Our teams have been so strong and passionate from the very beginning that they have created an environment that other top performers want to join. We have incredible team members all up, down, and across the organization that are not only eager for the challenges, but excited about the teams they get to tackle them with.
Not every drone company has the funding that Skydio does - how can other companies learn from the Skydio example and attract the next generation of talent as well?
It wasn't so long ago that we were a small company ourselves, just trying to get our foothold in this industry. We have found that it's always inspiring for candidates and employees to engage with the end customer. Drones are so different from pure software products because you just can't replace the visceral feeling of watching a flying robot solve a problem for somebody in the real world. Getting in the field is highly energizing for the team that you have, and can generate a passionate culture that will naturally attract more talent. And in the early days, many of our team members cite the experience of seeing the product in the field as a defining factor in deciding to hitch their career wagons to the Skydio mission. We're grateful they did, and especially grateful that our customers have pushed the envelope so far in turning drones into the incredibly impactful devices they are today.
When we look at the key players in this industry, diversity and company culture seem to be more than just a platitude you see on their hire me page, it is something they point to as a key reason for their success. What is that link between success and diversity and a strong company culture?
Building market leading, high impact technology requires a diverse team that is bound together by a set of shared behaviors and actions. You need to build a team reflective of the world your technology is operating within for it to have it's highest impact. What feeling does a drone flying overhead elicit? The way the arms move? Where do you place a button? If designed by a homogenous group you will be building something by and for one user. People often get so focused on the use case v. the person who will be operating. The more diverse backgrounds you have contributing the more likely you are to deliver the best product. Now comes the secret sauce: how does this group of individuals operate, behave together in pursuit of their vision and success?
Since we know that the most innovative and successful products are born from a diverse set of perspectives, it is critical that you are cultivating behaviors that support diversity and inclusivity. Having a clear sense of who you are and how you behave as an organization is critical. We encourage everyone in the company to engage with as many different perspectives as they can, both from their teammates and our users, to make design decisions that don't just benefit today's drone pilots, but the next generation of pilots who join the industry now that autonomy has made flying more accessible to all.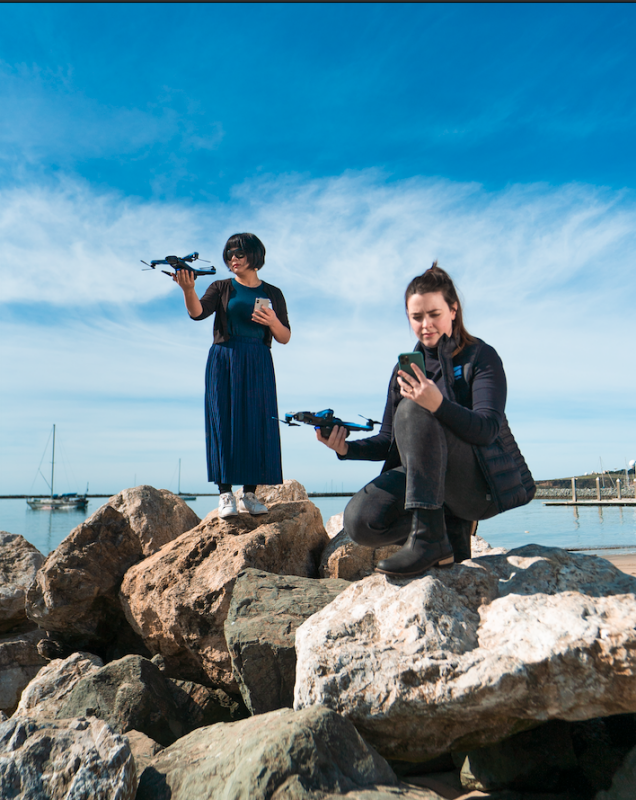 So where are we today? At Skydio we have an incredible opportunity to increase representation across all functions - this requires intentionality from everyone in the organization as we attract and build an organization that prioritizes inclusiveness and belonging. Since I joined 6 months ago the team has been focused on a number of efforts to increase representation in our candidate pipeline. We are doing this through partnerships with Universities, non-profit organizations and looking for talent in more unconventional places. We see early in career programs as a great opportunity to access talent. Our FY22 Summer Internship was the most gender balanced intern class of Skydio's history and we will continue to push the limit as we head into FY23. We understand diversity is multi-faceted and we are on a journey – excited to check in a year from now to see where we are.
Looking at the leadership needs for the future of the drone industry, what should be the focus and how do we continue to attract the talent we need for growth?
So many of the first wave of drone companies operated in survival mode, competing with each other to launch incrementally better products in a battle for market share. But that poses two problems: 1) it's much more inspiring to work on a mission than it is to join an arms race, and 2) it generates a lot of short-term thinking. It's understandable, necessary even, that young companies think that way, but with the stability in the market that we've earned at Skydio, we have an opportunity to think much more long-term about the way that we invest in the future. There are a few ways that we do this.
First is upskilling. All of our drones are hand built by our production technicians here in Redwood City. This is an incredible opportunity to help develop career pathways for our production technicians helping them gain / grow their technical skills and creating opportunities in other parts of the organization. While we are still figuring out the best way to turn this into a scalable and repeatable program, it is top of mind. We carry this attitude to all of our employees to help them reach their full potential at Skydio.
Second is taking the time to look for talent in unlikely places & backgrounds. If you recruit from the same three universities you are likely to get people who think the same, and come from similar backgrounds. Everyone in the industry is competing for the same pool of talent. We have found that looking beyond the more conventional profiles and places for talent is a huge lever to unlock excellence and brilliance in talent we may have historically overlooked. This coming year the recruiting team is really focused on looking for talent in more unconventional places / sources. We are willing to take a risk on talent.
And finally, we need to invest in future talent, starting with getting technology into elementary, middle and high schools in underrepresented communities. Market-leading tech companies have a responsibility to invest in the next generation of customers and developers of their industries. While the pandemic has been incredibly challenging for children, the Skydio team has remained committed to their work with local schools – to give one example, Kristen Holtz, Autonomy Engineering Manager, participated as a judge in SMASH's Stanford competition with high schoolers focused on developing an app that addressed a social problem. Kristen and Mira Marquez, UI/UX Designer, partnered with Silicon Valley Education Fund to speak with 3rd graders about what we are building at Skydio.
We take our responsibility as America's leading drone manufacturer seriously, and are committed to nurturing, identifying, and developing talent that can benefit our American industry as a whole.