Creating a "complete drone solution" is a concept we've talked about for many years now, with definitions that vary depending on the need and application. While the notion is typically focused on hardware and software, the underlying assumptions associated with this sort of solution are tied to autonomous capabilities that allow users to quickly and easily utilize a drone to perform numerous tasks. During the Autonomous Drones & AI session at the AI + Industry Summit, participants got a sense of how these expectations and capabilities have evolved.
Moderated by Danielle Gagne from Commercial UAV News, the discussion saw Brendan Groves, Head of Regulatory and Policy Affairs at Skydio join Reese Mozer, CEO & Co-Founder of American Robotics, to discuss the way in which the autonomous capabilities of drones are set to define the future of the technology and the drone industry as a whole.
Skydio has pioneered tremendous technical advancements when it comes to drone flight autonomy with the X2D. The autonomous capabilities of this drone are connected to many of the concepts that Groves mentioned when it comes to needing to trust a drone to fly itself and what it can mean to see autonomy in action. These capabilities essentially provide users with a film crew in their backpack, which allows them to complete countless tasks but also opens up additional opportunities that they're only able to recognize once their drone has taken flight.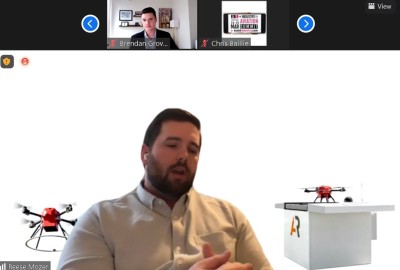 The importance of the American Robotics BVLOS announcement cannot be understated, as their Scout System is a drone-in-a-box that inherently relies on autonomous capabilities that are resetting expectations for users. Their system automates everything with a given task, to the point that the installed systems will operate in unattended manner indefinitely. They are approved to operate without humans being involved at all, underscoring the tremendous cost savings and positive logistical impact of such solutions. How are these types of solutions actually improving established workflows though?
"Enterprise operators need a reliable, repeatable source of info," Mozer said. "Our system represents a new category of data, because we're able to collect ultra-high resolution data 10-20 times a day everyday thanks to a workflow that is completely automated."
Groves mentioned what kind of a difference those types of automated workflows can look like in the real world with a reference to the North Carolina Department of Transportation (NCDOT) receiving permission to fly Skydio drones beyond visual line of site (BVLOS) to inspect bridges. By allowing inspectors to utilize drones rather than repel down bridges, the technology is saving time and increasing safety for the NCDOT in a way that is truly scalable.
That potential with scale was something Groves connected to the largest ever commercial drone deployment. Skydio teamed up with Eagleview to revolutionize virtual property inspections by making Skydio's House Scan software widely available. It provides an intuitive, autonomous image capture that results in consistent, comprehensive coverage across a property.
"The drone does it all by creating a real-time map of damage on a roof," Groves explained. "These sorts of inspections were previously not able to be performed at scale and this kind of autonomy in the field at scale highlights where the technology can make a real difference."
The value that these kinds of automated drone operations can unlock at scale is incredible, which The Future of the Drone Economy report from Levitate Capital lays out. The report estimates that the global drone market will grow to $90 billion by 2030, and that by 2024, the enterprise drone segment will become and remain larger than the defense sector. That value is thanks to differences that can be measured when automated drones can perform routine inspections of multiple pieces of infrastructure per day at scale.
Both Groves and Mozer highlighted the opportunities associated with the autonomous capabilities of drones, but tellingly, both were skeptical of how those opportunities would make an impact with package delivery applications in the short term. Traditional methods of delivery are relatively cheap and easy, which makes the value proposition much different when compared with applications like inspections. A fully automated system is required for package deliveries via drone to make sense and that's the sort of system that has just recently been enabled.
That kind of system is directly connected to the concept of drone technology being thought of and positioned as more infrastructure than aircraft. That evolution is symbolic of a new century of aviation that will see the airspace unlocked from the ground up. The role of humans and drone pilots in this new ecosystem will undoubtedly evolve, and Groves and Mozer shared what some of these changes and challenges might look like. Regardless of the details, both agreed that these types of evolutions are essential to both consider and enable when it comes to unlocking the true value of the technology at scale.
Just as that "complete drone solution" term needs to be fully defined in 2021, what expectations someone can actually have from a fully autonomous solution need to be understood in the context of where the technology and regulation are today. It was illuminating to hear Groves and Mozer discuss how both are at an inflection point that will define how drones create value for enterprises while simultaneously changing the future of the airspace.