As one of the winners at the most recent press showcases held during the Commercial UAV Expo, Agrowing Ltd., has an established track record when it comes to enabling powerful tools for farmers and growers. The provider of AI-enabling multispectral sensors consistently creates products that set it apart from the competition to enable real opportunities for users. The inherent power and utility of their products was readily apparent in their recent announcement about a significant breakthrough in leaf-level and aerial HLB detection in Citrus.
Agrowing's collaboration with VetorGEO, a Brazilian startup focused on Agriculture 4.0 solutions, has enabled them to use drones to identify and isolate multispectral signatures of HLB symptoms in citrus leaves. It's a significant breakthrough as it eases the biggest challenge with this sort of detection, which has traditionally been related to the timing around when growers can recognize such symptoms.
"Until now, there was no effective HLB detection with NDVI, which is why the Agrowing developed sensors can be so disruptive for the citrus industry," said Dr. Kelly Pazolini, VetorGEO's scientific researcher. "Finding new symptoms, so the infected trees can be removed as quickly as possible, is critical. This allows them to be both be replaced and limits the damage they would otherwise cause to the rest of orchard."
Infected trees can take anywhere from 6 months to two years to show visual symptoms. That means a significant amount of damage has already been done before a problem has even been identified. Resolving an issue before it becomes a real problem is connected to a larger shift that is seeing precision agriculture go from NDVI to the next level AI, and these types of sensors are powering that transition. However, there are challenges when it comes to how the technology can be integrated into established workflows and processes.
Luckily, with right guidance, such AI algorithms can be developed within weeks, as long as one can collect samples of the phenomena that needs to be detected. Aerial spotting at suspected trees is a blessing for most growers, but the approach to adopting these tools needs to be considered in terms of integration and timing.
"There is definitely a challenge of educating service providers to understand that accurate multi-channel analysis is not offered off the shelf," said Ira Dvir, Co-Founder and CEO of Agrowing. "That's why multi-channel, tailor fitted algorithms need to be developed for specific crops and phenomena. Agrowing is in the process of developing a tool, which will assist service providers to select effective algorithm, based on rather exhaustive machine multi-band combinations and manipulations crunching. We'll release that tool in the first quarter of 2021."
The opportunities that these sensors and algorithms are set to open up are significant. Right now, there is no technology that enables this kind of detection, which is significant since HLB is considered the main citrus disease worldwide. The impact on the citrus industry could be huge since the current visual inspections of symptomatic trees are very expensive, take too long to be performed in very extensive areas and do not have good accuracy. While this development will be of great interest for growers in the citrus chain, it could have a much bigger impact in agriculture as a whole.
"SeeTree has been using Agrowing's sensors in citrus for quite a while with great success," Dvir told Commercial UAV News. "We see the very same potential with almond orchards, olive trees and other crops. With field crops like potatoes, cotton, soy beans etc. the opportunities are even bigger, as with a low altitude second round scanning of NDVI-based selected spots in the field, the need for ground verification can be skipped, supplying the agronomist or the user sub 1mm per pixel samples of the pests or diseases, which were detected in the field, and planning a selective spraying mission accordingly."
As the image of an infected almond orchard below showcases, these distinctions can be relevant to a wide range of crops. The dynamic range of the sensor enables setting a wide range of health levels. The dark green trees are healthy.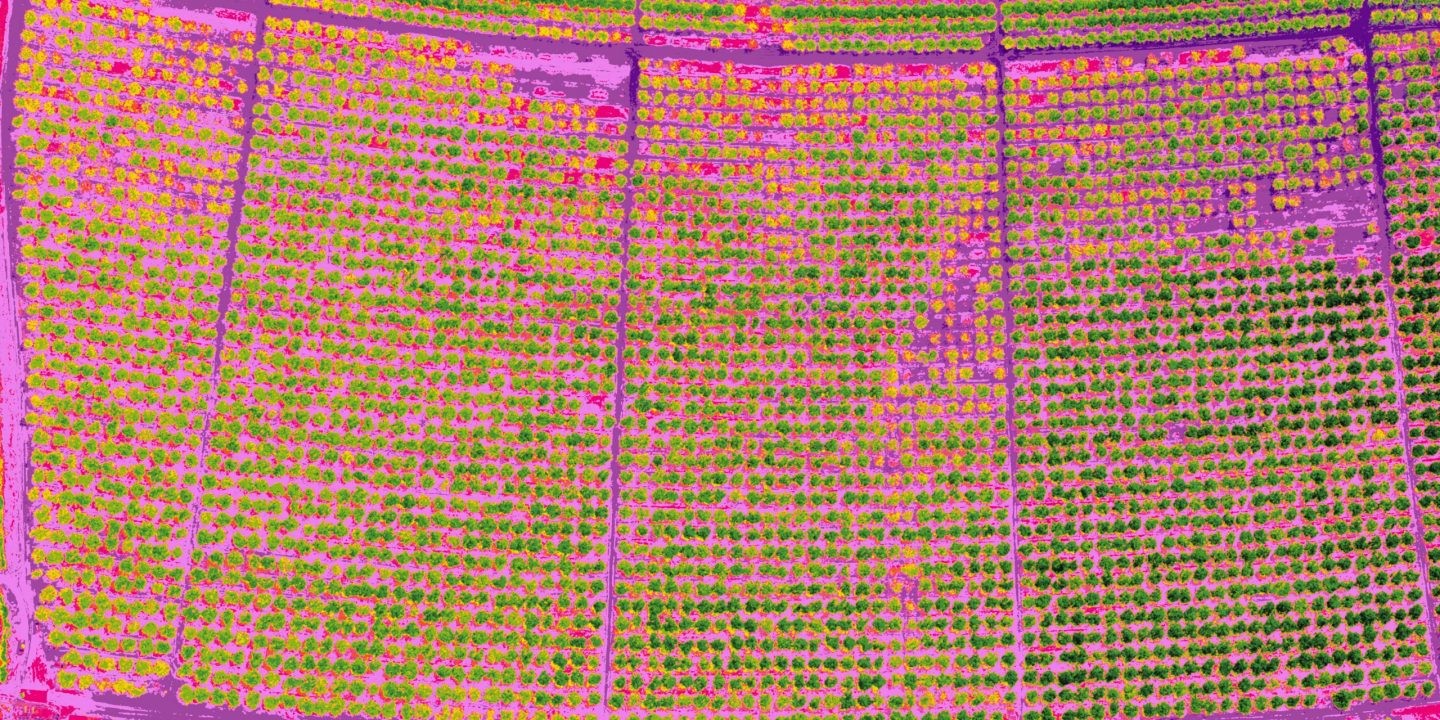 Reducing the cost of the visual inspections while also enabling early detection of blight or infection is the ultimate goal of precision agriculture, regardless of what those distinctions might look like from crop to crop, or from farm to farm. This development goes a long way toward truly defining the "precision" that has long been part of precision agriculture without being fully realized.
Agrowing sensors are available to growers and service providers that are used to working with Pix4D's Mapper and Agisoft's Metashape. The integration of their sensors with professional drones is a straightforward one, as any drone equipped with a Sony Alpha camera is already prepared to use their sensors. Their sensors of 10 and 14 bands are of far higher resolution (8 and 12 MP per band) and are offered at an affordable cost. The best way for a service provider to see these distinctions is to get their hands on a single sensor and then test it using a Matrice 600 or something similar.
To learn more about Agrowing sensors or solutions, visit their site.