Drones are being utilized in a variety of ways to enable completely different approaches to commercial projects of all types, but they're also being used to augment or improve existing methodologies and dangerous processes. Getting people to accept and deploy these new initiatives can be a challenge, regardless of how much better or safer they might be able to make a given task. That being the case, how does an aerial intelligence company with an innovative new approach to an old problem go about validating and certifying their methodology?
Kespry
has been able to provide a specific answer to that question for professionals working in the roof inspection industry. The roof inspection industry is strongly related to insurance claims, and insurance companies are famously adverse to changes and new methods. Because of that, having their automated process validated by an established firm was paramount to their success in penetrating the market. Kespry has developed an innovative, fast and inexpensive way to do roof inspections using an automated drone system, they did it by engaging an established engineering firm founded in 1924!Kespry connected with the professionals at
Haag Engineering
to perform an exhaustive analysis of their methodology and to
write a white paper
. Haag is considered to be the industry standard of the roof inspection business and their validation of the Kespry approach enhance the possibility of acceptance by insurance companies. They are the first drone company to engage Haag Engineering for the independent evaluation of their enterprise UAV system and to receive its seal-of-approval for roof measurements. The study found an average difference of just 0.6%, well within industry benchmarks for roof measurements, when compared to traditional methods of manual field inspections.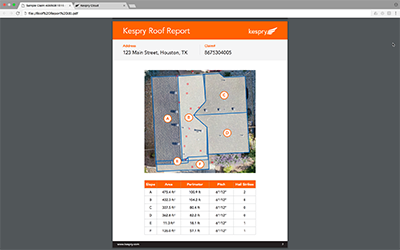 When asked about the key differentiator of their solution, Kespry officials emphasized that they control the entire stack of hardware, software and workflows necessary to perform roof inspections in a fraction of the time of traditional methods. The entire process of flight planning, actual flight, transmission of the data and processing into a 3D point cloud takes just a few hours. Their sophisticated PPK (Post Processed Kinematic) algorithms allow Kespry to obtain sub-centimeter accuracy without any ground control points. The complexity of the solution is remarkable and it includes an integrated LiDAR system on the UAV to detect-and-avoid obstacles during the automated flight and a comprehensive array of analytics that include machine learning and artificial intelligence for the real-time detection of certain types of damage such as hail and missing tiles.Another differentiator for the Kespry approach is their business model, which can't be categorized as selling UAV hardware or providing a service (DaaS). Kespry leases the complete system, which includes hardware, software and processing methodology therefore providing a platform that is always current and avoids the burden of ownership and software upgrades. It ties into their efforts to
deliver an end-to-end drone solution
.We've talked with professionals about how the Kespry solution has changed their approach in
industries like mining
, and it's amazing to see how their solution can and is being utilized in other markets. By exploring established industry standards and obtaining validation and "seals-of-approval" from recognized leaders in their respective industries, new and emerging drone companies like Kespry are considerably shorten their sales cycle and facilitate the acceptance of innovative methodologies using UAVs. Doing so is an essential element of adoption for anyone who wants to utilize the technology in the present.