Drone technology has spurred interest and excitement about what it can mean to approach a given project in numerous sectors, but most professionals realize the drone itself is just a means to an end. The concept of, "it's not the drone, it's the data" is one that we've extensively covered, as it underscores the importance of thinking about the technology as a tool rather than an all-encompassing solution. The utility of such tools is defined by the payloads and sensors that they can carry, which is why the news about Sony's upgrade of their Camera Remote SDK for drone imaging caught our eye. That sort of upgrade can further define drones as tools that are that much more powerful.
We've seen updates and innovations from Sony that have connections to the drone industry for years now, but I've always had questions about how the company envisioned their cameras and sensors would make a real difference in established or redefined workflows. Sony solutions are obviously state-of-the-art, but what does it mean to utilize one of their cameras in a practical sense? What kind of a difference could doing so make in sectors that include agriculture, surveying, construction, and mining?
To find out these answers and so much more, we connected with Yasuo Baba, Director Digital Imaging, Sony Europe BV. He talked through the practicalities related to the professional adoption and integration of Sony's solutions, but also touched on what it has meant for the company to get to where they are now in the drone industry, and how potential users should approach their options when it comes to the adoption of Sony technology as part of a workflow or process.
Jeremiah Karpowicz: What can you tell us about Sony's commitment to provide cameras that can be utilized for drone mapping and imaging?
Yasuo Baba: Sony has a very strong commitment to innovation. Bringing our latest innovations and ideas to people was always in the focus. We believe that drone mapping and imaging is one of the fastest developing and most interesting industry nowadays, for us also. Companies are integrating drones in new ways every day, may it be about disinfecting an airport during COVID19 or inspecting the quality of the blades of a wind turbine. And the possibilities are endless. Our aim and commitment are to equip these ambitious efforts with the best possible digital imaging solutions, hardware, and software. One of the reasons that we made the SDK free to download and work with was that if we had charged for it, it would have been a barrier to entry for many of these companies and would have been a limit on innovation – this is not the Sony way.
As for the cameras, we are exceptional in resolution, low light capabilities, speed, battery life, and compactness All of which are extremely important for the drone industry. Not to mention that we develop our products with future technologies in mind. All the major components of our cameras are developed in-house, we can already design the cameras of the future with the newest possible sensor technology in mind.
Or take AI for example. At Sony, we are already integrating AI technology into our cameras which can have massive implications for the Drone Market. A good example of this is Our Eye-AF (Human and animal) – the fact that distinct animals can be identified for any kinds of Wildlife conservation parks/ those tracking illegal hunters…etc.
Does the news about Sony's full-frame camera support solution with upgraded SDK, app library and support for use with Sony's Alpha range of full-frame mirrorless cameras represent a change, shift, or evolution of that commitment?
Definitely evolution and a big step towards future possibilities. You mentioned applications and this is where we at Sony believe there is a huge growth potential for the drone market. Our approach at Sony is to work with third parties and end-customers to develop drone applications for specific usage within a working environment that address specific needs that create efficiencies and improvements to any number of workflows.
We have made the SDK for the majority of our industry-leading consumer and professional cameras available for free and are working with our partners to develop these applications, based upon our products. When you consider the capabilities of a camera like our a7RIV that has a 61mp sensor which can lead to capturing larger areas in a shorter amount of time, reduced flight time and reduced costs, or the a9II which can shoot continuously at 20fps for fast-moving objects is clear there is so much potential ready to be unleashed.
Our cameras were already equipped with these specifications but the fact that now with the SDK, developers can integrate them into their own system, opens a lot of windows.
What kind of baseline knowledge or understanding of the cameras and the camera remote SDK does someone need to have to maximize their options with the solution? How have users reacted and responded to these innovations, and to others like the One Mount concept?
In order to utilize SDK, the users need to have knowledge of the software programming language C++. Because our SDK comes with the sample application, users can just modify the sample app. Also, manual and API specifications are included in the package.
Our SDK is compatible with Mac, Linux, and Windows, users can choose the best one fit for their needs. No technical knowledge about the cameras is required, they just need to have a basic idea of "Autofocus" or "Shutter speed" as a camera user. But of course, when we are working together with a company, and the application field indicates, we can provide support for the camera specs also, not just the SDK.
In terms of the reaction of users, users have expressed great satisfaction with Sony's SDK, which has a wide range of API. Many are appreciate of the updates that we roll out ever couple months, while others have expressed their appreciation for also that our SDK supports Linux OS.
Of course, our system could not be complete without our native e-mount lens range, currently consisting of 58 different ones. As an integral part of the Sony system, the One Mount concept is seamlessly connecting APS-C and Full Frame, stills, and videos.
What kind of a practical difference does it make to use a lens that offers double the sensor area versus APS-C cameras? Where is a user most likely to see that difference?
It depends on the final application. For measurement, mapping, inspection monitoring drone users, the resolution of the camera is the critical factor as they need to capture every tiny detail of the ground (e.g., 1cm/pixel). In order to realize the high resolution without compromising S/N (Signal/Noise ratio), FF is necessary.
For a content creation drone, the capability of the video shooting is important. Sony ILCE-7SM3 is highly evaluated by the market because of its image quality with ultra-high sensitivity which is based on an FF sensor.
It was mentioned that this solution could boost a number of use cases, including agriculture, surveying, construction, and mining. Do you envision the solution will open up brand new opportunities in those sectors or is it more about enabling those users to perform tasks they're already doing in a more efficient manner?
We think that it is actually both. Our resolution, sensitivity, speed, and compactness can open make the workflow more efficient and can open new opportunities. For surveying the high resolution can enable capturing larger areas quicker, reducing the flight time and operational costs. For mining, the high ISO of our camera can result in a better image capturing,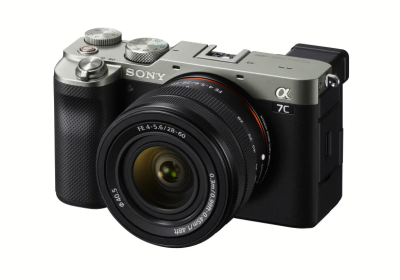 In the meantime, it is also opening up new opportunities. With our lightweight cameras attached to a smaller drone (our A7C is only 509 gr), they could reach confined and hard to reach spaces easier without compromising the image quality. It could be mining or a rescue scenario, mapping the area before entering can increase safety tremendously. We believe we are not only enabling new uses but also integrating them into those new uses very seamlessly.
How do you envision that process will play out for users in light of the new regulatory environment in Europe, along with other drone regulations across the world that are continually changing an evolving?
Local v European v worldwide regulatory consistency will have a huge impact on the drone market moving forward. Adjusting the regulations can open up a myriad of opportunities where the Sony solution can be extremely beneficial. If you take a look at for example BVLOS operations, where the area that the drones capture can be significantly increased without the constant repositioning of the operator, this is very beneficial for increasing resolution as they fly lower. With our A7RIV and the 61MP, you can make this even quicker, cutting costs significantly. Usually, fixed-wing drones are better for this because of their weight, our cameras can help on that front too. If you are restricted to fly VLOS you don't need to compromise on resolution even if flying higher. Detecting humans through eye AF can be useful during operations over people missions.
What are the biggest challenges when it comes to users getting up and running with that sort of system and process?
Based on our research among customers, the users do not struggle much to adopt our SDK.
Sony Europe has been offering industrial cameras with SDK also. Because of that experience, Sony could develop an SDK for our full-frame line up which is user friendly and easily integrated by customers to their own systems.
I would say that in general, drone companies are not traditionally used to Interchangeable Lens Cameras like our Alpha range. We would like to show these companies what they could achieve with our products. Our range of cameras and lenses have already proved themselves amongst professional photographers and content creators and we are very excited to take our digital imaging knowledge and innovations to other areas of the drone market. We understand that first, they need to start evaluating the Alpha range's performance (Image quality, Frame rate, etc.), and we are very pleased we could be a part of this. Once we can get to the testing stage with them, we believe our products speak for themselves.
If someone sees a potential fit for their workflow and wants to more fully explore their options when it comes to adopting the full-frame camera support solution with upgraded SDK, what advice would you have for them?
For corporate users, we would definitely advise taking a look first at our website: www.sony.eu/businesssolutions as we are continuously expanding the available information there. They can also get in contact with our team directly on that page, and we will make sure that their request reaches the right person. Expanding this branch of the business is very important for us and we are interested in every feedback from our customers. We have local representatives in every European country who are working in close relations with our UK (European) and Japan (worldwide) HQ. As mentioned for both corporate and personal users, the SDK is freely available on this website.
Potential customers are also encouraged to follow us/ contact us on our LinkedIn page https://www.linkedin.com/company/dibusinesssolutionsbysonyeu, for the most recent news and use cases. We take pride in the fact that we are listening to our customers, and that we are continuously on the path of innovation, so, even if we cannot provide a solution today, we might be able do so tomorrow