What sort of people and technologies come to mind when you hear the term, "drone industry?"
For some, that term is about the small drones that are being utilized for countless commercial purposes, in industries that range from construction to agriculture to public safety. For others, it's a term that represents larger aircraft that will transport large cargo to create faster and more efficient warehouse distribution networks. And for others, it represents the future of transportation, as defined by eVTOL flying taxis that will move people from one corner of a city to another.
No matter the perception or reality of this term, what's been revealing is how distinct communities have developed behind each definition, many of whom don't see the inherent connections across each. While everyone agrees that safety needs to be prioritized above all else, exactly how all these aircraft will operate as distinct parts of Advanced Air Mobility (AAM) ecosystems isn't always prioritized. That's why it's essential for the "drone industry" to come together to outline how airspace stakeholders can work together to ensure the sky is open, safe and available to everyone.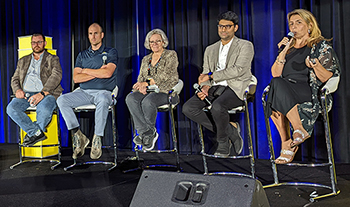 It's something that Toni Drummond, President US of Titan Aviation Global, understands in a profound way, as she has strong ties to various airspace communities. Those connections highlight the importance of collaboration across industries, technologies and ecosystems.
"As we have been witnessing, it's critical during this rapid growth for collaboration between all parties, especially general aviation and emerging technologies," Drummond said. "Sharing perspectives and knowledge will affect safe further integration into our NAS. By listening & educating the community holistically, we are building the bridge of understanding and paving a road to success."
A study commissioned by NASA stated that we could see as many as 500 million drone delivery flights and nearly 750 million air taxi flights annually by 2030. This AAM ecosystem of the future is being defined by developments that are happening right now though, highlighting the importance of AAM infrastructure planning and development to prepare for the future of aviation.
However, the future airspace that sees AAM ecosystems synchronized with UAS operations and crewed aircraft can only be enabled with a better understanding of what's possible today. No matter the specifics, the "drone industry" needs to come together to outline needs and goals when it comes to regulation and technology, but also prioritize collaboration and communication. Doing so is the only way forward for anyone that wants to make the technology make sense for commercial purposes and beyond.
"Our UAS and drone creators and visionaries are working in unison with regulators and stakeholders through a solution oriented lense," Drummond told Commercial UAV News. "The next revolution of sustainable aviation will depend on all stakeholders working together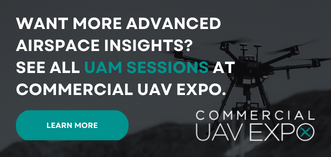 together to develop solutions that will carry us directly into the future."
The opportunity to define what it will mean to safely and effectively integrate crewed and uncrewed aircraft within the same airspace is as powerful as it is unique, and it is specific to where things are with the market and technology today. Individuals and organizations have the ability to make connections with companies and stakeholders that will define AAM ecosystems of the future, but all of that will be built upon the present reality of the public acceptance of drones and eVTOL vehicles, what it means to enact regulatory compliance within our current UAS framework, how to best streamline the timeframe in which we will begin air taxi services, and more.
While the "drone industry" comprises various technologies, companies and aircraft that have little to do with one another besides their ability to defy gravity, the commonality between them all are the passionate communities and people that want to change expectations around how we use the airspace. Cultivating those commonalities is the only way forward for this entire "drone industry" that means so much to the future of our entire society.
ATTEND THE ADVANCED AIRSPACE SUMMIT
Want to learn more? Take part in conversations that will bridge the gap between airspace communities and develop AAM infrastructure to support eVTOLs capable of transporting cargo and people as part of the Advanced Airspace Summit at Commercial UAV Expo this September. The Summit is designed to explore what it means to cultivate public trust, establish regulatory and operational frameworks and more.
Exhibitors include TruWeather Solutions, NUAIR, DroneUp, Spright and more. Register today!