In August of 2020, the Defense Innovation Unit (DIU) announced their Blue sUAS 1.0 initiative, a project they note "developed trusted, policy compliant small unmanned aerial systems (sUAS) for the broader Department of Defense (DoD) and Federal Government partners." Roughly a year later, in October of 2021, they announced their Blue sUAS 2.0 project, "which focuses on reducing administrative barriers for onboarding policy compliant, commercial small unmanned aircraft systems (sUAS) into the Department of Defense (DoD)."
As a whole, the Blue UAS initiative, which is an ongoing and continuous effort, has an aim of reducing barriers to commercial UAS systems for the DoD. They note the rapid expansion of use cases for UAVs in the commercial sector, as well as advancements in existing use cases, and that "military applications of those same systems become more apparent each day including transformative on-demand tactical capabilities in contested battle spaces."
This is surely an important movement for defense capabilities, but the eleven companies who have received agreements with the DoD to prototype the new approval processes see benefits on their side as well. Some of those companies are at the Commercial UAV Expo in Las Vegas this week, and spoke to Commercial UAV News about their drones in the Blue UAS program and the benefits they've seen as commercial entities.
FlightWave Aerospace: FlightWave Edge 130
FlightWave Aerospace, at booth 1100, had both versions of their FlightWave Edge 130 on display, with the Edge 130 Enterprise and the Edge 130 Enterprise Blue. The latter, as the name suggests, is the Blue UAS approved, and was designed specifically for military and government applications. The VTOL drone boasts two hours of flight time, greater reconnaissance capabilities compared to the Enterprise, and contains user-controlled visual and infrared navigation beacons, enabling safe recovery of aircraft.
Speaking about the benefits commercially from the Blue UAS designation, Callie Mortimer, VP, Commercial with FlightWave Aerospace, said, "The Made in USA, NDAA side of things is becoming a real issue across many department agencies, in states like Florida for example." She notes that the more responsible sourcing which comes as a result provides real benefits to end users.
Harris Aerial: Harris Aerial Carrier H6
Harris Aerial's H6 is the company's Blue platform. The drone, which comes with three different power formats and was on display at booth 623, is a heavy-lift drone. There is one hybrid option which is a gas-electric hybrid powered by the company's H2400 EFI generator, the H6 Hydrone, which is powered by their hydrogen fuel cell, and their H6 Electric, powered by battery. Ben Harris, President of Harris Aerial, told Commercial UAV News, "It's the only Blue platform that has these three power formats available."
Inspired Flight Technologies: Inspired Flight IF1200A
At booth 709, Inspired Flight had a number of their drones on display, including their Inspired Flight IF1200A. This heavy-lift drone is capable of completing a number of different types of vital government tasks, along with use cases like precision lidar mapping, utility inspection, and more, and it just recently received its Blue UAS approval.
Katie Christensen, Marketing Coordinator with Inspired Flight Technologies, told Commercial UAV News, "It's really important for us to be American made, and then along with that being Blue UAS because the government needs it, and more and more commercial industries need it as well because of regulation."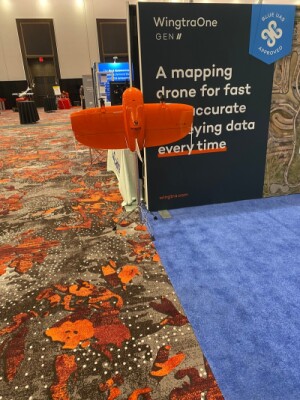 Wingtra's WingtraOne was on display at booth 428, with the mapping drone gaining Blue UAS approval. Originally built for surveying workflows, the WingtraOne is built for ease-of-use, requiring just a few swipes of a screen before an automated flight can take place with 59 minutes of flight speed, allowing for mapping of up to 700 acres of mapping. With the Blue UAS certification, these drones also have an encryption allowing for flight through DoD sites.
Benton Szejk, Account Executive at Wingtra, told Commercial UAV News that the Blue UAS certification "gives us access to a lot more projects, and a lot of our customers need it to get the business they're trying to achieve, like engineering firms who may want to do anything with critical infrastructure on DoD sites."
Freefly Systems: Freefly Alta X
Over at booth 801, Freefly Systems had two Blue UAS certified drones, the Freefly Alta X as well as the Astro. The latter of which is the newer of the two in their Blue UAS status, just achieving that certification in December. Speaking with Matt Isenbarger, CRO at Freefly, he indicated that their Blue UAS status came not from them necessarily seeking to enter into the defense market but rather from their existing desire to source as much as possible from the United States.
Speaking about the benefits the company has seen on their commercial side from the Blue status, Isenbarger talked about the level of trust they gain from the arduous process of being approved. "You had to go through the whole penetration testing, compliance, everything else in the process. Going through that process doesn't necessarily directly affect commercial enterprise, but the fact we went through all that really builds trust."
Skydio's booth, number 407 on the floor, had different drones on display as well as an indoor flying demo setup, and Matthew Toth IV, Business Development Representative, spoke about the Skydio X2D. The Skydio X2 is their NDAA compliant enterprise drone, with the X2D being the Blue certified option. Toth notes that there are many similarities between the two in terms of capabilities, with the X2D operating on a different frequency.
That similarly and ease of use was front of mind for Toth, who told Commercial UAV News, "The thing about Skydio is that they're such versatile drones. Whether you're military, law enforcement, someone on the lines for utilities, anyone can pick up a Skydio and feel confident that they can fly and get the data they need."