In 2019, the way the majority of us conducted business often included a significant amount of travel. Live demonstrations of product, especially hardware, was almost always required to secure major contracts and partnerships. 2020 has been quite different.
When the pandemic hit and all travel stopped, the ability to do live demonstrations was lost. Overnight, the industry had to learn how to operate everything remotely. How would we conduct business in a virtual world? Were buyers willing to invest in a product they couldn't see demoed in person? Could the industry provide a reasonable, virtual facsimile to at least keep the conversations going? Or would the industry struggle to conduct business until travel could open up again?
"Prior to the pandemic, we had repeatedly hosted customers at our flight operations center to do in person demonstrations because when you are trying to convey concepts that relate to aerospace and drones, you need an open environment to be able to demonstrate that," said Aaron Rudger, Marketing Director at Iris Automation. "Demonstrating detect and avoid requires not just a drone but also another aircraft, and that is just not something that translates well to Zoom."
The team at Commercial UAV Expo asked similar questions when they went virtual, especially when looking at how to recreate the Outdoor Flying demonstrations, which was a favorite of the live events. The flying demos went beyond putting drones up into the air, it simulated real-life scenarios, it provided real-time video streaming and data processing, and more. This event gave solution providers the opportunity to demonstrate their platforms, sensors, software, and knowledge in action for a packed audience of hundreds of invested end users and potential customers.
For those who are used to traveling around the globe to give or attend one-on-one demonstrations, the value of this opportunity can be expressed in time, cost, and labor saved. This is the value proposition not just for the outdoor flying demo, but for all tradeshow events: the opportunity to conduct business, network, and discover and compare new and innovative solutions at scale.
Could a virtual platform provide users with the information they needed to make vital decisions for their businesses? The answer to that is complex.
"I still prefer doing demos in person, face-to-face," stated Daniel Kang, Manager of the Sales and Business Execution Team at Doosan Mobility Innovation. "Our product is quite new, and our customers have never seen it before, for our customers to actually see the product is better. But I learned virtual can be another way to do it when we can't do it in person."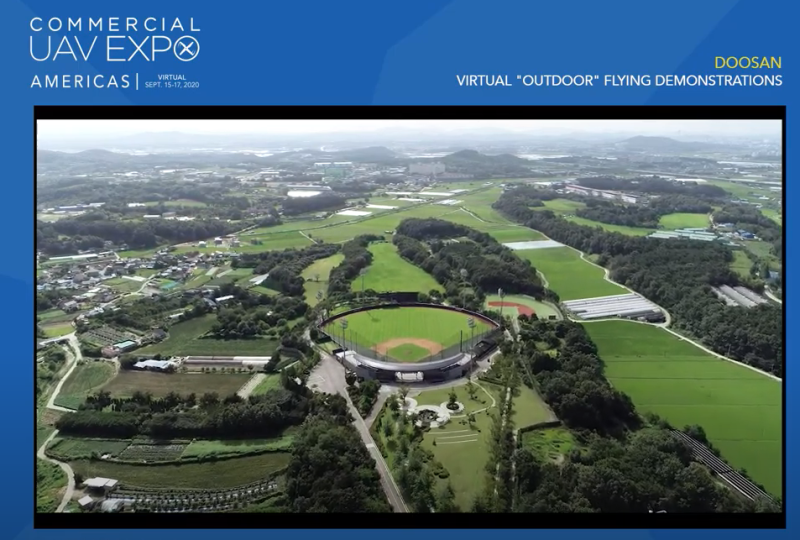 Live may still be the best way to showcase technology, but in light of the constraints, companies are starting to see virtual demos as the next best thing and are seeing the value and potential cost savings in adopting a hybrid virtual–live sales model in the future, even when the pandemic is over.
"Even before the pandemic, we had been thinking strategically about how we could bring our product to scale," explained Rudger. "It is very difficult, time-consuming, and costly to travel around creating that kind of first-hand experience. We had already been thinking about ways we could take that demonstration and deliver it in a virtual format. The footage that we put together for the outdoor flying demonstration has been used as a dry run to help us perfect that experience. This particular set of footage has really helped customers understand a lot of complicated technology by showing how it delivers tangible, real-world results. It established the value of having multiple means of communication to help customers understand the capabilities of our technology. It was a good opportunity for us to revisit the customer perspective, and the feedback has only reinforced that."
Many of the videos premiered at the virtual flying demos included footage that wouldn't have been possible to recreate in a live scenario, such as showing the effectiveness of thermal imagery using real fires, talking through real footage of public safety missions, flying a drone at a plane to demonstrate detect and avoid capabilities, recreating a nighttime crime scene data capture, and more.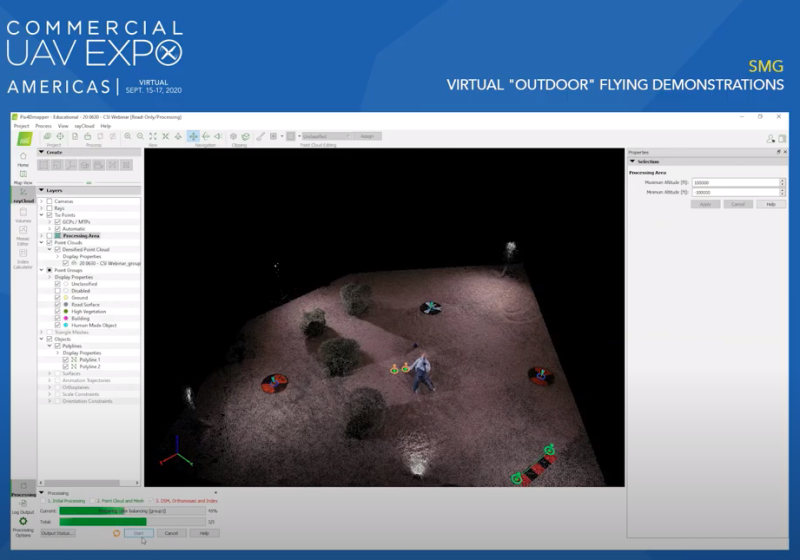 "Not only was this outdoor demonstration incredibly effective, but because of the way it was set up, the camera was able to get really close to the tech so that the audience got a firsthand user view of this equipment," stated Douglas Spotted Eagle, Chief Revenue Office of Autel Robotics. "In a live demonstration, they couldn't get that close."
"Another compelling aspect was sharing case studies—actual working footage of drones in action," added Jennifer Pidgen, COO of Sundance Media Group. "In a demo we know we can mimic a fire, we can mimic smoke, but some manufacturers have actual footage of live scenarios and those case studies and that is another way we can immerse people into the reality of the tool."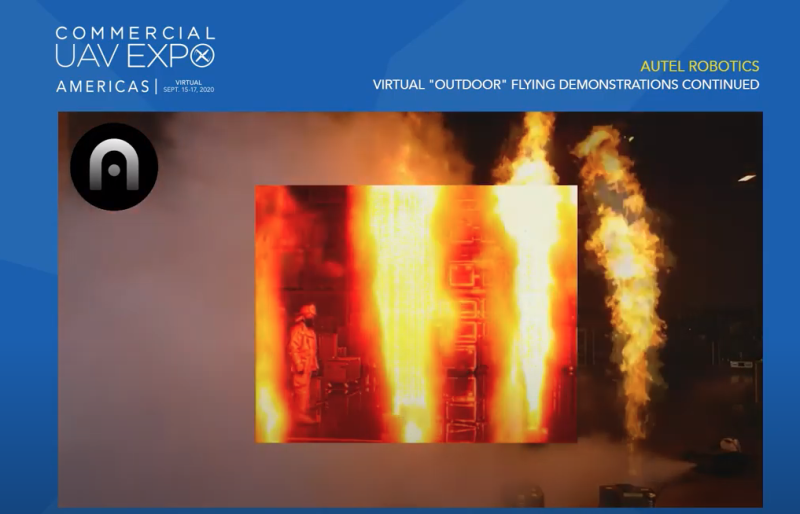 Though we may not be ready to exchange live demonstrations for this virtual platform, this year's experiment with virtual outdoor flying demos provided some valuable lessons and new strategies on how to engage clients from a distance.
Check out the Virtual Outdoor Flying Demos on demand here.