Auterion has often compared itself to Android or Red Hat and for good reason.
Similar to how an Android smartphone or Android Smartwatch all run off of a similar system, support similar applications, and have a similar interface but are running on distinctly different platforms that have their own strengths and weaknesses, you can have a fixed wing, a multi-rotor, or other type of system all running off of Auterion's system and feeding into the same applications and services. With Auterion's SDK, applications and services can also be developed for the platform to fit the needs of the customer. And, just like Android versions, you can upgrade your system to the latest software or replace your model and still be able to maintain continuity of your workflow.
For Kevin Sartori, Co-Founder of Auterion, this ability to upgrade without having to compromise workflow is what makes investments into Auterion-powered platforms "future proof" and a game changer for the industry.
Recently, Auterion has been making important strides toward their goal of building out a robust enterprise drone ecosystem. This year, many pieces of that ecosystem have come into play with Skynode, SDK for enterprise developers, and partnerships with leading platform, payload, and software developers like Freefly, Sony, and Esri. With so many important developments, Commercial UAV News spoke with Sartori to discuss their recent announcements and to put it into context against the backdrop of the pandemic, their broader goals for the drone industry, and more.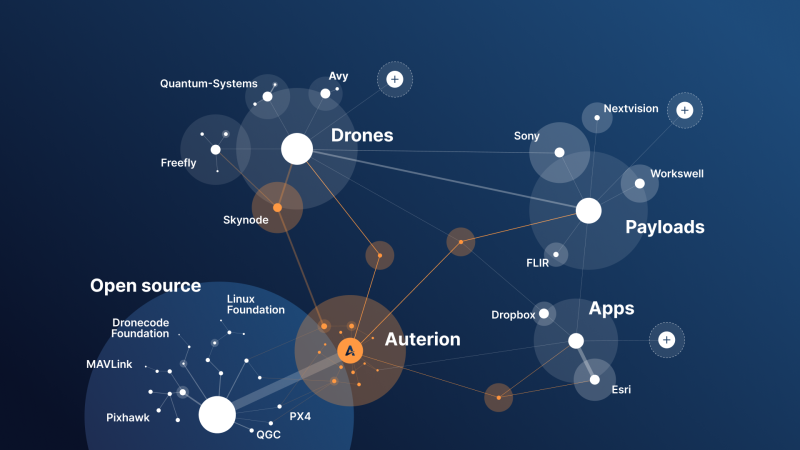 Danielle Gagne: How has the events of 2020 impacted the drone industry so far?
Kevin Sartori: I think the biggest change has been speed. From the period from March to May, everything stopped, companies were trying to understand how it was going to impact their business and if they should still invest. I think you can basically remove those three months from 2020 in terms of customer decisions, sales discussions, and bringing products to market. For example, the Skynode's go-to-market was slowed down because of supply chain disruptions as well as for large-scale deployment. So, they were trying for almost two to three months to understand the situation.
Things also got postponed because you couldn't travel. Many customers, especially in the government where they have long sales cycles and they need to test the product, were unable to make important decisions. Discussions have now mostly gone back to normal in our conversations, in deploying the product and servicing our customers, but often cannot meet in person. So, we have had to find ways to showcase the product, do demos, and support the customer. There have been losses in efficiencies because we, as an industry, haven't quite figured out the right processes yet.
You make a good point, the way we have to work is completely different now for many people. There are no pre-defined processes for this and figuring it out on the fly is going to naturally lead to some inefficiencies. How do you see the industry adjusting to this virtual world?
It is a bit more of a process. Instead of having a salesperson provide a demo to a customer and that customer deciding to buy a couple hundred systems. You have to demo it on Zoom, and the customer may want a few of them to test, and then they slowly build toward larger order of units.
As a purchaser you might need to give more trust to those companies, because they can't actually demo the full capability of a product remotely. Communication is important, because you need to set the right expectations. We've seen problems with industry marketing beyond what the actual product can do, and I think that has hurt the industry—we need to be careful not to make that worse because we can't talk and do demos in person.
With all of these challenges, how have you been able to adjust?
Because we have been building the PX4 open source project remotely for the last 10 years, we believe we are as a company and developer ecosystem trained to work remotely. We've worked with people for over six years without ever meeting them in person. I remember meeting some developers at AUVSI for the first time in 2019 last year, but we had worked with them for five years. It is possible to build an ecosystem or very complex software that has millions of lines of code without actually meeting people, but not everyone is used to working like that and I think that is a challenge we are seeing now.
And this ability to work remotely can be evidenced by all that your company has been able to accomplish in 2020. Can you talk a little bit about what led you to your most recent partnership with Freefly and the benefits that the Astro will be able to bring to the industry?
We work with several manufacturers, but Freefly is a particular one because of their long track record. They are a bootstrap company that is now almost 10 years old and has shipped thousands of units. They've been focusing mainly on larger systems for videographers—many Hollywood blockbusters have been shot with these types of drones—they are high quality and rugged.
Both of our companies saw the need for a smaller system that can carry a good mapping, thermal, or inspection camera, like a Sony or FLIR camera. Determining the weight and size, we basically came up with a drone that is roughly equal to what we know as the M200 category at DJI.
This size of platform has defined a category of drone that is a very flexible, portable, and can carry a good-sized payload—it is like the F150 of drones because of its versatility and capabilities.
I think the advantages that this product has, especially when compared to other previous products of Freefly, is that it is always connected. This enables a whole set of new workflows. What this means is that you don't need to be in the field as a subject matter expert (SME), but you can be in your office getting the video stream coming from that drone in real time over 4G LTE to your cloud, which enables online workflows at scale. This is a differentiator that is going to save companies money and time.
And to that we can add the Auterion ecosystem. The ecosystem comes with different integrated payloads, like the Sony a7R4 camera that was recently announced. All of our features, functions, video stream, and data geotagging is accessible over our SDK. And finally, we have partnerships on the service and application side, like our recent announcement with Esri. So that means you're not bound to the Auterion Mission Control app, but you can use the Astro and determine the workflow with a third-party app.
Is there anything else we should be looking out for from Auterion in the coming months or years?
In the coming months for sure, and in the coming years—even more, I think. In the short term with the Astro, we are looking to provide solutions for public safety as well as mapping and inspection especially in oil & gas, and utilities, which have some of the largest fleet of drones that is being used today. We see a lot of systems out there that, when compared to DJI, don't match in quality, functionality, and features. In the short term, the Astro is a system that compares to what DJI offers today, which is important for companies and agencies faced with new platform restrictions.
We also want to make sure that what you have in place today is future proof. The system you have today may not be the best drone next year, but you don't want to kill your process or integration. You want to be able to upgrade your platform and keep your workflows intact. We are making sure that what you invest in today in your workflows is there tomorrow and you won't need to start from zero.
But this is just the beginning, on top of all of this we have the SDK out there. As soon as the Astro is out on the market, developers can write their own app for it deploying it on the drone to do machine learning and AI on the system itself. I'm very excited to see what developers will do with that SDK, we just give them the platform that enables them to take advantage and build on top of it.
The Astro is now available for pre-order with first units shipping in Q4 of 2020. Further information about the platform can be found here and here.