Last week at the company's live event, Ascend, Skydio announced their new Skydio X10 drone, their first release since exiting the consumer business earlier this year. The drone is designed for enterprise and public safety applications, and features new data capture cameras, AI-powered autonomy, as well as a small and easy-to-manipulate form to make for simple use and transport. In a blog post announcing the new release, Skydio CEO and co-founder Adam Bry wrote, "This drone is the culmination of everything we've learned over the past ten years delivering over 40,000 intelligent flying machines and serving over 1,500 enterprise and government organizations."
In the company's announcement of the news, Skydio highlights four features and capabilities – high-resolution cameras, a versatile airframe, AI-powered autonomy, and "unmatched" portability – which they say has never before existed in a single platform. Of these features, it's the cameras and autonomy which stand out the most. On the former point, the cameras on the X10 were custom-designed, and include a 48MP zoom camera, a 500MP wide field of view camera, and a 640x512 Teledyne FLIR Boson+ radiometric thermal camera.
| | |
| --- | --- |
| Skydio X10, folded | Skydio X10, unfolded |
The autonomy, meanwhile, has been a calling card of Skydio drones and the X10 takes things to another level. Specifically, the AI used to power these autonomous flights are powered by 10x improvements in compute power and 10x higher-fidelity custom-designed navigation cameras compared to the previous generation. Furthermore, Skydio's new NightSense empowers 24-hour operations, allowing for autonomous flight in zero-light environments, while the new X10 Spatial AI engine enables real-time environment mapping and fully automated modeling at the edge with 3D Scan and Onboard Modeling.
Skydio's X10 also boasts a new "versatile airframe" and "unmatched portability," per the announcement. Looking first at the airframe, the X10's is modular with four payload bays, replaceable gimbal sensor packages, and an IP55 weather resistance rating. The portability is also improved, allowing for easy movement between operations with Skydio indicating that the X10 can go from folded up in a backpack to the air in less than 40 seconds.
In terms of use cases, the company mentions three separate spaces which would benefit from incorporating the Skydio X10. The first is within the public safety space with "Drone as First Responder" scenarios, which is a relatively new practice of police departments quickly deploying a drone to a crime scene before first responders can arrive. Skydio writes, "With onboard 5G capability, [the X10] can be launched by an officer and operated remotely, providing invaluable situational awareness and aiding in various public safety tasks."
They also point to military applications, for which they've designed the X10D. Like the Skydio X2D compared to the X2 – Skydio's previous generation – the X10D was specifically made for military applications and includes visual navigation for GPS-denied environments, a multi-band radio for connectivity in contested environments, and infrared subject tracking, among other features.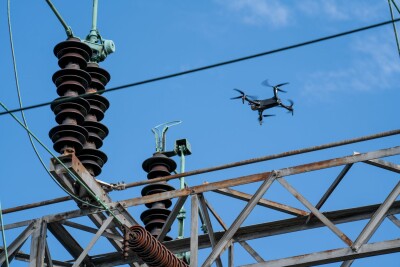 Finally, they highlight the possibilities for utility and other infrastructure operators of using the X10 for inspection workflows. Drones have carved out an increasingly large presence in the infrastructure inspection space, and the combination of high-powered sensors and autonomy makes the X10 a logical option for those looking to either implement drones for the first time or upgrade their current hardware.
Along with the new hardware announced here, in the previously linked blog post Bry also announced Skydio Extend. A solution to allow users to get maximum impact from the data collected with Skydio drones, Extend is a set of APIs, workflows, and integrations to simplify transferring, storing, and analyzing data. The new release includes pre-built integrations along with support from the Skydio team to build customized workflows and integrations, along with their "full suite of dev tools" for customized integrations.
"The Skydio X10 combines the sensors customers need to get the data they care about, with the airframe and autonomy to put those sensors in the most important places at the most important times. It can do everything expected of leading manually flown drones, but it has the autonomy to enable a scale, scope, and impact that has so far been elusive for the drone industry," said Bry in a press statement. "X10 is a reflection of everything we've learned from our customers over the last three years, a technology foundation with a decade of R&D behind it, and the work of an incredibly talented and dedicated team at Skydio. Our end goal at Skydio is not to build drones but to build successful drone programs. The journey is just getting started."