Commercial UAV Expo features a wide variety of different use cases for which drones can be used in commercial settings, ranging from deliveries to public safety to surveying, and much more. Among the industries which held a significant presence at this year's show was the energy and utilities industry, who use UAVs to perform safe and efficient inspections of their assets. There were many companies who offer hardware and software for these verticals on the exhibit floor, and on the second day of the conference there was an entire session dedicated to these workflows and how the space has changed in recent years.
That session was broken into two halves, the first of which featured four presentations from professionals working for some of the biggest infrastructure companies across the United States. Each presenter highlighted a case study showing how drones are being used in their space and some of the barriers that they are still crossing in what is still the early days of the usage.
This portion of the session began with Rohit Gohil of Ameren, who spoke about the company's infrared inspections being done with UAVs. He discussed why drones are particularly useful for this "non-contact data acquisition," allowing for sensors to get closer than more traditional methods, and thus collect more accurate information about the assets. After him, Teena Deering from TeeDeeUAS, LLC and San Diego Gas & Electric spoke about her experience with the public trying to shoot down drones inspecting assets in their neighborhoods. She spoke to how professionals should respond to these scenarios and gave tips on working with local and federal law enforcement after such an event occurred.
We also heard from Jake Lahmann from Valmont Industries, one of the largest utility asset owners in the United States. He spoke to how the company's drone operations have grown over the years, and what steps they've taken to ensure effective scaling of that work. Finally, Stanley McHann of SparkMeter spoke similarly to building up drone divisions for inspections and talked about the importance of finding the right equipment and ensuring you are getting the most ROI from your workflows.
Following a short break, the session resumed with a four-person panel moderated by Cynthia Huang, CEO of ACSL, Inc. She was joined on stage by the following industry experts for a discussion about what challenges they are still facing in utility inspection space and what they see for the future of drones in these workflows: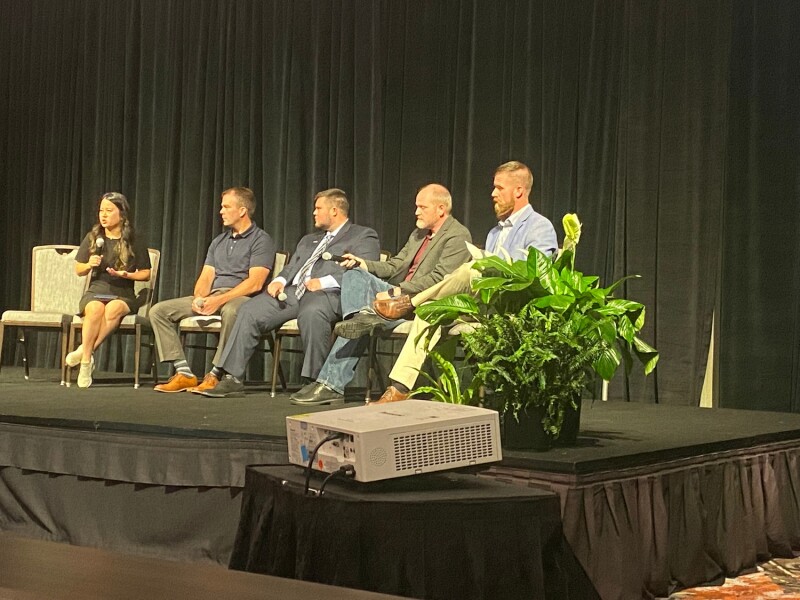 The panel discussion began with a nod from Huang about how much this industry has grown even over the last half-decade – "I remember back in 2018 when I first got involved with this wonderful industry, a lot of the programs that I was working with at the time were starting out about 10, 15, 20 drones. And nowadays, it's very common to talk to large utilities like the ones you're about to hear from who have collectively hundreds or even 1000s of drones" – but also an acknowledgement that there is still room to grow. She asked the panel what hurdles they needed to overcome in order for the space to take that next step.
Broadly speaking, there was agreement that one of the major hurdles simply revolves around providing more education to other parts of the organization. Drone programs are mostly known about organizations, but the specifics were a bit of a mystery. The panel called for better education throughout companies about why these programs exist and what they add to the bottomline for organizations of all sizes.
Beyond that, there was also discussion about honing in on what the drones do best, and acknowledging that they aren't a solution for every problem. There are, in other words, still use cases for which other sensing technology could work better. Robie summed this up nicely, saying, "I think where we're going next is a bit more specialized, really dialing in on those use cases and seeing where we can make the biggest impact."
The conversation also touched on what the next steps are for the growing space. There were a few threads of this conversation, one of which revolved around the software used to process data collected via UAVs. On this front, the running themes of the conversation largely came in three buckets: Flexibility, proof of worth, and standardization. On the first point, Scott said, "We need flexibility. A lot of time, manufacturers go out and they try to build the workflow for us, and a lot of times that creates challenges for us because we all appear to probably have different workflows across the board."
Piece also talked about the growing presence of artificial intelligence and automation, acknowledging the power of these tools but showing skepticism of whether or not full automation is realistic. That said, he and Robie agreed that these companies need to be able to prove that their solutions work and are viable for their businesses rather than just preaching the broad concepts and buzzwords.
Finally, Spurlock touched on the need within the industry to create a standardized file type. In these workflows, massive amounts of data are collected and there are different solutions out there for downsizing the data in a way that makes it ingestible. He said, "We only want to ingest the stuff that's useful to us, because otherwise we're going to be in paralysis. How do we manage the amount of data that we're capturing now, much less when we have these automated flights taken off of the system?"
This was only a small portion of the presentations and discussions that took place on the stage at Commercial UAV Expo, but broadly speaking the big theme was how much pride all of these professionals take in their work, which was something Robie spoke to in closing the session.
He said, "Everybody up here that works for utility companies are certainly very proud of what they do and what they bring to their community. Be cognizant of that when you're a third-party vendor and approaching the utility companies in the seriousness with which we take our jobs. It's not just the earned paycheck, and it's not just to get a contract for the third-party vendors. It's something that we all take pride in."