Lumiflex, a US-based company, wants to utilize its patented cablelight IP, based on LEC (Light Emitting Capacitor) technology used in their Rescue Cablelight product for fire rescue and search and rescue, to enhance the safety of drone tethered solutions.
Designed for a wide variety of military, first-responders, and enterprise applications, Lumiflex's cablelight tech aims to enhance vital cables, improving the "sense and avoid" paradigm with a "see and avoid" solution when dealing with very thin profiles. Lumiflex cables are tough, flexible, lightweight, cool-to-the-touch, and provide the following benefits:
Announces its location in the dark so that nothing cuts or gets entangles with it,
Transfers the power/data/comms that the cable is supposed to,
Creates a lighted beacon or pathway from the drone to its power source so that anyone can identify its position/location.
As Lumiflex President & CEO Alex Parr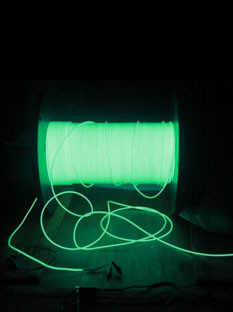 claims, one of the unique aspects of this technology, other than creating truly industrial illuminable cables, is that the light exists in a cylindrical aspect on the outer edge of the profile, emitting light in visible (or IR wavelengths) in 360 degrees with the flip of a switch. This allows for anything to travel down its center or core such as comm lines, data (fibers), control, power, strength, or any combination of these. In addition, they are waterproof, can be engineered as neutrally buoyant, and are also suitable for winches and other load-bearing equipment.
"This is not phosphorescence (glow technology) but rather a unique flexible light bulb like no other," Parr told Commercial UAV News. "There truly is no technology in the world that can create these types of all-in-one illuminable profiles. There are tubes where laser light shines through, but they have an effective length of about 75 meters before some sort repeater or second laser box must be added. Additionally, those lamps do not allow for the passage of data/power within their own profiles."
It is always harder to see underwater, especially at night. As the video above shows, Lumiflex's waterproof cablelights can provide downlines and ROV tethers that would allow for divers, or operators interacting with or piloting them, to know their location or to untangle any snags. Efficient ascents and descents are important for divers carrying their own air. So, being able to swim along an illuminated pathway makes it easier for divers to swim to and from the launch point, as well as the area below. Lumiflex wants to develop the ITMS (Illuminable Tether management System) utilizing its cablelight tech for sub-sea, terrestrial as well as in-the-air drones.
From completing the dangerous and dirty jobs and connecting a drone to a vehicle that would be deploying it (ATV or other), to supplying a secure communications system and creating a new level of security and situational awareness, tethered drone solutions provide the easiest way to get your drone flying up in the air for as long as you need. According to Parr, companies like Elistair, DAC, Hoverfly, BFD Systems, NTP Drone, Blue Vigil, Viper and many others offer Tether Management Systems but "do not offer TMSs that would pay out, power and control the quickly deployable enhanced tethers that would offer full illumination for the totality of the tether's length. Lumiflex's patented cable lights are the unique elegant solution that could make that a reality".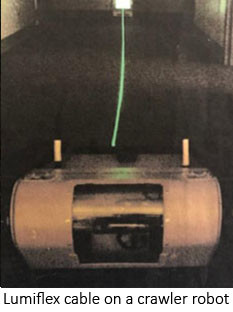 "The tether is vital (passing the power to the drone as well as the telemetry securely and continuously back). If persistency implies day and night (or low visibility environments) use then the tether should announce it location as best it can to help keep the tether sacrosanct."
For example, AT&T, a company constantly exploring new ways to use drones to drive enterprise for companies around the world, to restore communication and connectivity fast in the aftermath of disasters and more, currently use phosphorescent sheathing over their tethers to make them highly reflective to light. They also file NOTAMS and place huge orange and white "Drone NOTAM" banners next to their flying COWs (Cell On Wings) lighting it with floodlights. Parr believes this application is something that Lumiflex's cablelight technology can solve.
According to Charles Werner, Director of the DRONERESPONDERS Public Safety Alliance, "a lighted tether brings various advantages. For example, it indicates that power is still flowing, and increases awareness of ongoing drone operations particularly at night for deconfliction of other operational activities (aerial ladder & ground ladder ops and other drone ops)."
However, Lumiflex isn't targeting drone Tether Management Systems only with this tech. In the past, Commercial UAV News has discussed with Matthew Sweeny, Founder and CEO of Flirtey, how lowering a tether from a drone is the safest way to go for drone deliveries. This is where Lumiflex's tech could also make a difference.
"Drone delivery will come in many forms but companies like Flirtey, Google's Project Wing, and Amazon have looked at deliveries of packages by a winched string from a hovering drone. This allows them to drop or handoff a package exactly where it needs to go when landing isn't an option or simply dropping the payload isn't a viable solution," Parr said. "Eventually (sooner for life-saving responder apps, like lowering a life vest to a potential drowning victim perched above swiftly moving and rising waters) those deliveries will happen in low visibility or at night, and being able to see the totality of the delivery string and its sway in the wind and weather will make those critical handoffs much more efficient and fail-safe when every second counts."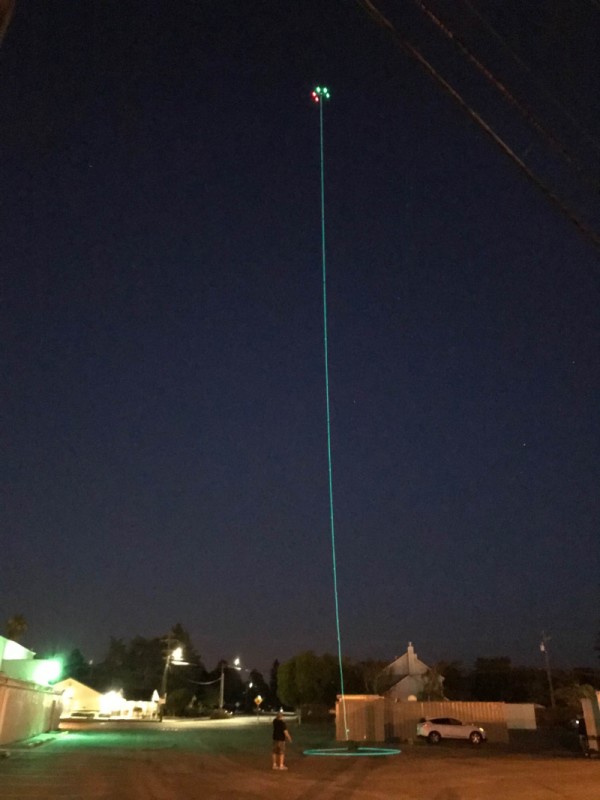 General Drones, a Spanish drone manufacturer for emergency and rescue teams, has a drone that has already been used to lower life-vests to potential drowning victims. When operated in lower visibility scenarios, "the drone could be enhanced with a lighted delivery cable," Parr added. "80% of the input to the human brain is visual and allowing potential victims to use their eyes can mean the difference between life and death."
"Another application is that some drones are now shooting water and foam at fires up high in buildings. Lumiflex's patented tech would allow for those supply tubes to be illuminable. So, at night, let's say during a fire, everybody would have the ultimate spatial and situational awareness of those vital tubes' positions and not entangle or snag it, and other drones would not fly into them, etc."
Currently, Lumiflex is looking to rai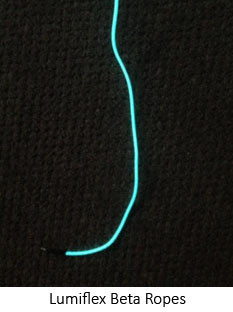 se $3M to establish a small factory to rapidly prototype innovative products (such as a small parachute cord version the company developed to prove out the concept of a fully illuminable floating rope), explore licensing deals, build strategic inventory of the Rescue Cablelight product, establish partnerships, and push on all fronts. The company has already put the ITMS system into Patent Pending status and has already filed and submitted the follow-on paperwork for a Utility Patent.
"I'm very excited about the SAR apps where a tethered UAV could be up all night without having to change out batteries deployed from an ATV, scanning the backcountry for a heat signature of a lost soul," Parr shared. "The drone occupies a few cubic feet of airspace 200'+ up in the air but the tether passes through hundreds of feet. That tether then effectively becomes a beacon in the sky that the potential victim might catch a glimpse of and make their position known. Or if deployed from a ship, like with the SARA project in Europe, potential drowning victims might see that lighted tether and know from which direction help is coming."
For more details about this technology, contact Lumiflex at [email protected] or call 1-650-340-1309.