To directly support the COVID-19 front lines, Airspace Link launched a new company division, AirHub For Charity. Dedicated to the use of drones and drone technology for charitable and humanitarian causes, AirHub for Charity supports mental health, preparedness, containment, response, and recovery activities for those affected by the pandemic.
"Mental Health is so important for millions of people in isolation, on the front lines and healthcare workers," said Airspace Link President & CEO, Michael Healander. "Our goal is to bring joy to those isolated at home while showing support to our friends on the front lines. There's nothing quite like the feeling of putting your drone into sport mode and zooming around the skies free as a bird. Perhaps this feeling comes from mankind's ancient desire to be able to fly; it's an exhilarating experience to see the world rolling along below you."
During April 2020, for every new AirHub for Pilots free account registration, Airspace Link will donate $5 to the Center for Disaster Philanthropy (CDP) COVID-19 Response Fund that supports nonprofit organizations working directly to respond to the pandemic among the most vulnerable populations to help build their capacity for response.
Additionally, the company is running a "Get out and fly" drone photo contest until the end of April, where the winner takes $500 and Airspace Link matches that amount to the charity previously mentioned. To participate, head over to Twitter, Facebook, or Instagram, upload an original aerial photo taken by drone and tag the post with the hashtag #AirHub4Charity. For more information, please read the contest rules.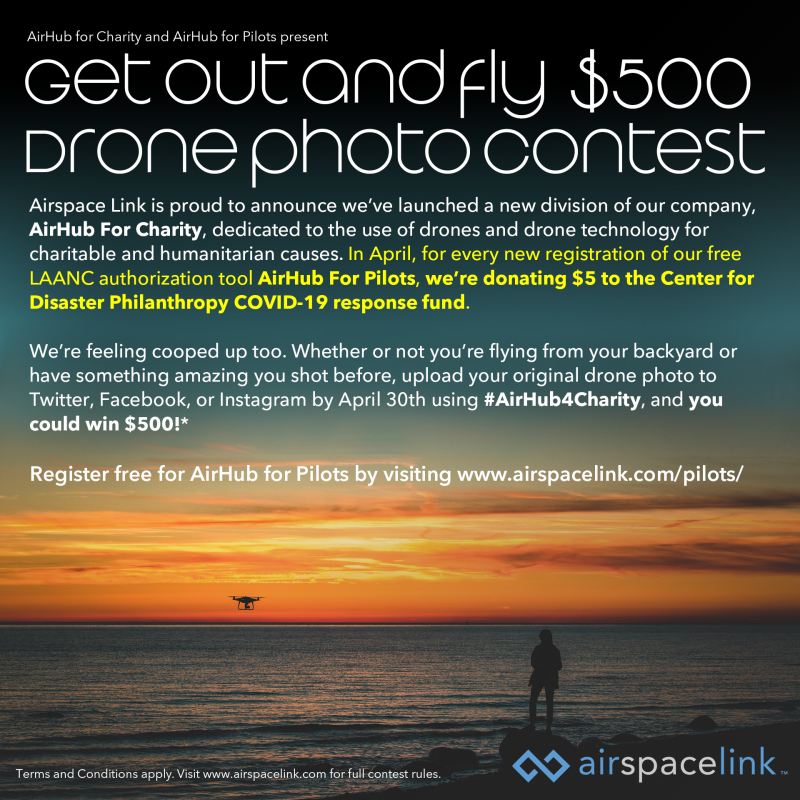 Founded in 2018, Airspace Link's mission is to provide the data and resources communities and pilots need to ensure safer drone activities beneficial for all. As a supplier of the FAA's Low Altitude Authorization & Notification Capability (LAANC), the AirHub platform provides both pilot and government with drone operation planning tools to help them become familiar and aware of the changing and often dynamic local and federal landscape for drone risk and regulation.
If you are interested in what Airspace Link is doing and want to learn more, join Michael Healander and our other panelists on May 13th for a free webinar, "Is the World Ready for Drone Delivery?" 12:00 PM to 1:00 PM Eastern.