Commercial enterprises and public entities have come to recognize the power drones have to make a variety of tasks faster, cheaper or safer. The regulatory hurdles and practical logistics around getting a UAV into the air can be difficult, but these are the exact sorts of challenges that Airspace Link has spent the past year working through. Their efforts to collaborate with three different stakeholders have allowed them to build one centralized and standardized platform that will more easily enable drone integration into the national airspace.
Airspace Link is a unified airspace regulatory SaaS platform that works directly with the FAA, state & local governments and the drone industry itself. As a supplier of the FAA's Low Altitude Authorization & Notification Capability (LAANC), pilots using Airspace Link can receive their authorization in near real-time. Additionally, data provided by state & local governments is integrated into this system to allow pilots to make informed decisions about local governance, scheduled events, or active emergency situations.
Airspace Link 's recent FAA announcement underscores how and where their platform is set to make a difference throughout the drone industry, but we wanted to further explore these distinctions. To do so, we connected with Michael Healander, President & CEO of Airspace Link, to discover what type of operator is going to get the most out of the platform, how the AirHub Government Portal works and much more.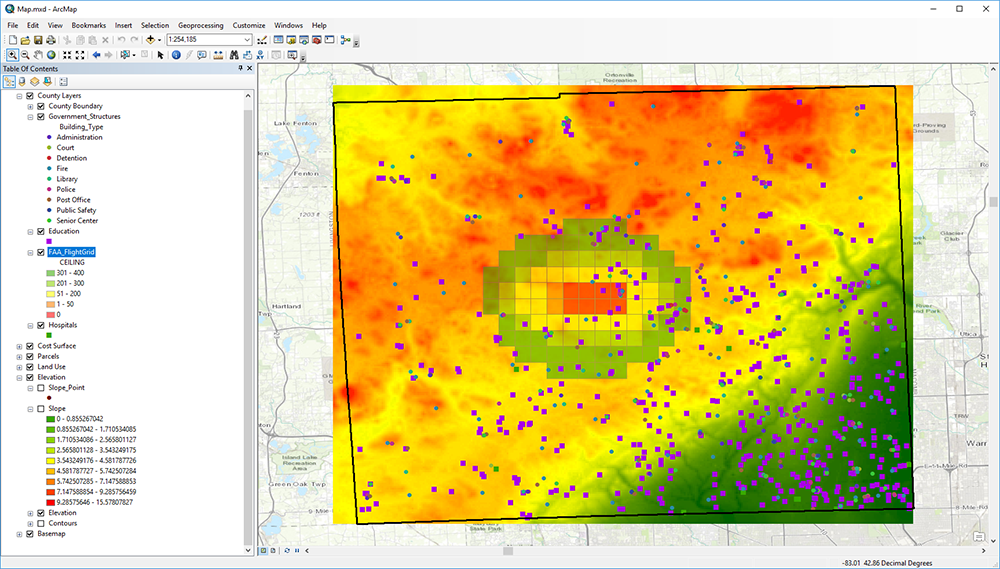 Jeremiah Karpowicz: How closely have you been working with the FAA in the development of your system and processes?
Michael Healander: The FAA takes safety extremely seriously and requires a perfect score on all system tests before certifying suppliers. Airspace Link has been working very closely with the FAA over the past 8 months to ensure all systems meet the strict safety standards. Additionally, the FAA has full access to Airspace Link's platform and continuously makes suggestions to improve our product offerings as well as new tools that, as of right now, no other company has implemented with the FAA.
On a practical level, what does it means for operators to be able to receive near real-time processing of airspace authorizations in approved altitudes? Especially when compared to the traditional approval process.
Part 107 (commercial) drone operations near airports last year could take up to 90 days to receive approval to fly at specific altitudes below 400 feet (Drone Zone). More recently, part 44809 (recreational) had no way to receive approval near airports (other than an excel spreadsheet identifying safe zones). Because of Airspace Link's integration with the FAA and local government, drone pilots can receive approvals in seconds with the confidence that they're working with a wider range of multi-jurisdictional data.
Airspace Link's regulatory platform has identified 133M citizens (across ~4,500 cities) that live under controlled airspace and are required to use Airspace Link's platform (or similar) to get approved to fly at specific altitudes. Drone operators are also required to check local drone ordinances but there are close to 200 local government drone ordinances across the US which makes it difficult for a drone operator to check local fragmented data sources.
What kind of databases and sources does your system check requests against? Why is that so significant?
Through the UAS Data Exchange, Airspace Link facilitates the sharing of airspace data between the FAA and the UAS industry. Part 44809 (recreational) and Part 107 (commercial) pilot requests are checked against multiple airspace data sources, such as UAS Facility Maps, Special Use Airspace data, Airports and Airspace Classes, as well as Temporary Flight Restrictions (TFRs) and Notices to Airmen (NOTAMs). If approved, pilots can receive their authorization in near-real time from Airspace Link.
Through the Local Government Data Exchange, Airspace Link facilitates the sharing of ground-based data between the local governments and the UAS industry. Airspace Link aggregates dozens of data sources to inform operators about potential risk factors and advisories during operational planning. We centralize and standardize local government data and combine FAA and private datasets into a centralized national database of air and ground risk factors across political boundaries. Data standardization assures maximum interoperability. Examples include: schools, hospitals, government buildings, helicopter pads, airports, stadiums, land use, zoning, population density (different times of the day), road right of ways, rules, regulations, ordinances and much more. Airspace Link has several data-sharing agreements with private and government agencies to provide a first-of-its-kind dataset.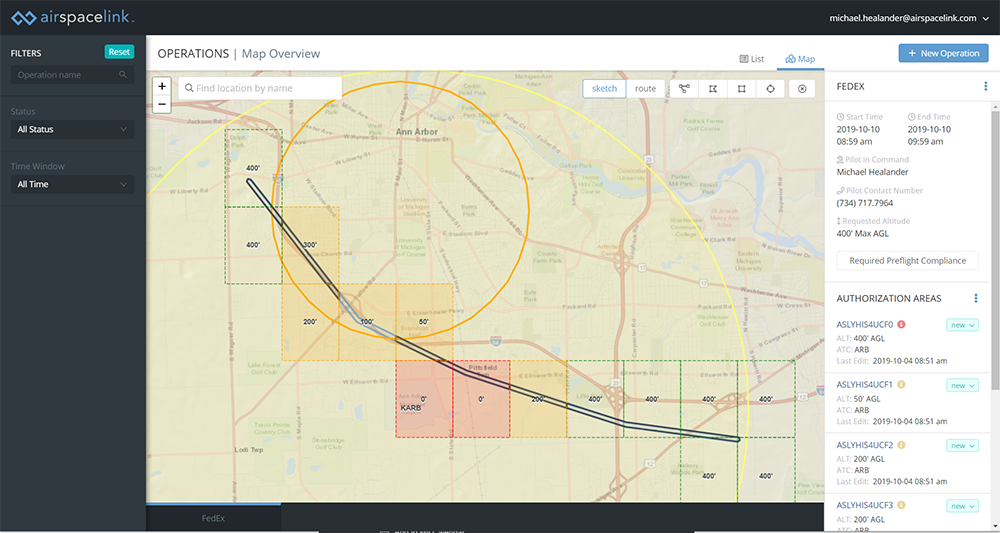 How does this near real-time approval process impact the safety of a given operation?
The real-time aspect of our system is a positive byproduct of the work we're doing. By pre-processing a combination of air and ground data into risk profiles, we can service the industry faster, but more importantly safer. In conjunction with the static FAA and local data, we also layer on real-time operational layers from both the FAA and local government to dynamically adjust to both scheduled or unscheduled events.
From the perspective of the FAA as well as state and local governments, what are the benefits associated with the Airspace Link platform?
The FAA benefits from having a LAANC supplier that incorporates both recreational and commercial pilot requests. Airspace Link also assesses both air and ground-based risk data provided through its partnerships with state and local government, providing much safer guidance to operators than the FAA can provide by itself.
State and local governments will receive clear map FAA facility data with local government data in a single system. Community first responders will greatly benefit from this feature as it will allow them to utilize Airspace Link as part of their 911 dispatch. We provide tools to connect air and ground advisories in near real-time to communicate with the drone community.
Airspace Link will also allow them to report on when and where flights are happening or have happened within the community to provide valuable insights to multiple stakeholders in near real-time. We help stakeholders understand if they're "overusing" airspace.
As communities build advisory areas, Airspace Link provides tools to assess the impact to recreational and commercial drone operations. Communities can simulate the impact of having too many advisory locations, protecting the growth of the drone industry.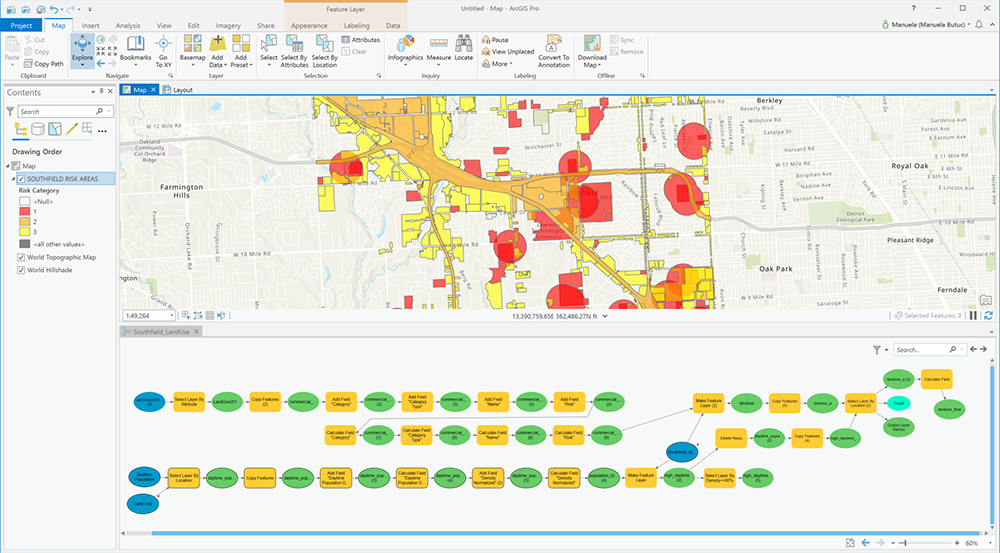 What about on the user side? Is there a specific type of operator or organization that is going to get the most out of Airspace Link?
Operators interested in conducting complex operations, such as autonomous, BVLOS, flights over people or package delivery flights will ultimately see the most benefit from Airspace Link. With that said, each operator type and organization department involved in the industry will also see benefits.
The integration of community data to ensure pilots quickly understand airspace advisories, rules and risk to each flight plan is essential. Our platform empowers operators with information about local governance, scheduled events, or active emergency situations. Operation-type benefits will be available to both recreational and commercial operators. Regardless of what type of operation you're conducting, you'll be able to know where you can and cannot fly, the risks and why.
These differences are directly related to future applications of the technology that will be enabled with Package Delivery (Type 135). Integrating with the local government and preprocessing air and ground risk will allow us to build the highways in the sky. That will help to pave the way for quicker BVLOS operations within a community.
What are the short-term and long-term plans associated with some of the state partnerships you've announced?
In the short term, states like Michigan are working with us to bring autonomous drones to communities across the state and support government airspace management. Airspace Link is required to partner with at least one of the following public and/or private Michigan-based organizations: community organization, municipality, government agency (e.g. MDOT, county), and/or other Michigan stakeholders. Michigan is matching 75% of the beta test cost to Airspace Link while local communities are paying the other 25%. Airspace Link is required to share test information in outreach materials during and after the test, including but not limited to media, social media, marketing materials, presentations, etc. to help promote the drone program in the state of Michigan.
The long-term plan is to have states involved in growing the drone industry by investing in the infrastructure to build the "highways in the sky". North Dakota is a great example of a state that is working to do just that. We expect federal funding to make its way to the state levels to help support the integration of drones into state and local government DOT (Avionics and Infrastructure). Several progressive states, counties and cities are moving forward to future proof and build a smart connected city.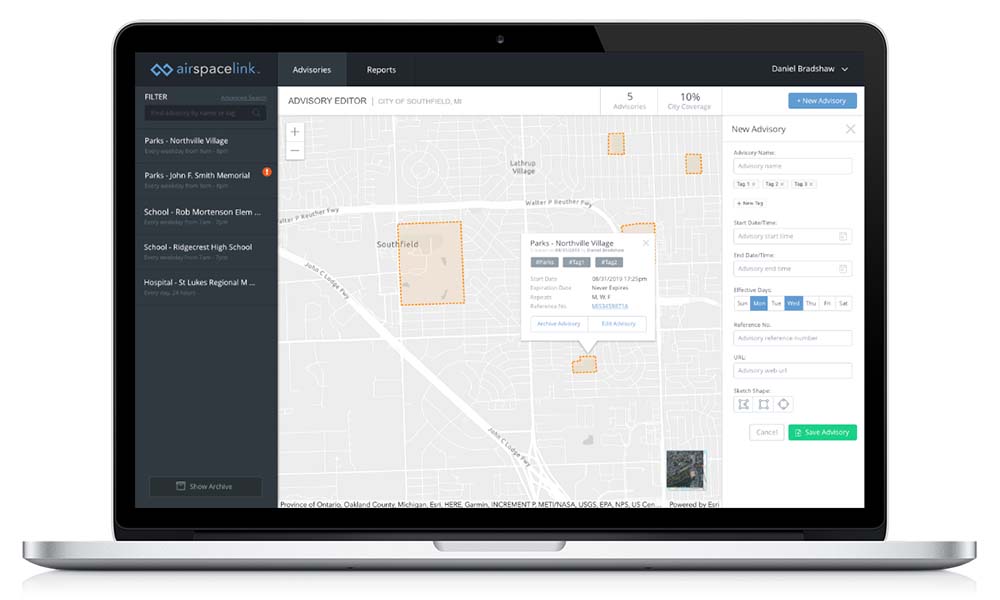 What are some of the ways you're working with local jurisdictions to develop and maintain proper "shipping avenues" for commercial drone activity?
We've teamed up with several strategic partners that have standard data models and software installed in 90% of state & local governments. Esri, for example, is a large supporter.
We built integrations into local government GIS platforms that allow local jurisdictions to import, edit and maintain ground-based risk data that is post-processed and managed by Airspace Link. Tools are provided for simulating, managing, analyzing, reporting and measuring "shipping avenues" for commercial drone activity. Any change creates an opportunity for the creation of an impact statement regarding the effects on the drone industry.
The AirHub Government Portal is an exciting new application that allows users to proactively define areas of risk, local ordinance or event restrictions within the community. When did you recognize the need for this kind of tool?
Airspace Link for Government is an enterprise SaaS drone regulatory platform focused exclusively on the needs of state & local government jurisdictions. For the first time ever, communities can clearly map FAA data with local government regulation & ordinance data on a single platform. Communities can easily communicate with the drone industry on scheduled and unscheduled advisories in the area.
Our founders first saw the need for these types of solutions in 2015 but the FAA was not yet ready. We believe the FAA, local government and the drone industry are now ready (and a bit fatigued from the wait).
As a testament to this, we've seen the creation of new drone ordinances jump 3x in the first quarter of this year alone. Through AirHub, Airspace Link works to pave the way for communities and citizens to safely accept and adopt this new infrastructure/transportation class. Our team has built local government asset management systems for over a decade and are well accustomed to supporting community growth throughout the US.
As the first cloud‐based drone platform focused exclusively around the needs of state & local government, what kind of specific benefits do you envision AirHub will enable?
Drone operations are occurring in your community every day. With Airspace Link, stakeholders and drone operators work together for safer operations, faster approvals and stronger overall community involvement with ongoing drone innovation. For the first time ever, communities can clearly map FAA facility data with local government regulation & ordinances on a single platform.
AirHub™ is the first ever communication tool from local government to the drone industry. With Airspace Link, communities maintain governance over local advisory areas while operators can be assured that they are receiving the appropriate guidance on both federal and local restrictions.
What has you most excited about the present and future of the drone industry as a whole?
We're at the tipping point of the industry. The industry has taken longer than most would have liked, but it's here and drones will have a platform to move faster in the coming year. Like Vanderbilt built the railroads, Airspace Link is building the "Highways in the Sky".
Airspace Link will be exhibiting at the Commercial UAV Expo, where the value of their platform will be showcased in countless ways. Learn more here.