We've detailed how state agencies are using drones as well as what it means for public officials to utilize UAV technology, but the challenges associated with adopting the technology remain as pervasive as ever. It's part of the reason that the UAS Integration Pilot Program is so important, since it is an opportunity for state, local and tribal governments to partner with private sector entities, such as UAS operators or manufacturers, to accelerate safe UAS integration.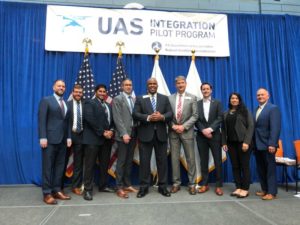 The N.C. Department of Transportation
has been selected
as one of only 10 participants in this program. NCDOT has also partnered with existing UAS software companies like AirMap and Raleigh-based PrecisionHawk to develop Unmanned Traffic Management systems that track drones as they fly. It's something the NCDOT will help further define at the
North Carolina Drone Summit and Flight Expo
, which is set to take place this summer.Darshan Divakaran has helped to determine how and where drone technology can make a difference in North Carolina and beyond. As the UAS Program Engineer at NCDOT, Divakaran is working to establish what it means for public officials to safety and effectively utilize drone technology. That concept will take center stage at the North Carolina Drone Summit and Flight Expo, but it's something he is committed to in an especially powerful way which is why we caught up with Divakaran to talk through the specific benefits he's seen drones open up, what advice he might have for other public officials who want to use the technology in a similar way, and plenty more. 
Jeremiah Karpowicz: Tell us a little bit about your background and how you were first introduced to drone technology.
Darshan Divakaran: I was inspired by my father who was a flight engineer and airline executive but it was my mother's motivation that led me to choose aviation as a career. Initially, I completed my BS in Professional Aeronautics from Embry Riddle Aeronautical University and also got certified by FAA as a commercial pilot. In 2014 I decided to pursue graduate studies and then got my Master in Geospatial Information Science & Technology degree from North Carolina State University. I was first introduced to unmanned aviation and remote sensing at this program. 
Did you need to get your hands on a UAV to fly/operate them before you understood what kind of real value they could unlock? How important is that "hands on" experience for anyone looking at adoption?
Until early 2014 having a FAA pilot license was required to fly drones in the US. This was also one of the factors that drew me to unmanned aviation. My first UAV flight experience was as an observer with a fixed-wing drone operation. I was amazed by the way the whole operation was conducted. I realized flying a UAV was just a small element. The big picture is the capabilities of the UAV, the application the UAV is being flow for, the sensors onboard, the pre & post-mission planning and the post-flight processing of the geospatial data it collects. This got me that much more interested, and eventually I realized this is what I would like to specialize in.Hands-on flight experience is a great way to start for folks who would like to use this technology. But just knowing how to fly a UAV will not be enough. Flying responsibly requires an understanding of the regulations and system limitation. 
Ultimately, do you see these tools as being able to augment work and services that were already being performed, or are they opening up brand new opportunities and capabilities? 
This technology is augmenting the traditional approach but at the same time, it is continuously creating new opportunities. For example, within North Carolina Department of Transportation, the UAS program office is working to integrate the drone technology to augment the traditional way construction projects, rail and roads were mapped, but we also realized this technology could be used beyond just traditional projects as we imagine. We have used drones for Submerged Aquatic Vegetation (SAV) mapping, landslide inspection, collision scene reconstruction, etc.
 Is your position as UAS Program Engineer with the Division of Aviation under the North Carolina Department of Transportation distinct or similar to the positions adopted by other states when it comes to integrating drones?
As far as I know, my position as the UAS Program Engineer is unique compared to other state DOTs. In this role, I co-lead efforts with the UAS Program Manager, Basil Yap, to work with other state agencies, local government, industry, universities, and community colleges to integrate a statewide UAS program in North Carolina.
 What are some of the strengths and weaknesses associated with some of these different models for integrating drone technology at a state level?
As we all know, drone technology is here to stay, but the difficult part remains associated with choosing the right UAV for a specific mission. Many of these drones come with new enhancements, but they also come with limitations like battery life, payload capacity, inability to fly in difficult weather conditions, inadequate customer service, etc.In my opinion, some of the other weakness stem from companies building advanced drones with new sensors but not enough customer discovery, pilot testing or product validation being done in the market. This has been a big limiting factor for customers like us in state agencies. But now it looks like that the things are changing for the better. Many of the new drones that are being built are addressing our concerns as customers. So I see great changes coming in the next year or two.
 What can you tell us about the logistics of your program, both from a regulatory and administrative perspective?
The UAS Program Office, under the North Carolina Department of Transportation (NCDOT) Division of Aviation, was mandated by the North Carolina General Assembly in 2014 to implement a state UAS knowledge test and permitting process in North Carolina. The office is also the UAS subject matter expert to the state, provides UAS focused education and outreach, funds UAS related research and initiatives, operates a fleet of UAS, and spearheads the statewide integration of UAS. The UAS Program Office has worked with various state agencies, including the N.C. Department of Insurance and N.C. Community College System to establish a safety-focused UAS curriculum as well as policies and procedures.Additionally, the Division of Aviation has completed a series of public outreach events including regional UAS-focused workshops and exercises. NCDOT is focused on building the infrastructure to support expanded UAS and the future of both rural and urban air mobility. NCDOT is a lead to many federally funded research projects, including TRB, ACRP and NASA projects and is partnered with AUVSI Remote Pilot Council, ANSI, ASTM, NFPA, and a member of RTCA.  
You've become a key voice in providing education around how beneficial and safe UAS/Drone technology can be with a focus on commercial and government operations. What are some of the biggest challenges you run into when providing this education? Do some people not believe the benefits you're talking through? Or are the bigger challenges just associated with getting people in the room?
I would say my role as an educator is to overcome these challenges. With any new technology there is always going to be some push back and reluctance with adapters. But as an educator, it is our duty to acknowledge the problem, analyze the problem and find solutions to that problem. Our outreach efforts have shown that more and more people have started understanding the benefits of drones and have started accepting this technology.
 State and local government agencies who are interested in learning about this technology are encouraged to attend the events you've helped create. What are some of the questions those state and local agencies are looking to have addressed?
The agencies attending our events generally come to understand the federal and state regulations surrounding drone use. They also want to understand the capabilities and limitations of certain UAV platforms that they are potentially interested in acquiring. Another reason for attending these events is to connect with other agencies and network with companies and service providers to learn more about the new technology and integrating it with their operations. 
Local commercial drone operators are also encouraged to attend and network at your events. What kinds of conversations are those operators having with the officials at the event?
We invite local and national commercial drone companies/operators to showcase and demo their products. These companies connect with the government agencies and other people attending and understand what their needs are, answer their questions and try to clear any misconceptions. We have also seen these companies collaborate with other companies attending these events and create future partnerships which can benefit the state and its public.
 How do you address issues and concerns that the public has about government officials operating drones when it comes to issues like privacy and security? 
As a state agency, we take the privacy and security of our public very seriously. Internally, we make sure hat we follow all federal and state regulations and try to educate the public on these regulations. We also help design and maintain community-based standards.Through our events, we try to educate attendees on privacy and security issues by discussing the various projects we work on. We also educate our other state agencies, local government and service providers on these issues and ensure they take this into account as they operate drones or create drone programs. 
What advice would you have for officials who want to utilize drones in the way you've been able to, but are unsure of how they should begin that process?
I always tell the people who are getting into this field or are in the process of creating a program to have a little patience. The FAA is actively encouraging drone operations, but they also want to make sure all flight operations in the national airspace are done in a safe manner while respecting privacy. To ensure this, all commercial and government users will need to follow the current regulations that are in place.In time, the FAA will deregulate further and this should make it easier for professional drone operators. We should all understand that all it takes is one mistake or a moment of negligence to take us all back and increase restrictions. If we all act responsibly, we can together push this technology faster into critical areas like public safety and emergency management where it can save lives and help protect property.
 And on the other side of that issue, any advice to drone operators who want to be able to showcase to state or local officials where and how they can make a difference? 
Drone operators should understand the budget limitations and extra paperwork involved for state or local agencies to obtain a drone or technology. So they should be patient with agencies and guide them through the process. If you want to continue working with these agencies long-term, be honest about the capabilities of your drone system/service and also make them aware of the limitations.
 What does the 
March 2018 survey
 that found 20 state DOTs incorporating drones into their daily operations with another 15 state DOTs in the research phase tell you about how things have progressed with drone technology?
An early survey done by AASHTO in 2016 found that 17 state DOTs had studied or used drones while 16 state DOTs were either exploring drone usage, assisting in the development of drone polices or supporting drone research. In 2018 the survey found that 20 state DOTs have incorporated drones into their daily operations and another 15 state DOTs are in the research phase – testing drones to determine how they can be used. So in two years, we have seen that several DOTs have moved past the research phase and have started integrating this technology into their various divisions. This shows how the technology has been beneficial to the agencies and these agencies can help other agencies build their program.
 Was there any one factor that helped North Carolina to become an early adopter of the technology? 
I would say the NC state legislature and government jointly showed immense foresight in recognizing how beneficial this technology can be if operated safely. Also, the NCDOT Board of Transportation members along with the NCDOT Division of Aviation Director Bobby Walston deserve praise for facilitating the state-wide efforts to integrate this technology. 
Learn more about the North Carolina Drone Summit and Flight Expo