News about the expansion of DJI's Unmanned Aerial Systems Training Center (UTC) program in North America recently made headlines across the space, and for good reason. The UTC program already has over 200 training centers across 6 countries, with more than 40,000 pilots trained since inception, but this expansion will take advantage of RMUS' eight training centers located in Utah, Washington, California, Hawaii, Delaware, Ohio, Texas, and Illinois. It's a development that underscores the expanded offerings that DJI is hoping to offer to enterprise operators and organizations from all over the world.
The expansion of the UTC program highlights the way in which DJI is working to improve training requirements and professionalism across their enterprise channel partner network. DJI
is focused on selecting the right partners
to establish new quality standards for the commercial drone industry, and that focus is set to take them beyond the Level 1 capabilities of the current program, as well as into further expansion of the UTC program into other regions, such as Canada.To get a better understanding of the impact the UTC program has made across the world and will be making in North America, we connected with Bill Chen, Enterprise Partnerships Manager at DJI. We discussed what kind of practical differences the UTC has enabled, how the UTC program is set to expand beyond Level 1, where the opportunities with the training really reside and much more. 
Jeremiah Karpowicz:
With over 200 training centers across 6 countries and more than 40,000 pilots trained since inception, the UTC program has clearly made a major impact across the world. Are those differences distinct or different from one region to another?
Bill Chen
: We've had a lot of success in different markets, primarily in the way we work with strategic partners and channel partners in the local markets to adapt the training to be more focused on what that particular market needs. A lot of people see our amazing hardware, but all of that is built on the shoulders of our channel partners who have been able to showcase how people are really using this technology.For example, in places like Japan, we've seen a lot of success in agriculture, especially with our
AGRAS platform
. The AGRAS is able to act upon the information being gathered from other DJI drones like the Phantom 4 RTK, to help revolutionize the way farming has been conducted in markets like Japan and elsewhere in the world. That success is driven by how we've been able to cater to the needs of the agriculture industry thanks to the training with our local partners in those markets.In bringing this particular offering to North America, we've similarly worked closely with organizations like RMUS as well as our strategic end users to help develop training programs that cater to their particular vertical needs in North America.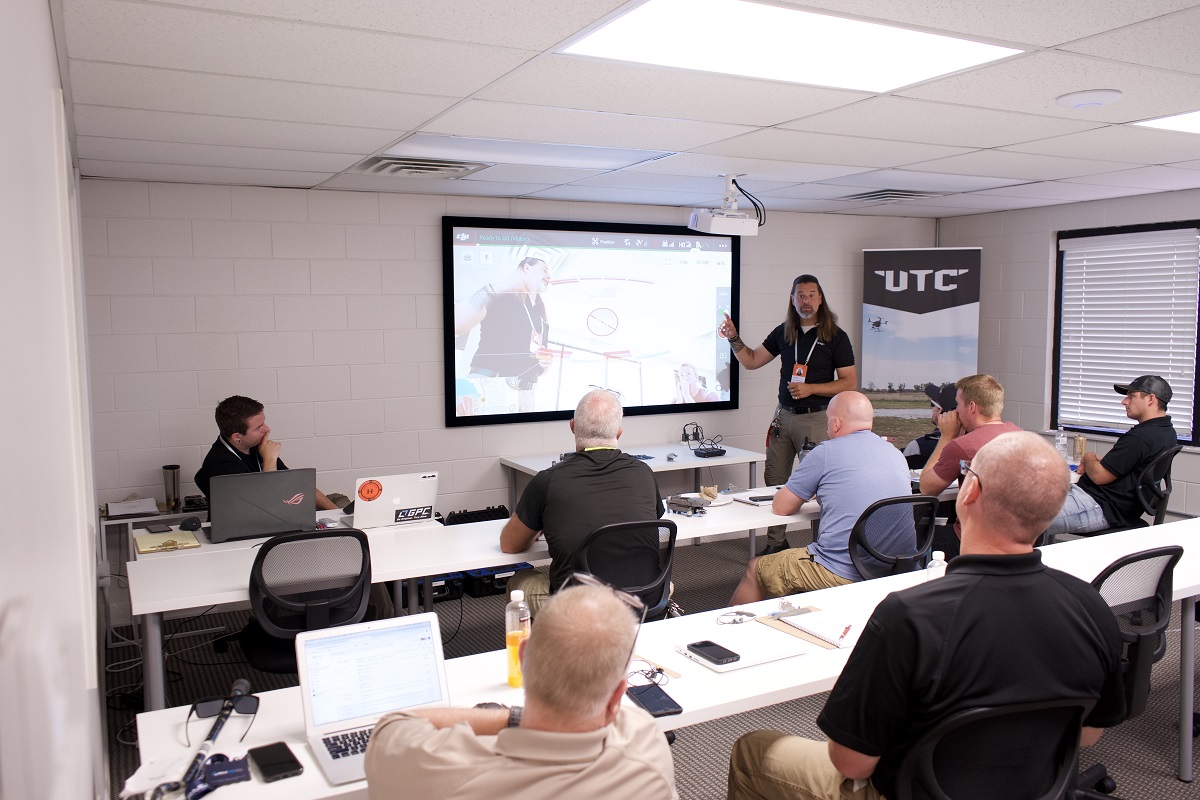 Have you seen direct correlations with the training and those real-world differences?
In certain markets like in China and elsewhere we've seen success from users that have traditionally never used UAVs in their work. We've seen a bottom-line impact for the people that are going out there and are trying new technologies. They've been able to measure an impact on their actual income on a weekly and monthly basis. In certain markets, we're seeing people doubling their monthly income compared to the traditional role that don't require UAV technology and UTC training.In North America, we recently launched our first training in Salt Lake City, and as we move through 2019 we want to work with key pilots and advocates to be able to develop case studies that can showcase the real bottom line impact of the training program. 
Focusing on the first of the three of the key objectives of the UTC program, what can you tell us about how the program is designed to establish global industry training standards?
The level of policy advancement across the world is quite different, and because we operate this program in different markets, we're very cognizant of that particular fact. Our goal with UTC is to take the first step forward as an industry leader that has had success in the hardware space and the enterprise space. I think between DJI's hardware leadership as well as our relationship with some of these decades-old companies that are using our products, we can offer a comprehensive service that helps advance the industry as a whole.We want to be able to move ahead of the regulation and help guide industrial end users to take this tool to the next level. We want to make a real impact on what people are doing in their respective spaces, and standards are a key part of that. 
And that ties into one of the other goals of the program, which is focused on how the UTC program helps enterprises scale out their drone operations. Is that consideration of scale something those focused on either enterprise users or individual service providers?
It's a little bit of both.Over the years we've seen many of our strategic partners scale up their programs, but we witnessed an inflection point with that between 2018 and 2019. Numerous companies that had something like 20 drones with a single full-time pilot have scaled up to have hundreds of drones and dozens of pilots. So many organizations are grasping what it means to use this technology in their traditional workflows, and that's driven demand for scale and a need for training.On the flip side, we've also worked with many individual pilots and service providers to hear and address their needs. It allows them to be part of that scale in whatever makes sense for their industry or market. One of our key objectives for the program was making sure the training we're offering is addressing the needs of new pilots that were just joining the space.Not long ago, the FAA put out a report that predicted their 452,000 forecast of non-model unmanned aircraft registered with the FAA by 2022
could actually be surpassed
later this year or in early 2020. That's part of the reason we've been focused on creating a program that addresses not only the needs of the individual service providers and contractors but also the large enterprises that have or are building in-house drone programs. 
Speaking of additional pilots, the announcement about DJI's expansion of the program to North America mentioned that the need for streamlined and efficient training programs has never been higher. How long has this been in the works, and what made now the right time to make this expansion happen?
We've been looking to bring the UTC program to North America for many years now, and I would say that the numbers around pilots are more of an impact of the trend we've observed. Those numbers came out in May, but the strategy of bringing UTC to North America has been in the works for quite some time. We've had a lot of different test sites to explore how DJI can create value in new markets.We figured out that 2019 was going to be the right time to bring UTC to market in North America because it represented an inflection point in the North America market that we talked about earlier. We were seeing our partners scaling their drone program up in a big way, and that impacted our decision to make it happen this year. 
DJI partnered with RMUS to fuel this expansion, so what can you tell us about how doing so has created any distinct advantages for the program itself or for anyone signing up for this training? 
It really falls in line with DJI's strategy in terms of how we develop the UAV market globally.We've worked with RMUS for many years on the commercial and consumer side. They've been doing the sales and service for such a long time but had also been doing training around the US as well. What we wanted to do was work with a partner that could help us bring this training to market very quickly but would also be versatile in working with us through many of the details on the operation side. Between our experience in developing the UTC on a global level and RMUS' experience in deploying their own training across a decentralized network of sites, we knew we'd be able to create something that made sense for everyone.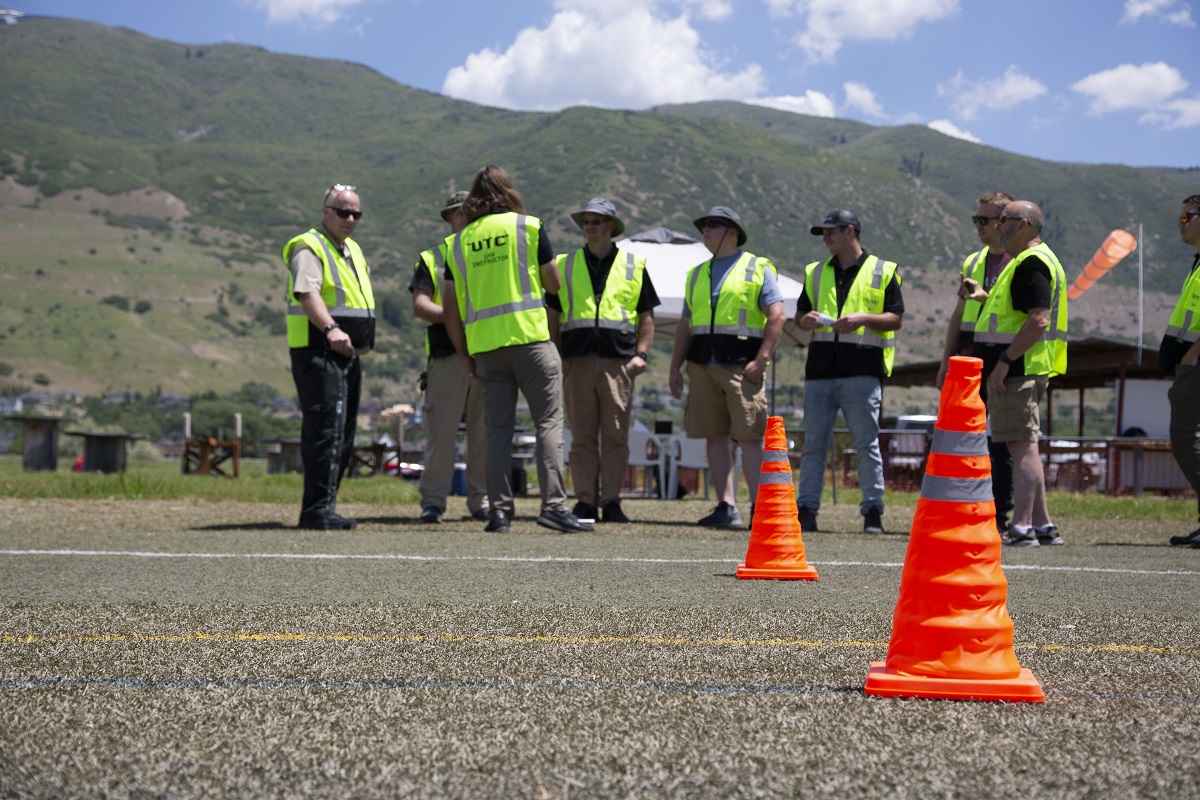 The 8 training centers throughout the United States will begin with Commercial UAS Training – 
Level 1
. What can you tell us about the skills and learnings associated with this level?
As the UAV industry expands in an increasingly rapid rate, we're seeing many folks enter the drone space as new pilots or with some recreational flight experience. In commercial applications, the expectations are so much greater. So we wanted to make sure we can address the needs from two sides. That's from a UAV flight and mechanics side of things, but while also being specialized to or for a particular vertical.What you're seeing with Level 1 is our first step in addressing how we can bring new pilots in the industry from Level 0 to Level 1. People that are completely new to drones can go through the Level 1 training and after that, they can fly a UAV for basic commercial applications. Level 1 training includes everything from introducing UAVs and fleet maintenance, to flying under challenging conditions and around potential obstacles.Beyond that, we have significant plans in terms of expanding the program beyond this Level 1 training. Our goal is to be able to develop more advanced training for more advanced aerial platforms that will be versatile in how they can address different industry applications. 
So is that an expansion in terms of both scope and scale? So not only are we talking about an expansion to "Level 2" and beyond, but also parallel programs, so we might have something like, "Level 1 – Oil & Gas" or "Level 1- Precision Agriculture", etc.?
Yes, exactly. But for that vertical expansion, we'll be working with our strategic partners to develop that curriculum.We'll be the first ones to admit that we aren't the experts on how certain industries like agriculture or construction have operated for the last 100+ years. We're not policemen or inspectors, but we do work with a lot of people who are, so our goal in expanding this program in North America is to be able to work with the people who do have that expertise that have been leading their respective industries in the rollout of this technology. We want to work with them to help develop training that is able to address their application needs in their respective industries.So the expansion of the program is ultimately focused on both the mechanics of using a DJI platform, also in specific industries where the technology has already proven it can make a difference. 
Whether someone is looking to establish a drone program at their organization or simply better understand how the technology can make a difference in a specific workflow, how would you explain the value that UTC can provide such a person in either case?
The reason we brought UTC to the market is that we wanted to help you get up and running with the technology as quickly as possible, regardless of where or how you're hoping to use it. We know that our industrial users are busy with existing job responsibilities, and that most are pursuing UAV adoption on a purely voluntary basis. Most people aren't getting paid more to help develop UAV programs, so we wanted to make doing so as painless as possible by getting teams trained and in the air.Beyond the kind of timesaving value that that UTC program represents, is something that stems from the RMUS and DJI partnership. We want to work with enterprises to understand what their current SOPs are, how they currently are using drones if they're using them at all, and what are their needs and how they see them impacting their bottom line. Once we have that understanding, we're able to recommend something specific that can address those needs. We work with stakeholders to explore how this training fits into specific workflows, program and industries to optimize this training moving forward to address specific needs.We've developed this program to be very versatile. Drones have made measurable and immeasurable differences for operators and organizations of all sizes, but we're hoping to further document what these differences look like in upcoming case studies. We have an idea of what the needs look like, but at the same time, we want to be able to take in feedback from the people actually using it to continually improve the program and create value for everyone going through it. 
If you'd like to learn more about the course or understand how it might match your needs, click here: https://www.uastc.com/us/utc_CUT/show/56.html