PrecisionHawk
, he's committed to ensuring that same kind of disruption can and is taking place in the drone space.With an announcement that focused on how PrecisionHawk is committed to
going beyond agriculture
, we're seeing the company fulfill the promise that Chasen talked about
earlier this year
, when he mentioned that he wants to help professionals in various industries make better business decisions by using drones. News about how PrecisionHawk
is helping companies in industries like construction
scale their drone program is already making waves, but Chasen himself delivered a keynote address at
Interdrone 2017
, which ended up explaining much of the strategy behind this development.The company has added executives from firms like Booz Allen Hamilton, Deloitte, Oracle, Tetra Tech and Informatica to help ensure these new solutions can and will be utilized by industry professionals. Chasen talked about how this kind of expertise is essential in order to understand how drones can extend technology in a powerful way, similar to what the smart phone has done. That extension has resulted in new uses for drones, and those uses can be seen in the various offerings the company is making available.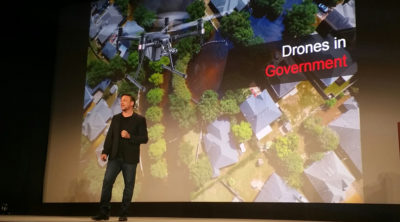 PrecisionHawk has put together five pre-assembled packages for the construction, insurance, energy and government sectors which include a drone, sensors plus integrated flight and data analytics software. Here are a few details about each:
Smarter Construction Package – Generate as-built 3D models with photogrammetry data and integrate those models across all phases of a project from pre-construction to project hand-over.
Smarter Insurance Package – Create 3D imagery combined with analysis tools and modeling methods to quickly and efficiently deploy loss adjustment resources after a natural disaster or property damage following a wind, hail or fire event.
Smarter Energy Package – Cover a large area in a systematic way to map and assess the environment. inspect pipelines and power-lines to proactively identify encroachment and sink spots and inventory assets.
Smarter Government Package – Attach advanced sensors like LiDAR and Thermal to better understand, predict changes and plan for the built world and environment.
Smarter Agriculture Package- The original smarter package. Support major decision-making throughout the season such as optimizing inputs, reacting to threats, improving variable rate, increasing efficiency of crop scouting and estimating yield.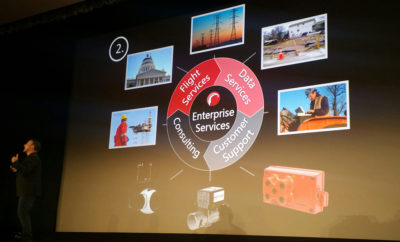 Earlier this year, the company

made PrecisionMapper free to use

, and these packages further demonstrate how the company wants to move forward. The question of whether or not drone technology represents a true disruption or a passing fad is something Chasen and his team have answered with these development. The ecosystem they're working on will encompass flight services, data services, customer support and consulting, which is not the sort of thing that would need to be created or utilized for a passing fad.PrecisionHawk's expansion to these new markets is proof of their belief that drones are on the cusp of impacting all of these industries in a powerful way. Where and how they'll be able to help companies create that impact is something we'll be looking to highlight in the coming months and years.  

As the former CEO and co-founder of Blackboard, Michael Chasen knows what it means to create disruption. His software completely changed learning solutions in the education space, and as the current CEO of