While COVID-19 has caused organizations and entire industries to slow down or shut down entirely, many others are striving to make sense of a new normal by creating entirely new workflows. Given their ability to capture data from a distance, drones are being looked at as an ideal solution to be utilized in these workflows, but challenges around adoption remain as pervasive as ever. A new solution from DJI is set to ease those challenges in ways that are as powerful as they are prescient.

Announced today, the DJI Matrice 300 RTK (M300 RTK) and the Zenmuse H20 are designed to be an all-in-one commercial drone solution that creates new opportunities in sectors that range from public safety to law enforcement to energy to surveying and mapping. The solution integrates modern aviation features, advanced AI capabilities, 6 Directional Sensing and Positioning System, a UAV health management system, and 55 minutes' flight time. The M300 RTK can also support up to 3 payloads simultaneously and has a maximum payload capacity of up to 2.7 kg.
DJI's commitment to this kind of holistic solution specifically designed for commercial users ever since the M200 series was announced. What's important to note is how this new solution is built on that commitment in multiple ways for a variety of commercial users.
"The Matrice 200 was announced in early 2017 and was DJI's first drone designed from the ground up for commercial/industrial applications," said Michael Oldenburg, Sr. Communications Manager, North America for DJI. "Since then, we've received a lot of customer feedback as the M200 was used across major industries like public safety, energy, and construction. We incorporated this feedback into the new capabilities of the Matrice 300 RTK and have received very positive feedback from early access customers like Shell, Valmont Industries, Pearland Police Department, and Southern Manatee Fire."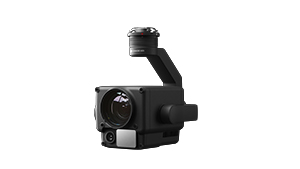 Users will be able to take advantage of two intelligent ways to collect data with the M300 RTK and Zenmuse H20 Series solution. Smart Pin & Track is an intelligent function that enhances synchronization of aerial intelligence in coordinated missions while Smart Track allows users to automatically detect and track a moving object, even at extreme distances.
Being able to perform critical infrastructure inspections is one of the product's most important capabilities, which is something Smart Inspection directly facilitates. This new set of features was developed to optimize routine data collection missions such as power lines, railway and oil and gas inspections. It consists of Live Mission Recording for recording sample automated missions in real-time as well as AI-Spot Check,, which enables data collection from exactly the same location every time, greatly improving the accuracy of automated missions.
These features along with a new Primary Flight Display (PFD) that merges real-time flight and navigation data into one integrated display and Advanced Dual Operator Mode underscore how the drone designed to help workers do more and do it easier than ever before. The improved ruggedness, longer flight time and intelligent features might not have originally been designed to allow enterprise users to make sense of the "new normal" that so many are working to define, but these features directly speak to the challenges that need to be overcome to strike the right balance between keeping people safe and getting back to work in the short and long term
"As we move into the new normal around COVID-19, many organizations are looking for ways to do things 'contactless' or to ensure proper physical distancing between people on job sites," Oldenburg told Commercial UAV News. "For certain businesses that are faced with these new imperatives – such as inspection work - drone technology and the advancements found in the Matrice 300 RTK can play an important role in helping them address these challenges and allow workers to get the job done more safely and efficiently."
The M300 RTK and Zenmuse H20 series are available for pre-order from official DJI Enterprise dealers and will start shipping in Q2 2020. Pricing details and info about where to buy the new solution set will be available via local DJI Enterprise Partners. You can see a DJI Enterpise Dealer Map right here.