Not too long ago, enterprise stakeholders had questions about whether or not a drone would be able to provide enough value to their operation. Integrating these kinds of tools can be a challenge both in terms of cost and technology, which meant that many were hesitant to experiment with the technology, much less consider how it could eventually scale across their organization.
However, companies large and small have proven what kind of ROI can be associated with drone technology, while the safety benefits drones represent are incalculable. These results have compelled more enterprise stakeholders to undertake adoption with an eye toward how such an endeavor can work at scale, but there are numerous challenges that need to be worked through. What is the best type of hardware to utilize for a drone program? What will it mean to compel teams to use the technology as intended? When should questions about scale be more fully considered?These were the exact sorts of questions that Michal Mazur from PwC and Michael Thoss from ethoss group discussed during their
How to Integrate Drones into Your Business Practice
session at the Commercial UAV Expo Europe. They provided a detailed guideline that was focused on what stakeholders need to keep in mind when integrating drones into their business, and took them through that process, step by step.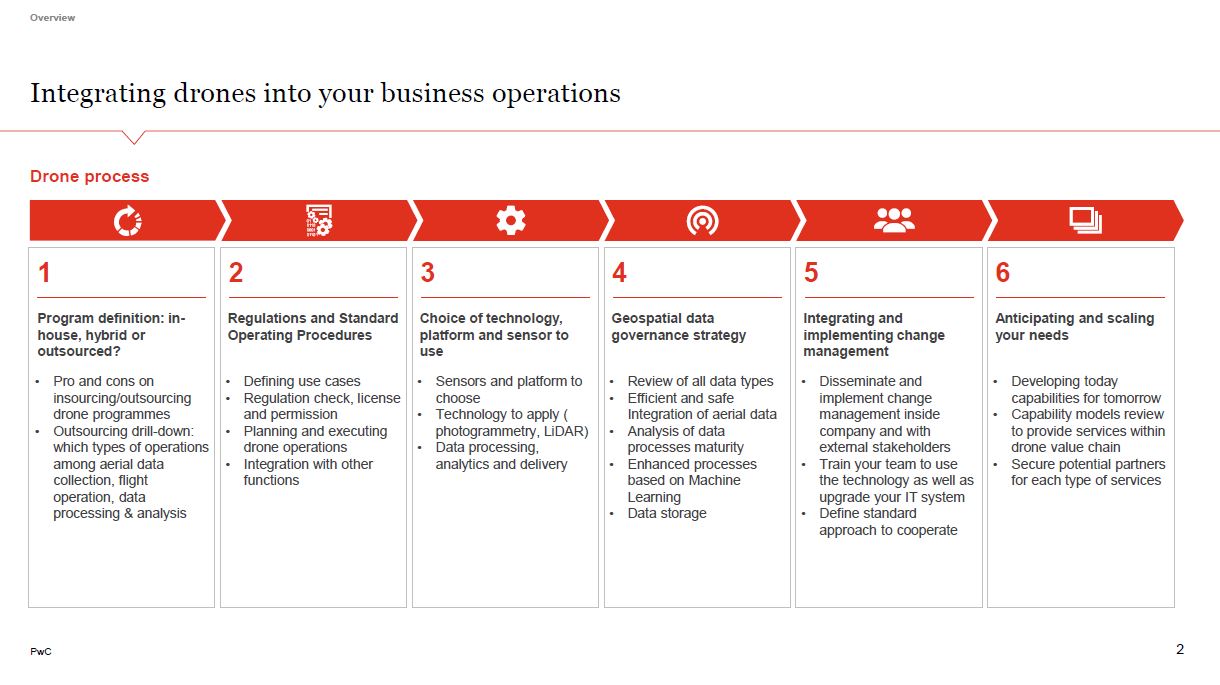 We had the chance to connect with Michal Mazur to gather some further insights about each of these steps, but they have to always be considered as individual parts of a greater whole. That holistic look at what it means to effectively integrate and adopt drone technology is the only way to fully understand the kind of measurable differences that it will be able to create, which are ultimately most important."We have to understand the current costs of doing things," Mazur told Commercial UAV News in an interview after the event. "Drones can provide really interesting insights, but it's ultimately about revenue and efficiencies. The justification for the technology really has to be in financial terms. Anyone working through this process has to understand exactly what they're trying to optimize, what the current costs are, and what part of an established process they want to impact or change. It's not just about adding drones but making a process smarter."That effort to make workflows and entire projects smarter has proven to be worthwhile in terms of the bottom line and beyond, but the challenges associated with achieving such results need to be considered and worked through in a thoughtful manner.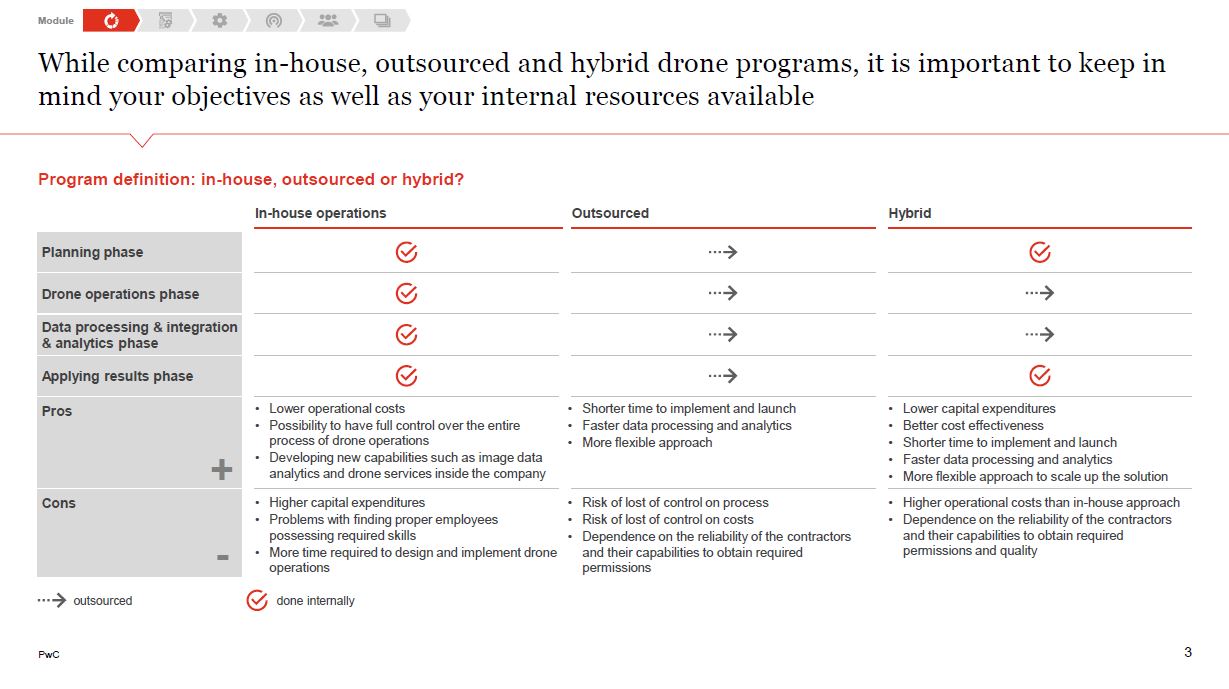 The question of
"build or outsource"
is one that many organizations work through once they decide they want to leverage the technology. While it's often not a case of either/or, decisions about whether internal or external resources are going to be flying the drone can be more about timing and policy than the technology itself."Many people started off by buying a drone and processing software, but then saw that gathering data in that way was inefficient, partly because they couldn't scale up but also because it existed too far outside of what they were already doing," said Mazur. "That led many of them to service providers who could give them a better sense of what it would mean to properly integrate that data into their workflows. However, a lot of people prefer drone operations in-house because that gives them the control they want, partly because of data security, and partly because they might be flying over sensitive infrastructure."That desire to have control over the drone and information but to also be able to utilize the insights of service providers has led many to a hybrid model that utilizes both approaches, although even this model has disadvantages. Nonetheless, this hybrid model can represent a best-of-both-worlds solution, since it will provide the necessary training and flight optimization to achieve the desired result, which can all be picked up on by the proper internal contacts as needed.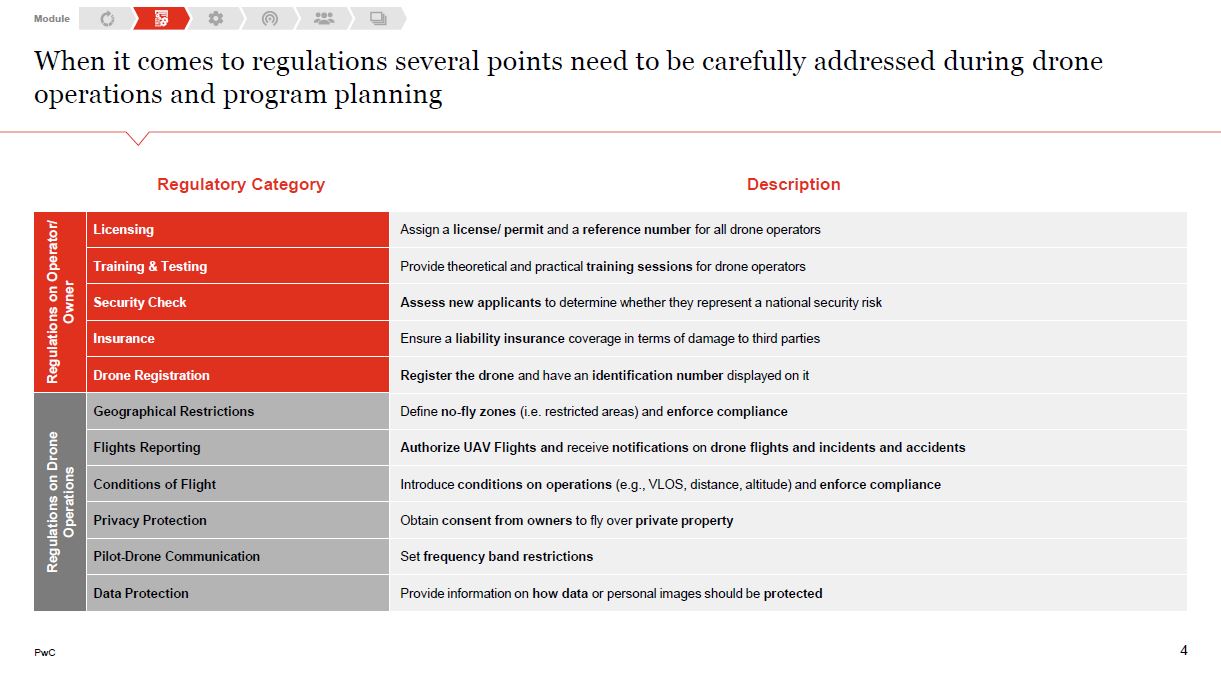 Regulation is always top of mind for organizations across the world, but the fragmented reality of drone laws in Europe, which vary from country to country, make this topic even more important. While much progress is being made
when it comes to seeing this environment simplified and eased,
the reality of what regulatory issues need to be addressed for effective program planning are considerable. That said, what's most important for an organization to consider is not so much about what regulation will allow them to so as it is about what it won't allow."I don't think the issue is an unwillingness to work through regulatory challenges," Mazur said. "The real challenge is about what someone can actually do at the end of that process. There's a lack of regulation that often prevents someone from doing what they really want to do. There are countries in Europe and globally where the regulations just don't allow them to do something like BVLOS, and that represents a different kind of challenge."While there will always be a fear that it will be difficult for an organization to comply and work through the steps outlined in the slide, restrictions around operations like flights over people and BVLOS are of higher concern to many organizations that are focused on scaling a drone program. There are ways to
work through such challenges
, but that makes it essential to recognize the opportunities that doing so will open up at scale.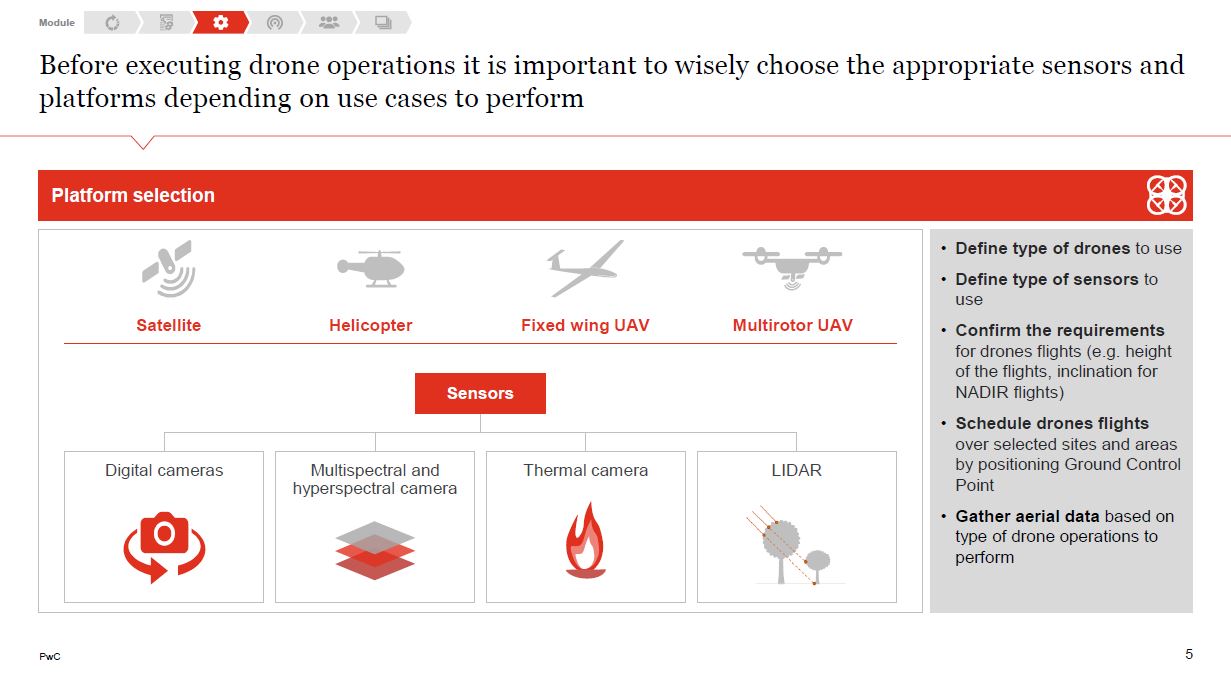 While we continue to see the
shakeups and shakeouts
that many have
predicted for years now
, there are still plenty of options around drone hardware and sensors. These are the devices that get the most amount of attention and can get everyone excited, but decisions around which solutions need to be driven by the needs of the project. Although there are other factors to consider."Maintenance for drone hardware and sensors is a big issue," Mazur continued. "We don't really have a standard maintenance practice in the commercial drone market. When you buy a drone, you don't know how long you'll be using it. Weather is also a factor because a platform might be able to fly for two hours, but how can it stay up there in windy conditions? Or in high temperatures?"These are just a few of the questions that need to be asked of drone hardware and sensor manufacturers when platforms are being selected. Thermal cameras and lidar can provide incredible information, but there are numerous options around the type and kind of solution that can be purchased. While some of those decisions can be driven by the project, they also need to take into account what makes sense for the organization and at scale.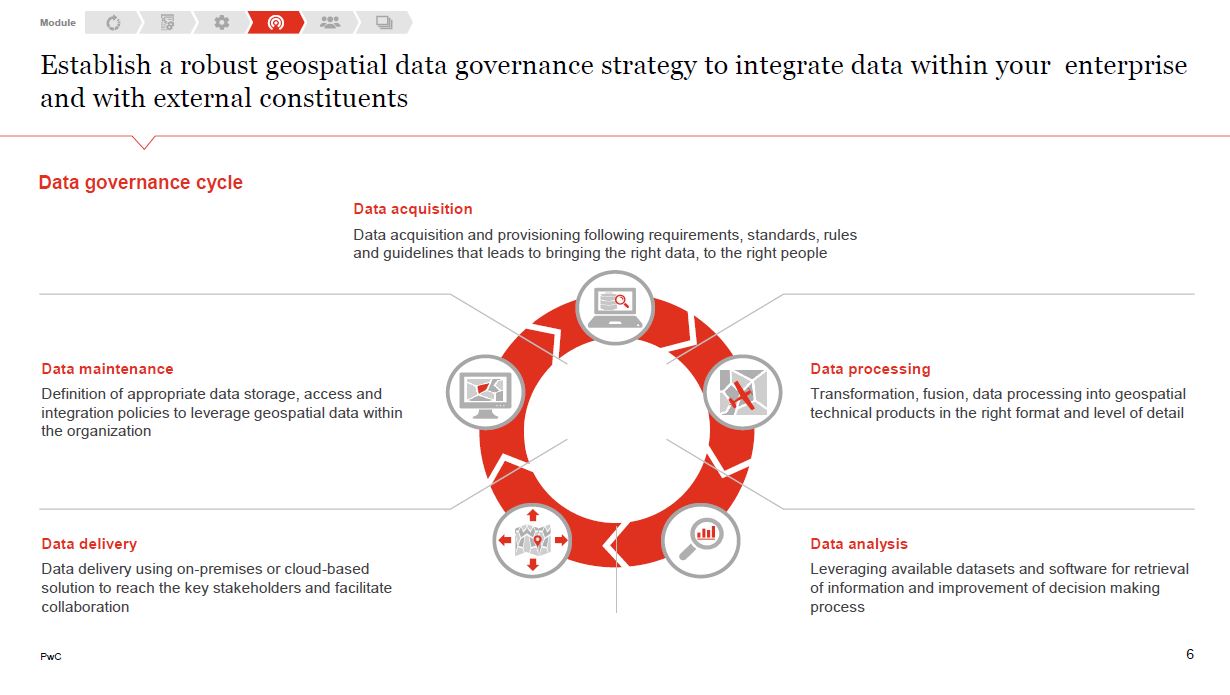 Challenges with
drone data are not new
, but the importance of establishing the right approach to this topic are more considerable than ever. Data accuracy is tied to data volume, and the volume of geospatial data and processing time are increasing steadily based on required accuracy. However, none of that value can be realized without the right strategy in place."Right now I think the biggest challenge is data," Mazur continued. "Drones have always been able to gather a great deal of information, but today we're talking about terabytes of data. So the biggest challenge is to create a data strategy. Data can't be siloed. It needs to be something everyone can use and create value from."The benefits of creating a data governance strategy were illustrated during the presentation, and it's easy to see how everything in this ecosystem is connected. Further
opportunities with AI and machine learning
can only be opened up with this kind of strategy in place, but those opportunities can't come together if any of the pieces in this ecosystem are missing or not properly thought out.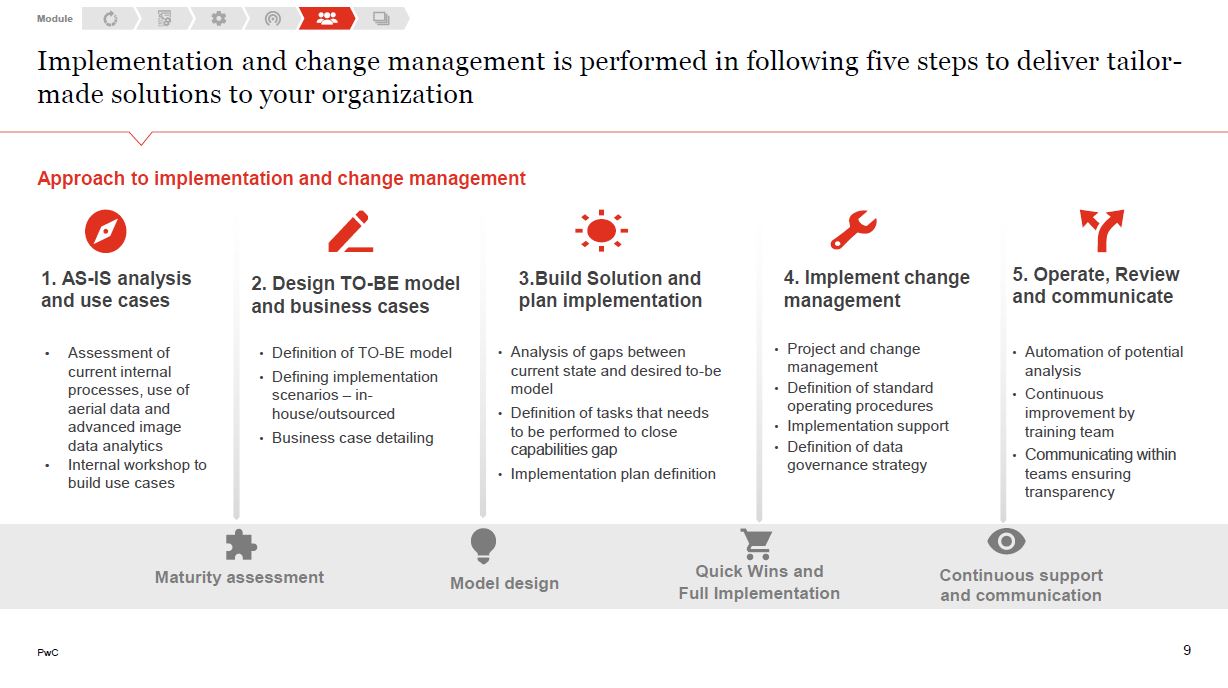 As drone technology has gotten better and cheaper, more and more company stakeholders have begun to see that their biggest challenges with integration often aren't about costs or the technology. They're about getting people to change their process or behavior. The challenge of doing so is
not unique to drones
, and it's why drone program stakeholders sometimes need to take a different approach."It's sometimes easier to invent than change people's behavior," said Mazur. "A good way to make sure this kind of solution is going to be used and will work is to link it with existing systems. Why not link AI reports onto the foldering system you already have? Then it can generate reports in a more effective or powerful way."Some are still resistant because they believe drones could replace certain jobs or positions. The technology is almost always talked about in terms of
augmentation rather than replacement
, and that drones will
ultimately be just another tool
. These are the types of realities that need to be highlighted and repeated as stakeholders approach drone implementation and change management.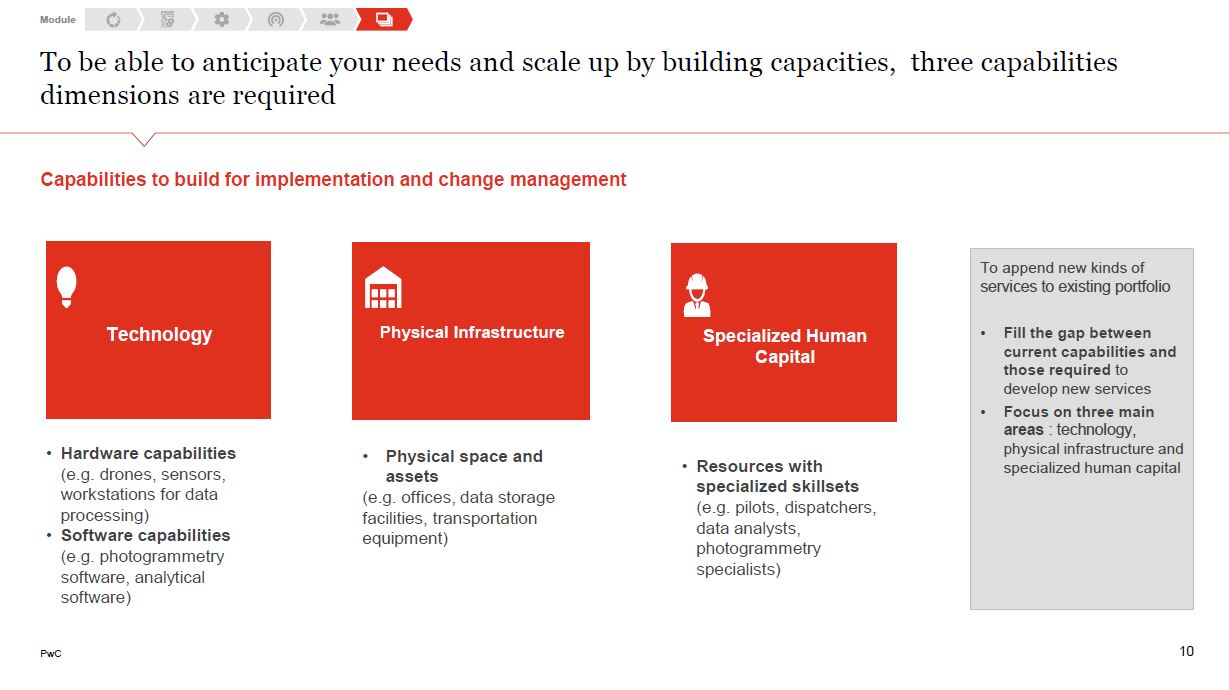 Organizations that have been able to scale up their building capacities with drone technology have done so because they're relying on technology, physical infrastructure and human capital to make their implementation a success. Exactly what those elements look like from one organization to another can vary a great deal, which is why asking for insight and help in establishing this foundation can be so essential."Whether you're just getting going or working through some integration challenges, reach out to others in your space to find out if they have or are going through something similar," Mazur advised. "Ask what they have or haven't done with the technology, and what they've learned. The implementation you're trying to enable might be unique, but the challenges and learnings that others have gone through are going to be relevant to you. And they'll be important for others as well."In trying to figure out the best way to integrate drones into business practices, it's clear that the answers are going to vary from organization to organization. Resources like the one Mazur made available can help stakeholders understand what questions they should be asking though, no matter where they are or where they want to go in this process.For plenty more resources that can help determine the right questions to be asking, PwC has numerous created articles and reports on their
Drone Powered Solutions
site. As an easy way to remember where to find those, visit
www.dronepoweredsolutions.com