Estimates about the potential value of drone technology continue to generate headlines, although there's more awareness than ever that these numbers might not line up with reality. Recent industry shakeups and shakeouts like Airware shutting down caused many to ask questions about what it would mean to bridge the gap between the potential of drone technology and real-world profitability. Thankfully, companies like MicaSense have been able to provide answers to these questions in both practice and principle.
Researchers, drone service providers and growers throughout the agriculture industry use MicaSense sensors for a variety of purposes.
RedEdge
, the company's leading sensor, has been used in over 100 research publications and deployed by countless agriculture professionals on drones across the United States. That success has helped to enable the third consecutive year of 70% RedEdge
sales growth for the company
. These results underscore the real-world value and profitability of drone technology that can be opened up when practicalities are prioritized over potential."As with any growing and new market, a lot of the predictions and solutions that were out there initially were exciting, but not practical for the end user, said Eric Waters, General Manager at MicaSense. "We focused on creating something that really made sense in agriculture because everything in agriculture must be practical in principle and in cost. Predictions about how much something might be worth can get people excited, but we're at a point where were need to be talking about usable solutions rather than potential."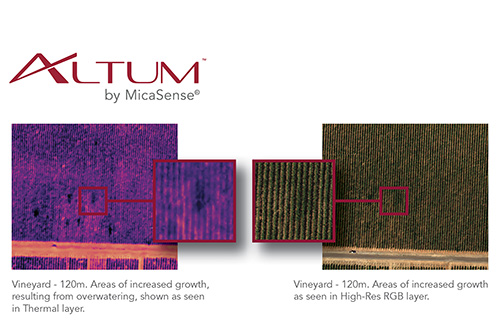 That focus on practicality is evident is products like the
Altum
, which captures synchronized thermal and multispectral imagery in one flight
to produce aligned outputs for advanced analytics
. Altum gives users near-infrared bands plus the thermal layer, which reduces the complexity and provides three separate layers of information. In November and December, Altum sales accounted for over 35% of MicaSense sales revenue, further showcasing how and where this technology is creating value in the market and for MicaSense.It's something that has resonated with users across the world, as MicaSense also announced plans to expand international sales channels and dedicate additional sales and marketing resources to Asia and Europe. The company already has a presence in Latin America, and establishing a similar presence in the Asia Pacific region has been identified as a priority. In Europe, Germany has been specifically identified as an area of focus, where growth will be enabled thanks to an understanding that MicaSense products are just one part of a complete drone solution."Everyone is still trying to figure out how to address market demand for an all-in-one package," Waters told Commercial UAV News. "We're just a piece of the puzzle, and it's why the partnerships that we're implementing have been so beneficial. These partnerships are non-exclusive because we try to be as open as possible in both number and type of aircraft, as well as on the software side. That's been a successful strategy for us, as it's allowed us to serve the most needs of the market by providing users with a wide range of options that can be fit for purpose."MicaSense has formed partnerships with numerous drone integrators and manufacturers, such as Wingtra, Delair-Tech, PrecisionHawk, and BirdsEyeView Aerobotics, in order to provide growers and drone service providers a wide variety of options. Their participation in the DJI Payload SDK program has also enabled the RedEdge-MX and Altum to be fully integrated with the DJI M200. These efforts showcase what it means to make drone technology make sense from a practical perspective, which have in turn driven the company's sales growth and profitability.By creating sensors that are essentially purpose-made for drones, MicaSense has been able to define where and how UAV technology can make real-world differences that will eventually see some of those predictions about the value of the technology more fully realized.