Launched in late 2019, MicaSense's Dual Camera System doubled the spectral resolution of the company's previous 5-band sensors, providing professionals with a new synchronized 10-band solution for advanced remote sensing and vegetation research applications.
Building off the original RedEdge sensor, which has 5 bands including rgb as well as red, red-edge, and near-infrared bands, the 10-band system adds a coastal blue band, a green band, and three bands in the red to red-edge region of the spectrum. Packaged with the mounting hardware already attached to the cameras in a hard-carrying case, the full kit features a streamlined drone integration with the camera ready to go.
"If you have a DJI drone, you twistlock onto the camera gimbal port and then install the DLS 2 [MicaSense's Downwelling Light Sensor]," Emily Ciesielski, Channel Sales Manager at MicaSense, told Commercial UAV News. "You secure that onto your drone and then there's one cable that connects the DLS2 to the camera itself. So, installation is pretty quick and it's also simple if somebody already has a RedEdge camera, as we will provide the blue camera and the mount, so they just need to secure their RedEdge to that mount."
Earlier this year, Commercial UAV News and MicaSense released an on-demand webinar regarding the capabilities of "superspectral" imaging and how the Dual Camera System opens the door for a broader range of use cases. Whether it is species classification, identification, or trying to find weeds or harmful algal blooms, having the extra bands MicaSense's solution provides allow users to detect things that aren't possible with the naked eye nor a 5-band system. While MicaSense built a big customer base with the original RedEdge and Altum sensors within agricultural research and service providers, the development of 10-bands is helping the company to reach new research communities more focused on environmental monitoring work, as well as a different kind of service provider.
"Oil and Gas or mining companies often have to do reclamation work, to help them design and conduct this reclamation work they can hire an environmental consultant," Ciesielski said. "the aim being to restore land to its natural state or to what it was before the exploration work was done. The multispectral bands are really helpful for monitoring this, by tracking vegetation regrowth and the composition of species in the reclaimed area."
With 10 bands located strategically at key points along the plant reflectance curve, one of the main advantages of the Dual Camera System over 5-band sensor is the enhanced capability for species classification work, where the focus is specifically between the red and the near-infrared portion of the light spectrum. While there can be quite a lot of variants and reflectance in that section of the light spectrum between different species, using the 10-band system's two red bands and three red-edge bands make it easier to find that unique spectral signature of a species or the composite of multiple species in an area. With the 10-band system, what would otherwise be a mostly uniform green area to the human eye becomes useable data as different species are brought out. It is also an effective tool to find invasive species that can spread quickly or are toxic in some way, as well as distinguish weeds from a crop in a field where both have a broadleaf structure.
Additionally, the 10-band sensor is more suitable for aquatic and marine applications than a traditional 5-band sensor. For instance, the aerosol blue band is specifically useful for imaging shallow water if looking for suspended sediment, algae growing on the water, or vegetation below.
"A lot of that has to do with how water absorbs light, rather than reflecting it, so this specific blue band is one that it reflects more of," Ciesielski explained. "It is especially useful for coastal environment mapping, where they've got the shoreline as well as some vegetation. Maybe they want to look at the composition of the species in addition to looking at water health and anything that's suspended in the water."
Moreover, mapping areas where you don't need to get as granular as knowing all the specific species with the 10-band sensor, such as wetland areas, allows users to analyze the percentage of trees versus shrubs versus tall grasses versus water in the area. This can help to see how that composition changes over time, either due to human action, restoration efforts, or climate change.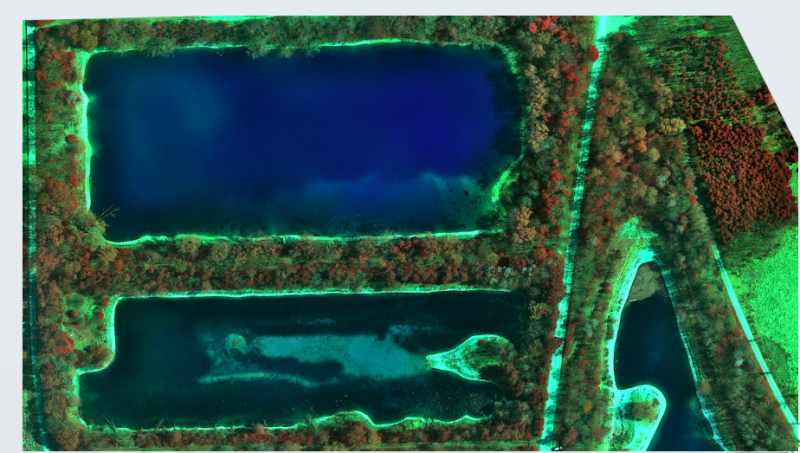 "Having those bands to detect and monitor terrestrial and aquatic areas gives you a lot more information or tools to do a much better job at it, but it's also for people who are doing a lot of work in the satellite community," Callum Scougal, Sales Engineer at MicaSense, added. "They're used to having 10 or more bands and our system directly mirrors that in terms of band capability. [With the 10-band sensor], people coming from the satellite community who want to validate models at high-resolution can do that using the highest spatial resolution. And it's also particularly useful for those who want to develop in-depth classification or machine learning algorithms."
To learn more about MicaSense's Dual Camera System, head over to the company's website or watch the "10 Ways to Use 10 Band Imagery" webinar and others available in the webinar section.