Drones are being used in the United States and in Europe in applications that range from collision scene reconstruction all the way to reducing costs and increasing safety while repairing infrastructure. However, these aren't the only industries or regions where the technology is making a difference. Companies in Japan are actively exploring how drones will work for disaster response, but that's just a hint at how various companies are planning to utilize drones across the country and eventually the world.
Drone Fund is a VC fund dedicated exclusively to exploring and enabling these types of solutions by investing in companies specializing in hardware, software, DaaS, SaaS, and drone-enabling technology solutions. Drone Fund has 30 portfolio companies, each of which has a specialized and distinct solution. To briefly illustrate these distinctions, one company (FULLDEPTH) has an underwater drone while another (A.L.I Technologies) specializes in A.I. tech and hover bikes. There are significant differences between all of them, but what they all have in common is innovative technology, strong leadership and a sense of cooperation that has them working towards a drone-enabled, future society.
To further explore how and when this type of society will take shape, we connected with DroneFund Co-Founder and Managing Partner Mr. Soki Ohmae. He detailed the numerous opportunities that all of these companies are set to create, what it will mean for these solutions to be adopted by the enterprise, how their many portfolio companies will be highlighted at the Commercial UAV Expo and much more.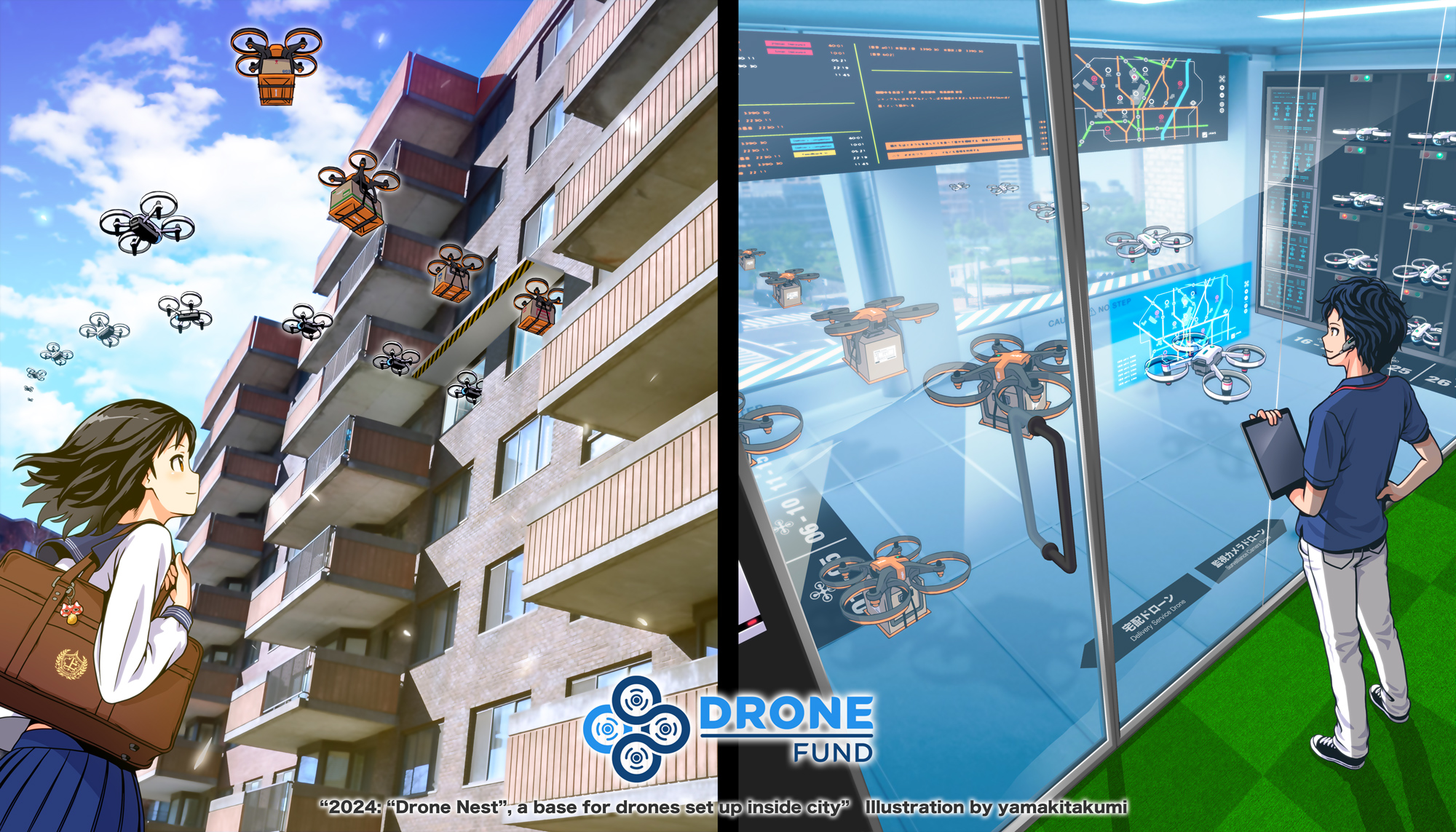 Jeremiah Karpowicz: Drone Fund's vision is to contribute to the development of drone and air mobility technologies that are beneficial to society. Are those benefits you envision will be enabled in a single manner? Or will those benefits take shape in multiple ways?
Mr. Soki Ohmae: It's going to happen in both respects.
Singularly, drones and drone tech are bringing us closer and closer to an automated future society. Regarding the multiple ways they will take shape, drones can do work better, faster, cheaper and safer. There are multiple examples of drones doing work in a fraction of the time, at a fraction of the cost.
Drones can get to the top of a telecom tower in minutes, while an operator remains on the ground (Faster, safer). Drones can also enter tanks and pipelines, containing noxious chemicals and vapors, keeping humans out of those environments (safer, cheaper, better). Drones will be able to provide automated last-mile delivery to homes and "drone nests" reducing the needs for trucks and delivery vehicles (faster, better, cheaper, safer). These are just a couple of examples (there are a hundred more use cases that prove this as well) that make a drone the better solution.
How has that desire to enable technologies that are beneficial to society actively driven the selection of the companies in your portfolio?
When we approach new technology, we usually ask ourselves "how will this technology work better, safer, cheaper, and faster than the alternative/current solution?" So, we choose companies with excellent technology that fit those criteria, AND companies that also share our vision!
It's not enough just to have a great technology; our portfolio companies want that technology to contribute to the advancement of society.
Drone Fund I raised a total of 15 million USD in January 2018, while Drone Fund II raised a total of nearly 50 million USD in April 2019. What should this tell us about the potential of this technology and the way in which it is being thought of, perceived and embraced in Japan?
Above all, it tells us that these companies in Japan recognize the unbelievable potential drones have to offer and believe in the vision of the fund for a drone-enabled, future society. It's proof that we must start to use this technology to solve our issues.
On a more practical level, it shows that these companies recognize the value of investments in the space. They see the size of the drone market, the potential of the technology, and they want to be involved in the development of these startups and the market.
Let's briefly explore some of your portfolio companies. What is it about the drone solutions for industrial applications offered by Sensyn Robotics that makes them distinct and different from any of the other offerings in the space?

The key feature is a service that automates the work required for drone business utilization. Drone navigation, takeoff and landing, and charging are performed automatically, and the acquired data analysis is also performed automatically.
By automating operations, even people without specialized skills can handle drones. Also, it is different from other companies in that they are provided by DaaS (= Drone as a Service). Customers will be able to receive our drone service for a monthly fee without having to purchase an aircraft.
Which of the case studies that the company has made available do you think best demonstrates the value they're able to create in the present? How will that value change or grow in the future?

One example is the use of SENSYN DRONE HUB, an automated operation drone port, at Fujita. They're a major construction company and used the solution for safety confirmation and security monitoring at construction sites.
Construction sites are expected to improve operational efficiency by using drones for safety confirmation and security monitoring. The drone automatically takes off, lands and recharges, allowing regular patrols without human intervention.
In the future, DRONE HUB will be set up at various locations, and drones will automatically operate as necessary.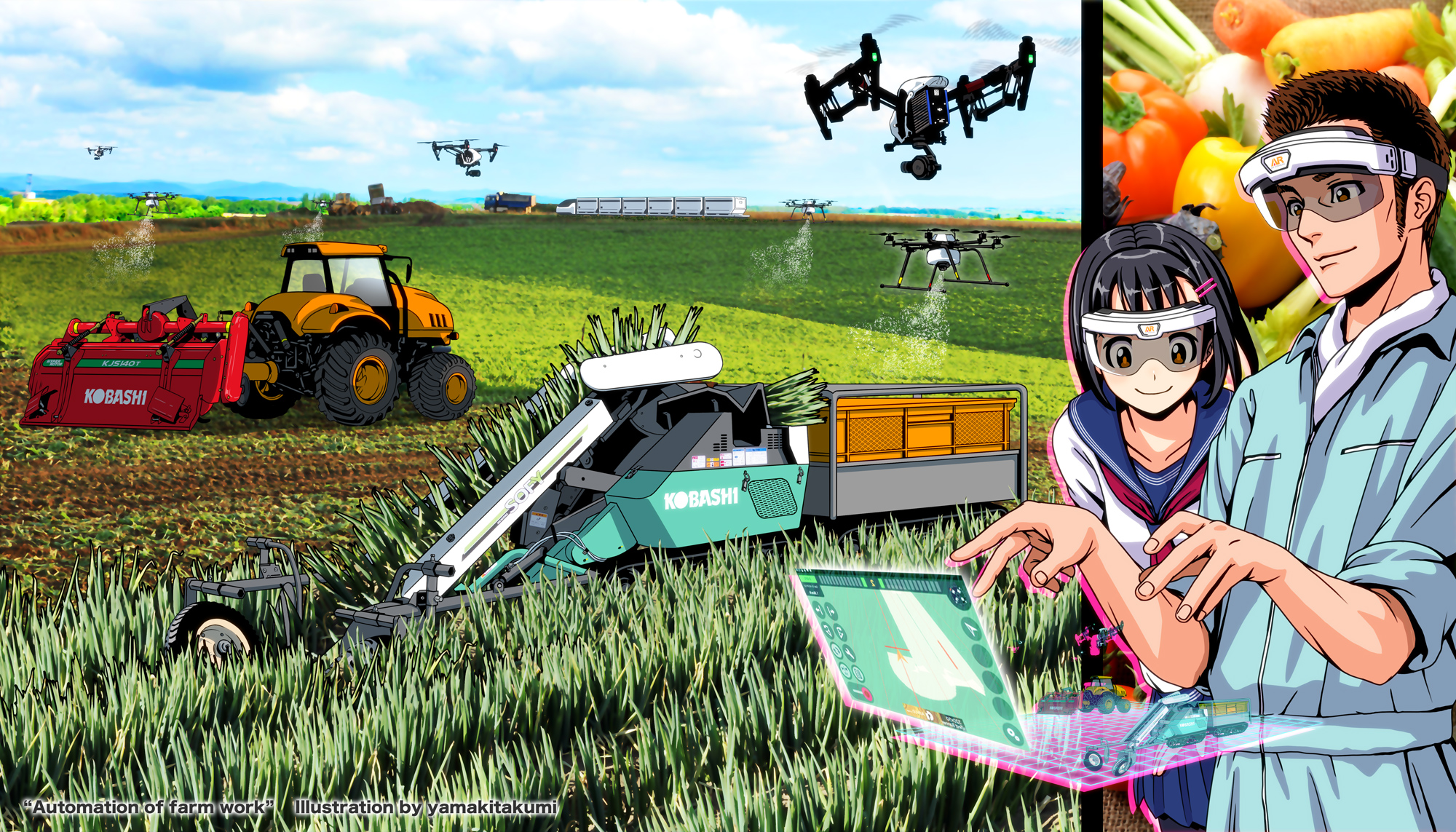 Will the "Smart Farming" agricultural applications and GPS tractor solutions provided by Agri Info Design support the "Farm of the Future", which will utilize automation and data to transform the industry?

Yes, of course!
It is very important to use autonomous technology in agriculture. In Japan, our agricultural working population is decreasing precipitously, so that means we have to use autonomous technology, not only in the future, but we need to start today.
With specific regard to the smart tractor solution, drones can provide aerial mapping, scanning, and even spraying and seeding solutions for the farm of the future, but the crop still needs to be harvested. If our aerial solutions are automated, why not also the ground solutions (e.g. tractors, combines, etc.)?
When and how do you envision these sorts of solutions will take over the industry? Will it be a gradual process?
We are already seeing some of these solutions now in 2019. Some of these solutions have already finished POC (e.g. spraying, data collection, and some of the aerial mapping solutions). The Japan MAFF (Ministry of Agriculture, Forestry, and Fisheries) said in 2022 drones will account for 50% of spraying solutions for rice planting in Japan. So, while it will be a gradual process, the change is happening quickly.
Furthermore, MAFF recognizes the potential for drone inspection and mapping and wants to utilize these solutions for more accurate data collection.
Aerodyne positions itself as being DaaS + SaaS which allows to it to be an Integrated Managed Solutions Provider. Can you talk a bit about the difference between a 'service' provider and 'solutions' provider?
A service provider is reactive while a solution provider actively develops something that enables transformation (especially for large enterprises). It is a more integrated approach. A solutions provider is capable of customizing the workflow from end to end, understands the pain points and can define measurable benefits at each stage.
A solutions provider understands the SaaS approach can shape the data capture process to make the end results more relevant and better quality. And vice versa.
By combining DaaS and SaaS into a single solution, Aerodyne can develop relationships/partnerships as opposed to beng focused on pure transactions. We are invested in optimizing each stage to deliver the best possible insight and help an enterprise to adapt their strategy.
Are there inherent advantages in utilizing the small sized machines that measure atmospheric conditions created by Metro Weather versus traditional means to capture this data/insight?

Yes, there are.
The traditional means to capture atmospheric conditions is limited geographically (i.e. most traditional means measure conditions in one specific area only). To cover a large area (say over an entire metropolis like Tokyo), many different points are required for that analysis. Metro Weather's solution can capture the particles in the air, so that means they can collect wind speed and wind direction over a huge area.
What sort of opportunities do you envision this technology will open up?

We are moving toward a drone-enabled society, and that means we have to collect atmospheric data in urban areas in order to ensure the safe and reliable operation of drones. Right now we are using legacy tech for this solution, but it's not enough for a future, drone-enabled society.
How do you envision Liberaware's small-scale drones for non-GPS applications using SLAM technology will make an impact in the market?
There is no doubt that this tech will have a huge impact on the market!
This technology has proven to be faster, cheaper, and of course safer. According to the US Bureau of Labor Statistics, over 150 people died in workplace incidents involving "confined spaces" in 2017. One example was a worker who went into a tank to inspect for corrosion, where the oxygen level was only 11%.
Our drones are designed to do exactly that type of work, keeping human operators out of those spaces. Beyond improving workplace safety, these drones are designed to work faster and cheaper.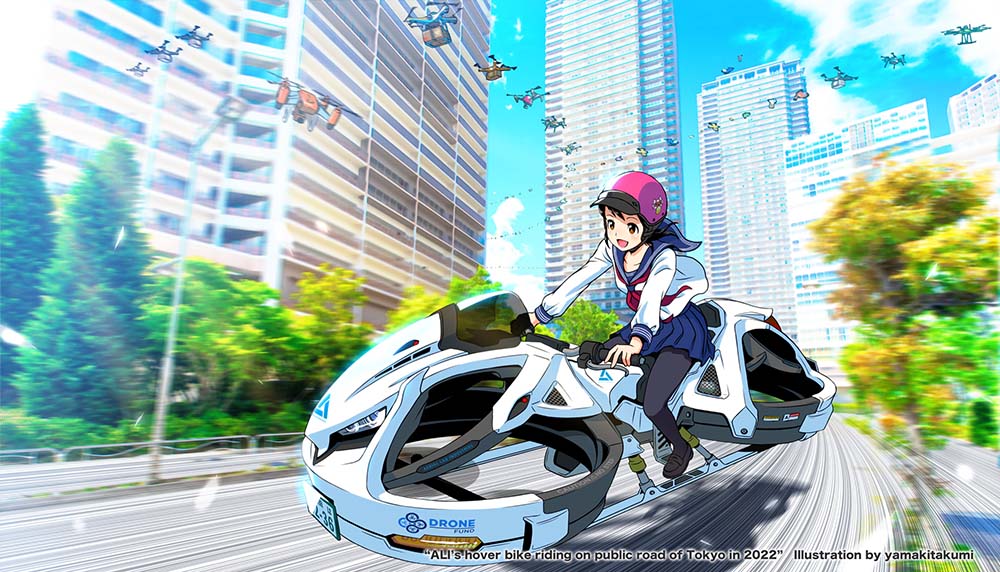 ALI Technologies is working on manned hoverbike solutions, which feels like science-fiction, but it's science-fact. What can you tell us about the technical viability of this type of solution
ALI's hover bike completed its initial manned public flight test in March 2019, and a full-scale prototype will be announced at the Tokyo Motor Show in October 2019. Actual sales are scheduled to start in 2020 after the test ride event in the spring of 2020.
Our hover bikes have moved from science fiction to science fact as a result of the exceptional research on propellers and cowling from the team's car and aircraft engineers.
Ultimately, is the biggest challenge with something like a hoverbike more about technology, regulation, public acceptance, or something else?

We believe that the challenge with hoverbikes is regulation and public acceptance. That's why ALI has been worked to help lead some of discussions about regulation by becoming an advisor to the former secretary of the Ministry of Land, Infrastructure, Transport and Tourism of Japan.
In addition, by providing the above-mentioned 2020 model as a luxury limited model that can run only on private land to increase public acceptance, we are working to increase social acceptance for use of this type of vehicle on public roads.
The airspace of the future that SKYDRIVE is working to enable with flying cars and a connected UTM system is incredibly exciting, but how does the company balance that excitement about the future with what needs to happen and be developed today?
It's difficult to fully realize that future in the short term, but we're taking some steps towards it. Thinking of safety and regulation is our priority. Our first goal is to start flying back and forth from point A to B above sea or river so that we can float on the water in case of some issue arising.
Additionally, it's much easier to drive and significantly more cost beneficial to use flying cars than our current airplane or helicopter solutions. This type of solution is friendlier to our daily use because of numerous factors, including less noise and environmentally friendly as we use 100% electricity.
Do you foresee many of these solutions making an impact in Japan before expanding across the globe?

We feel these solutions are needed everywhere, so there doesn't seem to be any solution that is growing significantly faster in one area over another. There are agricultural, air mobility, defense, and DaaS/SaaS solutions in every country growing very quickly, so with regard to the technology and the need for these solutions, not necessarily.
How are you planning to showcase these solutions to attendees at the Commercial UAV Expo?
We at Drone Fund act as the presenter of our portfolio companies' solutions and as the first point of contact. We will have presentations and literature from our portfolio companies, and we will act as a broker for introductions between those looking for solutions (customers) (or partnerships) and the solution providers (our portfolio companies).
If there's one thing you want people to know about what else they'll be able to learn about your portfolio companies at Commercial UAV Expo, what would it be?
This is a difficult question, as each of our companies has multiple strong points. One very important point though is that we feel US or EU UAV companies and markets are not so aware of Japanese drone companies and Japanese solutions. There is incredible innovation happening in Japan now, and Japanese technology has a reputation for quality, and we believe that Japanese drone tech is no different.
We are joining Commercial UAV to allow people to more easily learn about the exciting and innovative solutions Japan has to offer.
Drone Fund will be exhibiting at the Commercial UAV Expo, where the value of their many portfolio companies will be showcased in countless ways. Learn more here.