The recently completed Commercial UAV Expo Americas event was a success by just about every metric, with more than 3,100 professionals in the commercial drone industry exploring a show floor that featured 260 booths. That success is evident in the stories coming out of the event highlighting answers to some of the critical questions about the drone industry while also exploring the adoption of drone technology in industries like construction, security and in the public safety sector. There's been recent chatter about the drone bubble bursting, but the energy and activity at the Expo showcased the reality that the drone industry is bigger than ever. However, that growth is taking place in unexpected ways in certain sectors.
Matthew J. Grassi was at the Expo to moderate the "Precision Ag and Forestry" panel discussion, but mentioned in his "3 Quick Revelations" follow up article that in his unofficial estimation, agriculture only covered about 3% of the trade show floor. He highlighted agriculture-specific solutions that MicaSense and AeroVironment displayed at the Expo (which are covered in more depth here and here, along with "Pitch the Press" winner Agrowing) but obviously felt that things were a bit lacking for any attendee that wanted to explore how and where drone technology can make a difference on the farm.
Valuable insights about how drones are being used on the farm were highlighted in the agriculture session that Grassi expertly moderated, as it was focused on how farmers are efficiently using the technology to achieve higher yields by identifying problems before they happen. The importance of these sorts of conversations has never been the issue, but some attendees might have expected to see solutions like the recently announced drone from Volocopter and John Deere that is 100% focused on the agriculture market. For the most part though, these types of solutions were not on display on the exhibit floor. Does that mean the Expo didn't have enough for agriculture professionals?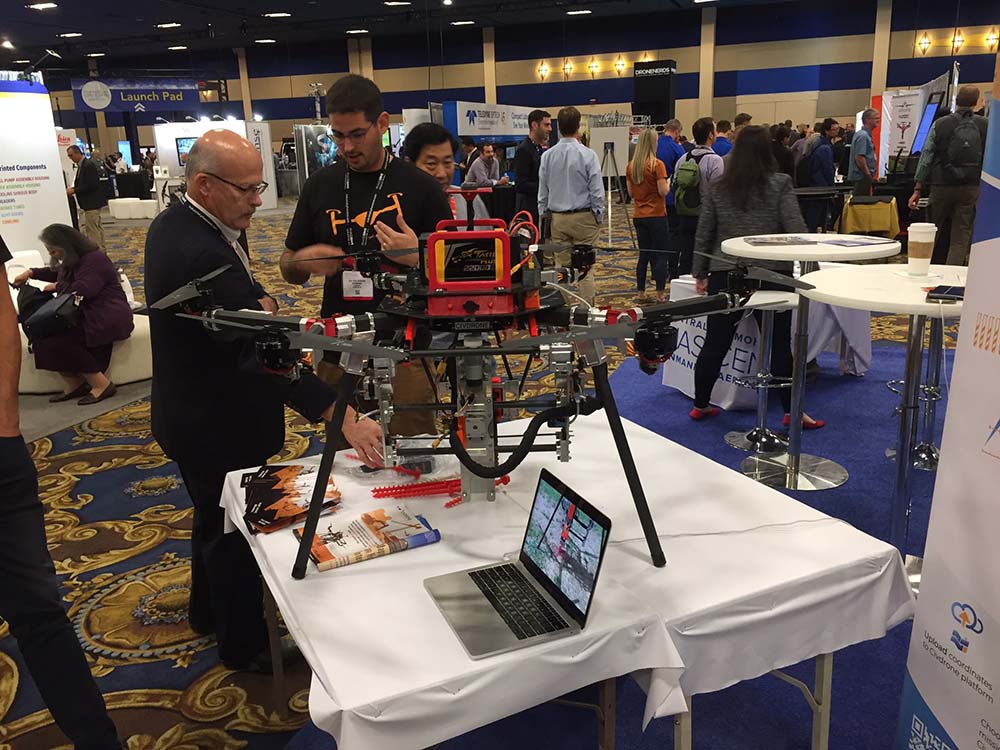 Well…that all depends on their expectations. The Expo displayed numerous solutions that can be utilized in agriculture rather than a plethora of what I'll call "agriculture drones" like the aforementioned crop-spraying solution. That's a good thing for everyone though, as it highlights how the expectations on the part of manufacturers and users are more about actual workflows rather than potential applications. The literally and figuratively outsized expectations around how drones would be utilized to deliver value on the farm have done more harm than good.
Many of those outsized expectations can be tied back to the infamous Economic Impact of Unmanned Aircraft Systems Integration in the United States from AUVSI. The $82.1 billion that it said drone technology represented has been disputed by many, but Colin Snow was one of the few people to explain not only what the report got wrong but also counter the report's claim that precision agriculture would be the most promising commercial market. Simply put, excitement and expectations about how drones would impact agriculture were based on rather spurious assumptions related to scale and application.
Few take the claims of that report seriously any longer, but what's undeniable is how it fueled the hype that saw the creation of agriculture drone solutions looking for a problem to solve rather than being purpose-built. It also empowered technology advocates who wanted to test their business models in agriculture in order to cash in on the drone industry. More often than not, both ended up disappointed or out of business.
Manufacturers and growers needed to be brought back to reality and this year's Commercial UAV Expo showcased how this is happening in a big way. Both have come to realize that an "agriculture drone" isn't what's really needed for this technology to make a difference on the farm. As an illustration of this, Pix4D showcased how they're working to digitize the field at the Expo. They've documented how farmers have conducted further inspections prompted by a drone survey that revealed a previously unknown problem with the irrigation system. As a result of that drone mapping, the farmers made the decision not to harvest the underperforming area of the field.
Additionally, exhibitors like DroneDeploy and Carlson Software have applications that are specifically geared towards farmers and growers. While companies like Trimble and Leica might not have been highlighting their solutions in agriculture at the event, contacts from those companies were more then ready to talk about how the products they had on display could be used in agriculture, which could have opened up a conversation about the products they have that are specific to agriculture.
Just like they were in 2014, the agriculture industry is ready for drones, but what's different is that the expectations about the value they'll create are finally more in line with reality. Finding that value isn't about a focus on technologies that have been created for agriculture, but instead about discovering how specific agriculture problems are being solved by drone solutions, just like the one recently announced by senseFly and Microsoft. Acceptance of the technology's adaptability has changed things for the better and that adaptability was on display in every corner of the event.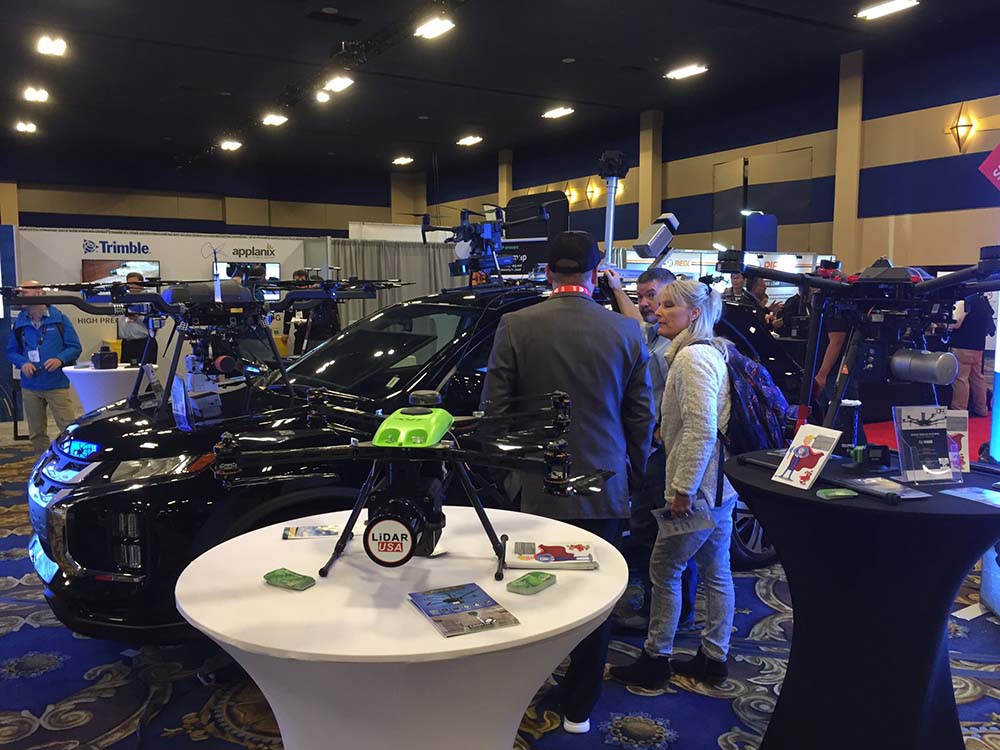 Autel Robotics drones are being used to monitor vegetation growth and periodically analyze water and pesticide needs, but those same drones can be used for home inspections. Companies like RedTail LiDAR are using drones to assess livestock health and determine optimal foraging areas, but that's just one of the spaces where their technology is being deployed. Parrot allows farmers to monitor their crops from the air by conducting drone flights that require no knowledge of flying, but those same applications are available to public safety departments. The technology is making a difference in these spaces not because it's inherently changing the way a business operates, but because it has allowed users to determine for themselves where and how drones can make a difference for them.
I'm super excited about agriculture solutions like the one Volocopter and John Deere are working on and I hope to see them on the floor of the Expo very soon. They'll feel right at home thanks to the support of partners like Royse Agtech, GODAN, AgritechTomorrow and Seed Daily who have already said they'll be at the show in 2020. However, these types of solutions will ultimately be adopted on account of where and how the technology is delivering value in a less ambitious manner. They'll be based on the real differences that farmers can quantify with drones and will impact their decision-making.
It's fun to think about how "agriculture drones" will function on the farm of the future, but actually getting there will depend on the value that farmers are creating today by using the same drones that are being used in fire departments and by surveyors. Drones absolutely have a role to play in AgTech, and the Commercial UAV Expo is the place they'll come to discover them when the time is right.
And if you ever have trouble figuring out what that value can look like for you at the Expo, just ask.