Because the drone laws in Australia are very similar to U.S. Part 107 rules, Australia is an important and relevant country to watch for innovations and regulatory milestones. They struggle with a lot of the same regulatory and adoption challenges that many in the U.S. and elsewhere are dealing with today. One of the leading players getting noticed within the Australian drone ecosystem, as well as globally, is The Institute for Drone Technology.
The Institute for Drone Technology is a drone consultancy and Registered Training Organization (RTO No. 45181) and a Civil Aviation Safety Authority accredited training provider for the Remote Pilot License in Australia. It is focused on aiding companies in leveraging drone technology, working side-by-side with them to develop a solution that works for their business. On the surface this may sound a lot like an end-to-end service provider but delving into their host of offerings, such as Dronesafe®, DroneInduct®, and Drone Test & Tag®, it is clear that the Institute is quite a bit more: a microcosm of the entire drone ecosystem. From developing drone solutions and educating and training pilots to flight management and drone maintenance and more, the Institute has developed a holistic solution from start to finish for the entire drone industry.
Recently, The Institute for Drone Technology has been working to enrich this ecosystem even further by developing a Low Altitude Airspace Management System (LAAMS) through their partnership with counter drone specialists Department 13 (D13). D13 will add situational awareness capabilities to their airspace management platforms by detecting, identifying, attributing, and locating drones within the airspace to ensure safe flights. With this final piece of the puzzle, LAAMS is setting the stage for what a future national/global UTM system could potentially look like.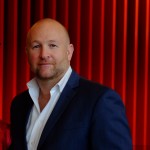 "It's a very exciting relationship," Paul New, Executive Director of The Institute for Drone Technology, told Commercial UAV News. "We have already had interest, both from the U.S., Asia and Australia, to trial that ecosystem on assets to give the client the turn-key drone management solution."
In order to learn more about LAAMS and the Australian drone market, Commercial UAV News spoke with New about how The Institute for Drone Technology is adopting novel and cutting-edge approaches to managing drone operations, their internal working philosophy, what innovations they see on the horizon for the Australian and the global industry, how all this led to them developing the LAAMS solution, and more.
Shifting the Focus from the Drone Operator to the Client Changes the Way that Companies Think About Their Assets, Especially the Air Space Above Their Assets
The complexity of Australia's drone operations, where drone swarms are now legal, is especially impressive and is the reason why Australia is becoming the test site for many companies and governments world-wide. In fact, New reported that they are aiding some clients who are dealing with commercial fleets of 800 to 1,000 drones. To put this in perspective, almost nothing in the U.S. commercial market matches this kind of implementation; the Department of the Interior, before it grounded its fleet, had around 800 drones. How has the Institute for Drone Technology been able to implement this kind of large-scale adoption? New says it has everything to do with demonstrating return on investment (ROI) for clients and providing them with the infrastructure, like LAAMS, to support it.
One of the core perspectives The Institute encourages is shifting the focus from the drone operator toward the client. What this translates to is essentially thinking about how drones can solve real world problems, developing solutions that meet clients' needs, and then working with clients to implement them. This approach has been enabling companies and organizations in Australia and globally to find solutions that can truly scale.
"Our industry is still talking from a drone operator perspective, we're not talking from our clients," explained New. "I'm not saying that the aviators or the aviation element isn't important or critical, but I think it's been rather hijacked by things like UTM, beyond visual line of sight and so on. There's actually quite a bit of everyday activity that is bringing about serious value for workers, organizations, and centers with the use of drones as an operational tool."
As with any disruptive technology, the value of drones is not always evident to corporations that are used to doing things a certain way. There is more to convincing adoption than knowing that your product or service could improve a businesses' workflow or generate new revenue—you have to prove that it does by making a value case. This means quantifying the ROI in terms of a process being faster, safer, cheaper, or novel. And above all this, integration also needs to be seamless with previous workflows.
"The key element in all of our conversations, which is being missed in conversations throughout the drone industry, is how do you quantify, define, and improve ROI—return on investment," stated New. "That's the conversation that the industry itself needs to start having with potential industries and sectors—demonstrating and showcasing ROI. Return on investment is not just about saving money, it's also safety, innovation, and generating new revenue."
By making a convincing case for ROI, New is seeing companies change the way they think about their assets.
"This emerging tech has revolutionized airspace," explained New. "I have organizations asking me, 'How do I monetize this? How do I change the way I look at my airspace above my assets? Should I put solar panels all over my roof or should I put a drone landing infrastructure and offer it up to third-party drone operations?' With the increase in the use of drones, people are beginning to look at their real estate to see how they can increase the value of their assets. There is a lot of opportunity in this sector, not just delivering B2C, but B2B."
New sees B2B as a game changer for companies who need to move critical items from Point A to B to C within their campuses or even between different offices without having to plan around traffic. This has already been imagined with critical blood and organs by companies within the US like with UPS and Aquiline Drones, but this is just the beginning of how these B2B deliveries can be leveraged by companies to introduce efficiencies. And New is starting to see the light come on with his clients as they realize that drones are a disruptive technology.
"A lot of our conversations tend to be knowledge transfer," explained New. "A lot of corporate C-suite and government departments don't understand drones, and they make assumptions—all they see is pizza and burrito delivery. But if you can get them past those assumptions, they start to see drones as a force multiplier, a game changer, a point of difference in the marketplace and a functional tool of the 21st Century."
Beyond B2B delivery, which is still being developed and tested due to regulation requirements, there is a regulatory no-man's land with sub-2kilo drones. New sees this as an under-tapped drone class that he predicts will be at the leading edge of innovation for data collection and other workplace operations in the future, especially as sophisticated drone technology scales down.
Tapping into the Potential of Sub-2Kilo Drones in the Industrial Sector
The sub-2kilo class is unique because these smaller class of drones are usually less heavily regulated by most CAAs (civil aviation authority), including the United States and Australia. Because they are less regulated, they are also more accessible to everyday people in the workforce looking to streamline or improve processes within their worksite.
A few years ago, drones in this size class couldn't be equipped with the high-quality data capture required for most commercial applications—the tech was too heavy—but with the introduction of sophisticated, lightweight sensors, drones, like the DJI Mini Mavic, are starting to become a viable possibility for commercial applications.
"We believe that the everyday man and woman in the workforce will be potentially carrying a sub-2kilo drone on their hip pocket to be utilized in their daily activities," began New. "We think the more functionality we can plug onto those drones, such as VOIP, Bluetooth, mesh, and so on, will leave workers with quite a powerful tool. Although we don't work in hardware, we see the functionality of above two kilograms coming down into the sub-2kilo class. This deregulated part of the industry for sub-kilo drones has the potential to foster an industry. Bring your own device is a common practice in corporate Australia. This enables workers to bring their own mobile phone, laptop, or potentially even drones to activate innovations and efficiencies. A lot of corporations do not want to inhibit that because they'd be inhibiting innovation, which is a key KPI (key performance indicator) for a lot of corporations."
Although drone automation technology has evolved to the point that they can practically fly themselves (and sometimes do) the challenge, New went on to explain, is demonstrating Duty of Care without hindering innovation. With their host of resources and platforms, this is where The Institute for Drone Technology has been able to help clients establish, codify, track, and demonstrate Duty of Care without compromising innovation.
LAAMS Enables Clients to Demonstrate Duty of Care
Duty of Care in Australia is a legal concept that applies to almost any risk that could happen within a business or public space. To put it very simplistically, businesses have to demonstrate that they took reasonable precautions to avoid the risk of injury and other possible negative outcomes. If something were to happen and a business was unable to demonstrate Duty of Care, they could be held liable for the resulting damages. This could mean that regardless of any CASA regulation, businesses could be held liable for damages should any drone, no matter the size, cause an injury or damages on their property. Legislation like this is not unique to Australia, and most countries have something similar on the books. This is why it is important to provide systems that can protect clients from liability. In Australia, The Institute for Drone Technology LAAMS solution is providing clients with tools to demonstrate Duty of Care.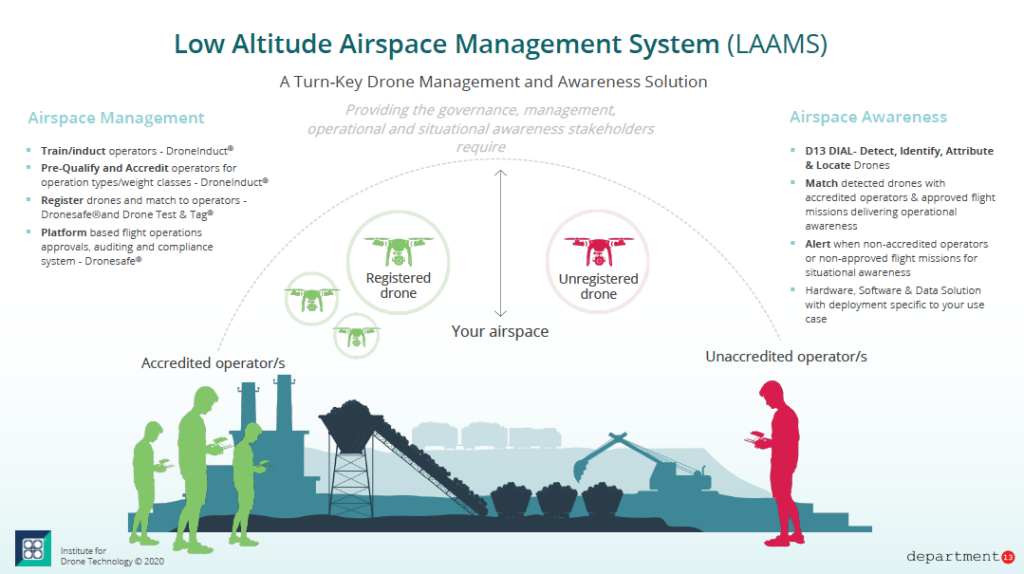 "With LAAMS, you can record and track everything within one system," explained New. "You're pre-qualified, you're trained, you're managing and monitoring your drone operations, and with LAAMS you can detect, track, and identify what is in your local airspace and determine whether it is a threat. By taking off some of the capability that counter drone systems have, mainly interdiction, we found that sweet spot in regard to airspace management. Airspace management is not just about governance, compliance, and protection, it's potentially about revenue opportunities—it's about knowing more about your space."
By integrating drone detection and tracking capabilities into their system, The Institute for Drone Technology and D13 are showcasing to the world how these technologies can be leveraged to keep everyday drone operations safe by giving them situational awareness—eyes in the sky. The success of this system trials could eventually influence how these types of solutions evolve globally.