During the Commercial UAV Expo Americas keynote presentation, Bala Ganesh, VP of the Advanced Technology Group at UPS, detailed what it has meant for UPS to go from imagination to commercialization with their package delivery service. Following the keynote remarks from NASA administrator James Bridenstine, Ganesh highlighted the company's efforts and achievements in drone delivery and transportation. He then elaborated on the challenges ahead while calling on stakeholders throughout the drone ecosystem to get involved in the effort to change expectations around transportation and delivery.
"I want to pose a question to the audience," began Ganesh, "What's the difference between a hallucination and a vision? A hallucination is when only one person sees the picture, but a vision is when other people start seeing that picture. The question is, how do we get an idea from hallucination to vision? We can't do this alone. We need an ecosystem of hardware and software providers in order to enable us to move into the future."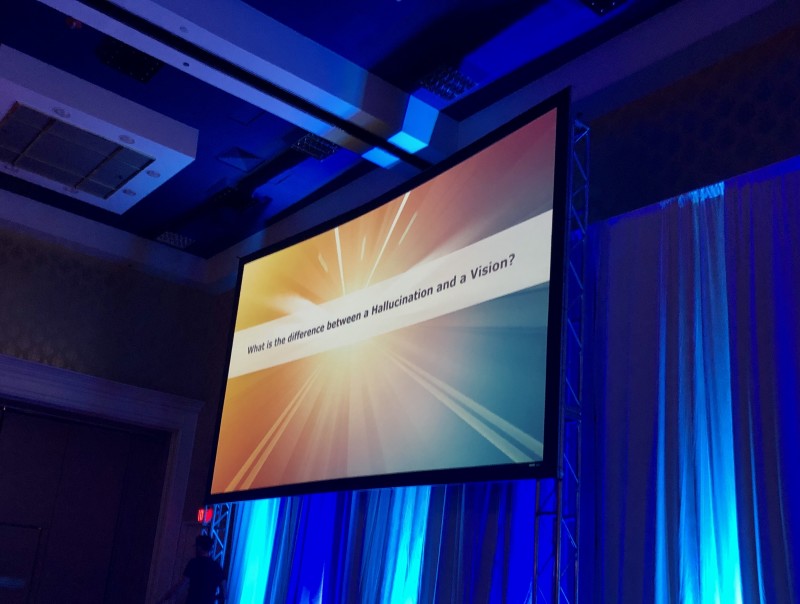 Ganesh went on to explain how this drive to transform a hallucination into a vision has been embedded within UPS' history from its inception in 1907 when they first began delivering packages on foot or via bicycle. By the 1920s, street cars and retail stores made shopping a part of the everyday experience, but people didn't want to carry their packages around. UPS solved this problem by offering same-day delivery service, which was made possible by another pioneering technology, the automobile. Their current investment in unmanned deliveries descends from this same commitment to creating a faster way to deliver packages by leveraging technology.
Today, they have made history by being the first company to receive the U.S. government's full Part 135 Standard certification to operate a drone airline, which made waves when it was announced this past September. Ganesh discussed how this development will allow UPS to expand its drone delivery service to better support critical delivery needs throughout the country such as on hospital campuses.
"It's been a historic month," Ganesh said. "Not only for UPS, but for the nation. We have a proud tradition of innovation, from Ford Model T's, to a modern fleet of large manned aircraft, to now a nascent fleet of unmanned small aircraft. We are always looking for ways to meet customer's needs because that's what really drives us."
He gave an example of what this may look like by showing a video demonstrating UPS' driver augmentation model, which uses automated, BVLOS drones to make rural deliveries. In the video, a drone takes off from the roof of a UPS truck with a package. While it heads to a rural destination, the driver of the truck continues to deliver packages on her route. When the drone completes its mission, it finds the truck and redocks. This kind of model has the potential to double the driver's delivery time and save on fuel consumption.
With UPS obtaining their Part 135 commercial airline certificate, they are now one step further toward making this type of scenario a reality. It has allowed them to work through the technical and legal challenges associated with this technology and has enabled them to define what it will mean to scale drone delivery in the U.S.
"This is just the first step in the journey, and we're building the ecosystem," Ganesh began while reflecting on the contributions from the drone industry that would be required to make the technology scalable. "With sense and avoid technology, new aircraft, the development of an operational control center, and flight beyond visual line of sight (BVLOS) at scale, all of these current challenges can be overcome. Then, drones can take a useful role in the delivery system. They'll be able to meet and define customer needs."
Throughout his speech, Ganesh emphasized that all of this effort is centered on customer needs and trends. The company wants to be a leading figure in the drone industry but knows this needs to be approached from the perspective of how and when their customers need to get their packages. This has been a key driving force for some of its more recent experiments with healthcare and humanitarian aid.
UPS' drone delivery efforts have gone through many steps of development, from humanitarian efforts in Africa to offshore deliveries in Massachusetts. The company is now the first in the market to offer revenue-generating flights on medical campuses. As part of the UAS Integration Pilot Program (IPP) in partnership with the North Carolina DOT, and powered by technology from Matternet, UPS has developed a robust delivery program on medical campuses and is already looking to scale their operations.
"The one or two hours it used to take to deliver blood samples from one building to another on the Wake Med medical campus in North Carolina is now down to 5 minutes!" he exclaimed on stage. "But after thousands of flights in the state, it's time to scale because these improvements can have a huge impact on people's lives. What about anti-venom? Being able to get the right anti-venom to someone who has been bitten by a snake quickly could be lifesaving."
As a result of the success of this project, UPS has now formed agreements with the University of Utah, Kaiser Permanente, and others to expand their lifesaving delivering capabilities. While these first revenue-generating flights are confined to campuses, they have also announced a partnership with CVS to take the program from the hospital to the home. Ganesh believes that UPS is only going to continue to expand these uses and applications.
While Ganesh emphasized the impact such developments will have across several industries and applications, he also made sure to mention that UAVs are not going to be a cure-all. Drones are rather part of a whole ecosystem of automated solutions that will eventually define the future of package delivery.
"We can basically make what we want our future to be," Ganesh said in parting. "It's up to us to figure out what we want that future to look like and then paint that vision/hallucination. Once we have that vision, we have to move it forward into implementation and commercialization by aligning present and future customer needs with the appropriate technology."
During his speech, Ganesh directly and indirectly highlighted how the package delivery industry is energetically pursuing the implementation of drones to improve efficiencies and increase the number of packages they can deliver. Some of these real-life applications are already being deployed to improve efficiencies and save time in life-saving applications, illustrating the reality of these operations rather than their assumed potential. His presentation was a breath of fresh air in an industry avidly awaiting the reality of BVLOS flights and the natural growth that these applications represent for various markets.