Commercial drone operators in the United States and other countries throughout the world are thinking about insurance in a much different way than they did in the past, as the stakes associated with not being properly insured continue to be raised. However, operators in the UK have always considered this topic in a much different way, since insurance for commercial drone operations is compulsory. This fact has created an entirely different market and need.
A variety of insurance options are available for commercial drone operators in the UK, but antiquated options that force operators to sign up for inflexible annual policies have created major issues for operators both in terms of wasted time and expense. It's the reason
Flock
is dedicated to making insurance as simple as ordering a ride on your phone. Flock's smartphone app, Flock Cover, allows users to pay for drone insurance only when they need it, with a customised policy for their flight. To get a better understanding around what makes Flock different, especially when it comes to their "Flight Risk Factor" that identifies and quantifies the risk of drone flights, we connected with Ed Leon Klinger, CEO of Flock. We talked to him about when and how he saw the need for this kind of insurance option, how the Flight Risk Factor is calculated, how insurance needs will impact the future of the drone industry and plenty more. 
Jeremiah Karpowicz: Tell us a little bit about the genesis of Flock. When and how did you recognise the need for this kind of service? 
Ed Leon Klinger: We began as an academic project at Imperial College, London. The founder of Flock was actually doing his thesis on drones and drone flight risk, and built the first version of the software that could quantify drone flight risk using real-time data. That was well received in the industry and in London.Simultaneously, I was doing similar studies at Cambridge. As part of my Master's thesis, I was speaking with drone industry professionals to understand what the needs of the industry were and how technology could help it thrive, especially from a regulatory context. We both hit on the critical need for quantified risk analytics in the industry, so we decided to partner up and build a product that would give commercial drone operators access to an intelligent, real-time insurance platform. It's something we were able to do by partnering with
Allianz
, the world's largest aviation insurance company. 
What kind of challenges have you seen operators in the UK run into when it comes to securing the kind of insurance they need? Are those issues more about policy or practice?
Insurance is always the last thing on people's minds, but that's especially true when you're talking about flying robots. That's part of the reason it had been left to large, slow-moving companies to produce these products. It's the reason the insurance sector is massively underserved, since insurance companies are 5-10 years behind drone companies in terms of the technology that they build. We recognised the need to apply space age technology to an antiquated industry. 
Insurance is compulsory in the UK, but that doesn't make securing it a simple proposition, does it?
No, and that's the main reason we adopted the mentality of making insurance as easy to secure as ordering an Uber. With the Flock Cover app, you can get insured in about ten seconds. That's something that we think is really important, and it lines up with the feedback we've gotten from our customers and our fan base for quite a long time. They've told us that the easier we can make insurance, the more likely they are to use it.In the UK, the CAA requires commercial operators to have insurance that is compliant with EU Regulation 785/2004. Flock's policies meet these regulatory requirements, whilst also giving pilots the flexibility to choose their liability limits (between 1-10M) depending on the job they are undertaking. On top of this, we also provide additional coverage, such as hull insurance, cover for claims caused by noise, and Invasion of Privacy costs. 
How is Flock different from some of the other insurance options that are out there? How much of that has to do with your customisable policies? 
Our "pay-as-you-fly" option is as powerful as it is customisable. We've veered away from the idea of annual policies and the enormous upfront costs associated with them. Flock's option is powered by Big-Data and risk analytics, which allows the operator to purchase a fairly priced policy on a per flight basis.At the point of booking insurance for their flight, operators can request £1-10 million of liability coverage by pushing a button. You can also request a one-hour, two hour, four hour or eight hour insurance policy. That's what we mean when we say we've made insurance as easy as ordering an Uber. 
What are the main risk factors you consider when calculating the "Flight Risk Factor" number that your app comes up with?
The risks that we consider fall into a few major buckets.We factor in environmental data, which considers where you're flying in terms of, for example, being very close to an airport or close to a school, or prison. Those elements, and others, will increase the risk of the flight. Flying in safe areas will result in a cheaper price. Weather conditions are also a factor, especially in terms of the drone you're using.We also take into account the specs and details of the drone itself, considering how heavy it is, how resilient it is to certain weather conditions it is flying in etc. For example, a drone that is particularly affected by high winds when conditions are windy would have a high risk factor.Additionally, we generate a risk profile for everyone who uses the software based on their flight history. More experienced pilots or ones who don't make many claims are rewarded with cheaper flights.Flock gives pilots a breakdown of the risks which are involved in generating that number, to the point they can see the probability of rainfall, high building density warnings, controlled airspace, etc. All of this is transparent to the user, so they can adjust their flight plans if it's something they want to do. We want to identify to users what risks they're taking, and how they can actually reduce those risks.
 That number seems like an important calculation and consideration for operators as well as for Flock.
Yes, and Flock uses this to help pilot's fly safer, minimise risk and ultimately reward safer flights. So pilots who are choosing to fly at the safest time of day, when wind speeds are low, visibility is good, in low-risk areas where there aren't huge buildings and thousands of people, etc. are going to pay less for their coverage.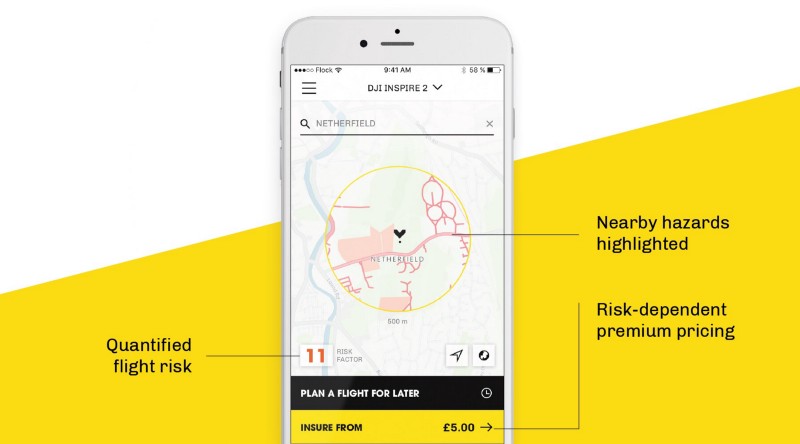 So if you see that number is especially high because of something like weather, you can wait until conditions are better, and then your number, and price, will go down, correct?
Yes, and that's really what we want to happen. Our goal is not to just charge everyone a high price for their insurance. Our goal is to help people minimise that price.It sounds counter-intuitive since we make money by selling policies, but we do actually want to help the industry grow and evolve into a zero-claims industry where no pilot ever has a crash because they're making good decisions and flying safely.It's one of the reasons we launched a new feature, which uses predictive risk analytics. Now, on the Flock Cover app, you can actually schedule a flight up to ten days in advance. We'll tell you the risk involved in that flight, on the spot. So if you're planning a flight when there's a particularly high risk, you can see how those conditions change over the next ten days, and you can choose the day that has the lowest risk factor. Using Flock, you can start optimising your flights based on the predictions that we make about what the risk will be at any given point. 
Are you seeing operators in other parts of the world express similar desires in terms of customising an insurance policy and gathering specific info about the risk associated with their flight? Does that impact your desire to offer this service beyond the UK?
We do see similar needs and desires on the part of operators all over Europe. We've had inbound interest from customers pretty much all over the world, and it's a need we're hoping to serve.We decided to launch in the UK because it's close to us and because we know this market well, but we're partnered with Allianz which is a truly global underwriter. They have activity in hundreds of countries around the world and we are working on an internationalisation strategy at the moment. So stay tuned. 
How do you see insurance needs and requirements impacting the future of the drone industry?  
The world is becoming increasingly complex, as technology is becoming autonomous. Insurance companies need to wise up to the fact that technology will not wait for them, and if they can't understand or quantify risk effectively and sell appropriate, sensibly insurance policies to match the risks that do and will exist, insurance companies will fail dramatically. That's why we're dedicated to bridging the gap between what insurance companies are capable of today and what the technologies and industries of tomorrow look like. 
What would you say to an operator who isn't sure if Flock Cover is right for their insurance needs or requirements?
That they should download our free app in the
App Store
or
Google Play
and see for themselves. They'll be able to see that it really is the easiest, quickest way to buy drone insurance.For someone who just wants to experiment with the safety tool, you can put the address of your last flight into the map and we'll show you how much it would have cost to insure yourself in that location, and you can just do the math.We want people to understand that insurance doesn't have to be seen as a burden or pain. You don't have to talk about or think about insurance in a negative way. It doesn't have to be associated with hours of phone calls explaining what it is you're doing, why you need to be insured, etc. It can and is so much easier.