Large enterprises and public safety entities have been able to utilize drones that are equipped with thermal cameras to showcase some incredibly impressive results. Numerous companies have quantified what kind of a difference this technology can make with inspections while firefighters and emergency crews using thermal cameras on drones have surveyed hundreds of acres to identify hot spots instead of sending firefighters into harm's way. A new product from FLIR is set to expand on such capabilities and open them up to a whole new set of users.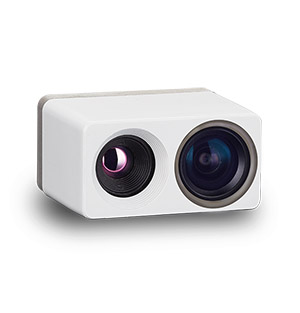 FLIR Hadron® is an all-new pre-integrated RGB/Thermal module designed for sUAS and robotics integration applications. The Hadron is around 43 grams, which is lighter than a golf ball. That means there's an incredible amount of power condensed into a small package. This kind of room on a drone means more payloads or longer missions, which is incredibly useful for anyone looking to create tools that can be an essential part of an enterprise drone program.
"The Hadron is perfect for manufacturers to implement into their own platform developments," said Randal Warnas, Global sUAS Segment Leader at FLIR. "It allows them to get to the market quickly and provides choice to those shopping airframes to know that the payload side is quality. The Hadron is meant for qualitative missions that are looking to identify anomalies in the scene but not necessarily to measure the exact temperature of those anomalies."
The Hadron was developed initially for the DIUx SRR program which encouraged domestic drone manufacturers to create off-the-shelf drones. To fit their specifications, FLIR created an EO/IR payload that was light enough to fit on a small class of airframe. Their idea was to enable a broadening of manufacturers with this capability without them each having to invest in the engineering and R&D individually.
That origin is directly correlated to the kind qualitative missions where the Hadron can create real value. What's also important to note is that the module is not a complete camera and requires integration work, but it's work that has already achieved impressive and quantifiable results.
"This is not a complete camera on its own. It combines two sensors on a board for easy integration, but it does not have onboard storage, gimbalization, or other features you might expect," Warnas told Commercial UAV News. "This is up to the manufacturer or integrator to navigate to best suit their platform and intended users. We have already worked with Teal Drone to integrate Hadron into their Golden Eagle airframe, and Vantage Robotics has developed a gimbal to support OEMs further."
FLIR has detailed what those integrations look like, but more importantly, they've detailed where and how it's making a difference. The high-quality EO and IR imaging of the Hadron has already been able to deliver the exacting performance specifications of the United States Army. Additionally, Vantage Robotics is set to explore new applications for first responders, wildlife management, and commercial inspections thanks to the Hadron.
The Hadron fits well into FLIR's lineup of sUAS technology that has further cemented the company's reputation as the world leader in thermal imaging infrared cameras. However, that placement also begs the question of what makes it especially distinct from these other pieces of hardware. The fact that the module is not a complete camera creates powerful customization opportunities, but what else about it should compel a close look from anyone that wants to fully assess their options when it comes to enabling thermal capabilities on a drone?
The Hadron sheds light on the future of innovation from FLIR and within the remote sensing space," Warnas said. "A product that integrates Hadron will have significant competitive value propositions. We can ensure the user a quality imaging experience in both the visible world as well as thermal, and we're sure the integrators will be differentiating their platforms to achieve successful missions across the variety of industries they serve."
To learn more about the Hadron, click here.