As an event that showcased air taxis and concepts like Mobility as a Service, Amsterdam Drone Week is an incredible place to explore new drone technologies and applications that will define the future of the airspace. Regulators from across Europe come together at the event to develop open, connected and automated airspace that will allow fly drones in urban and rural areas safely at scale.
However, many of these applications will be based on how the technology is being deployed today. During the Commercial UAV Sessions: UAS for Inspections: Energy, Utilities, Construction, Infrastructure & Transportation, those applications were highlighted as various presenters showcased how drones are making in a variety of commercial sectors.
Miriam McNabb from DroneLife moderated the panel that included Amit Ganjoo from ANRA Technologies, Michael Hartnack from Guidehouse (formerly Navigant Research) and Elisabeth Perez Garcia from everis. The three presented a variety of info and insight about commercial applications of drones across the world and then had a discussion that explored many of these insights.
Hartnack has written about how UAVs are bringing the next generation of energy infrastructure inspections with BVLOS flight, and he highlighted the impact of this development during his presentation. He talked through the work Xcel Energy has done to become the first U.S. utility to fly drones BVLOS for ongoing inspections.
He broke out the strengths, weakness, opportunities and threats associated with the technology in the energy sector. In energy, strengths associated with the adoption of drone technology include savings, speed and safety. Weaknesses are about costs, regulation and training. Opportunities with these applications will increase with updates to regulations while preventative maintenance in this space can make an incredible difference. The threats are mostly related to costs and updates to a given system or solution.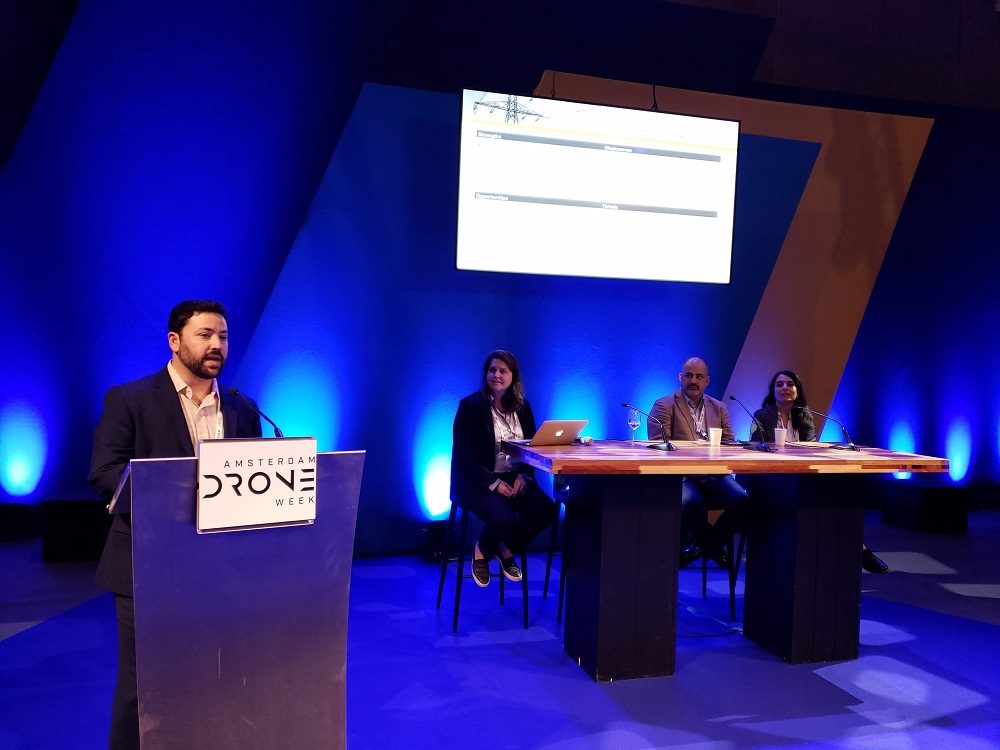 He mentioned that market drivers in the space include the need to address aging infrastructure as well as enable better operational safety for utilities. He also bottom-lined where and how companies are creating value.
"For inspection purposes, a drone is a flying camera, but the camera is only as valuable as the data it collects," Hartnack told the audience. "Data needs to be fed into a software platform, but you have to define what that process looks like in order to create value."
Ganjoo talked about the "crawl, walk, run," process that he utilizes with his clients to help them leverage drone technology. That process is all about figuring out what it means to effectively utilize a few or even a single drone at the "crawl" stage as part of the essential build up to the "run" phase when someone can deploy hundreds of drones.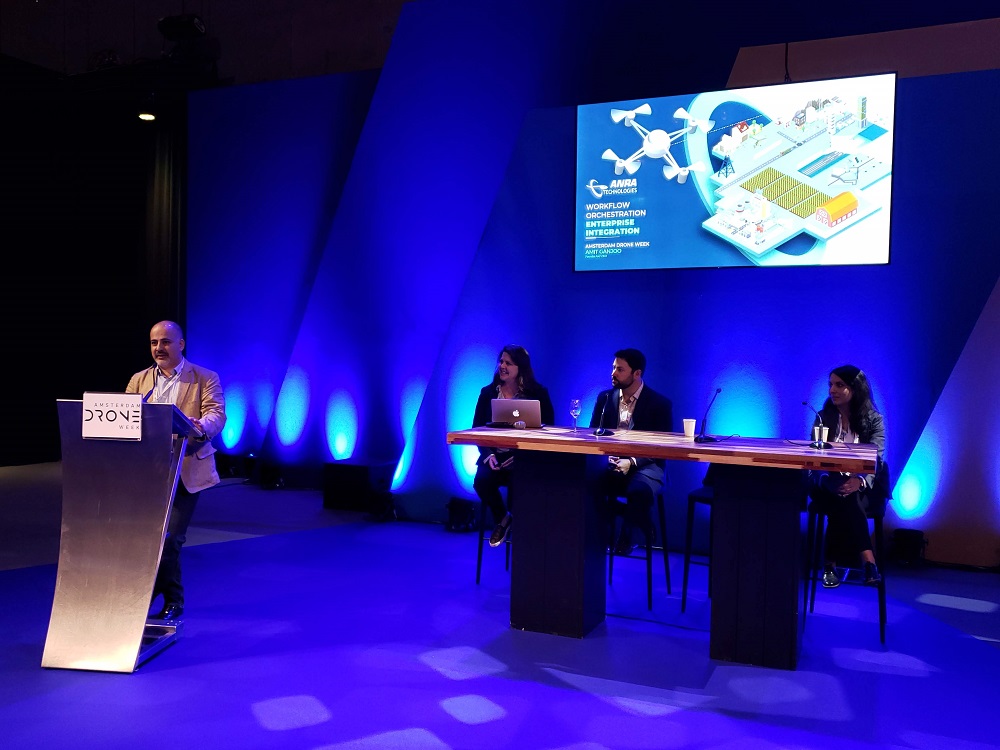 Once companies can experiment with the technology, then they can innovate with it and can transition to operationalization. He's seen a lot of interest from the energy sector and the inspection of critical infrastructure, but the operationalization process for each is all about determining not only what data needs to be captured, but how that can become actionable.
"When it comes to operationalization, utilizing a workflow management tool which includes plan assignments, autonomous executions, auto data collection, cloud-based data analysis and well as the ability to easily share and collaborate is essential," Ganjoo mentioned. "It's all about orchestrating the data to integrating into existing workflows, regardless of the software or hardware you're using. Analytics vary from industry to industry, so how does all of this data integrate? Until it's analyzed and made actionable it isn't worth anything."
Garcia focused on the solutions that everis makes available for aviation, security and defense. The company is an NTT DATA Company that offers business and strategic solutions, development and maintenance of technological applications and outsourcing services. Their capabilities include manufacturing, image processing, U-space management, payload integration, counter UAS and national/international missions.
In the energy sector, everis works with companies to differentiate themselves in an increasingly competitive industry. They consider factors such as changing oil prices, new EU regulation and the ongoing technological innovation, all of which can impact operational efficiency.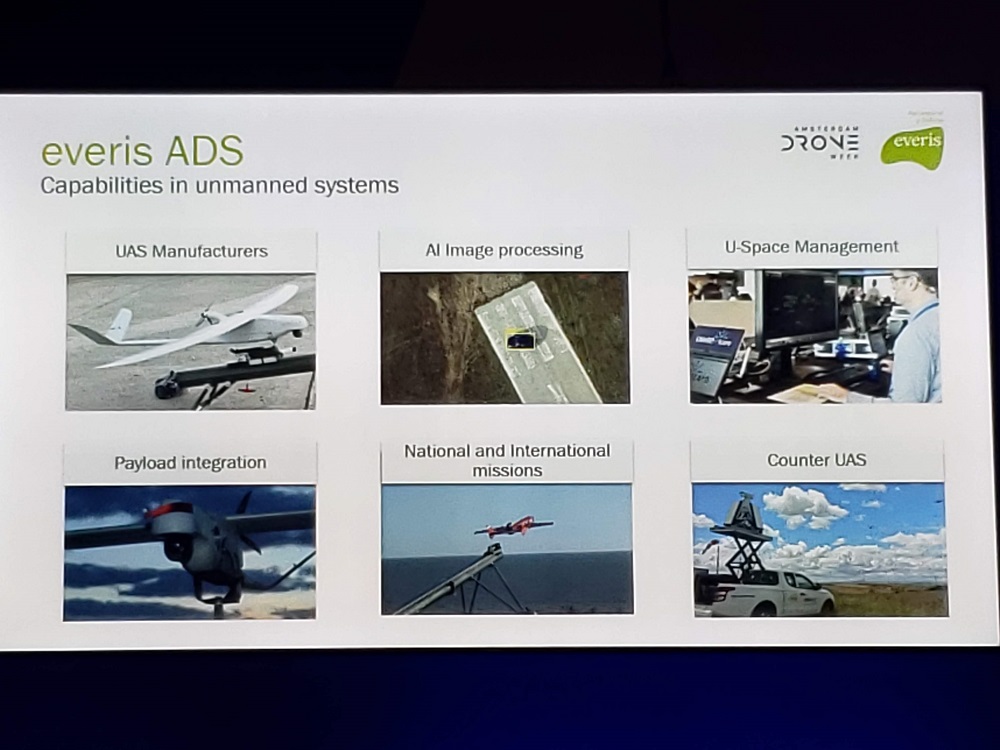 "Our commercial solutions are all about the interconnection between regulations, technical logistics and sector alignment," Perez said. "In the energy sector, we support our customers in the development of disruptive and quality products that allow them to react to market changes quickly and improve operational efficiency."
After the individual presentations, the participants got together for a discussion led by McNabb that further explored many of the topics that were laid out during the presentation, along with a handful of questions from the audience. Some of the more salient points during the discussion focused on the biggest technology challenges that users face along with how to quantify the value of adoption when it comes to speed, safety and savings.
When it comes to utilizing drones for inspection purposes, many end users are seeing use of this technology as a 'no-brainer', but it was illuminating to explore exactly how and why some have come to that determination and to better understand how others can do the same.