Amsterdam Drone Week
provided attendees with an incredible look at how drone technology is going to be integrated into the everyday lives of people from across the globe.
Pop.Up Next
, which combines the flexibility of a small two-seater ground vehicle with the freedom and speed of a VTOL air vehicle, was on display at the event to provide literal proof of what this integration could look like.
MaaS (Mobility as a Service) has emerged as a key concept of this interconnected urban environment, since it is designed to bring together all current and future means of travel, including vehicles like Pop.Up Next. Exactly what that will mean to potential passengers and cities as a whole was discussed in detail during the "Building a MaaS" session at Amsterdam Drone Week.Moderated by Patrick van der Pij from Business Model Inc., the session featured experts from Bell and Airbus who detailed what it will mean to embed this new concept of mobility into society at large. Since MaaS needs to be built around travel like personal drones or air-taxis feeling as natural as taking a bus or getting onto an airplane, what this integration will look and feel like is especially critical. Success in this area will depend on being able to strike the right balance between technology and issues like familiarity and ease-of-use.Successful Integration is also going to depend on the public acceptance of new ways to travel, and that
acceptance has to be built on safety
. The same expectations around safety that have been built into traveling on a bike or on a bus need to be built into these new means of travel, even though they'll have to prove to be far safer than those traditional options. Public acceptance is also going to depend on transparency when it comes to what vehicles in a MaaS ecosystem are and aren't doing, making sure these new means of travel aren't too noisy, and making it affordable.Of course, much of the focus at the session was around future concepts like air-taxis, but
Airbus Voom
exists right now in numerous cities across the world. The personal helicopter service allows travelers to quickly and easily take a helicopter from one location to another and is already changing expectations around the affordability and accessibility of personal air travel that is built into MaaS. It's just the beginning of what it will mean to change expectations around mobility, which will, in turn, change the kinds of options people have around where they live, where they can go, and how they can get there.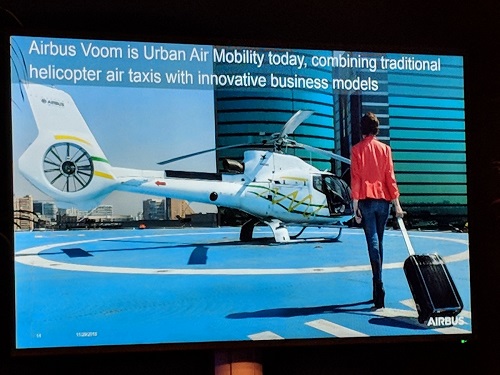 MaaS is closer than we think, and the timetable around it seems to get shorter by the day. The panelists mentioned that in 2013 there was talk about air-taxis not being a reality until 2075. In 2015, that timetable was bumped up to 2050. In 2018, air-taxi vehicles and services are being actively tested across the world, and the panelists predicted that air-taxi services would be readily available across the world by the middle of the next decade.The exact timing around when and how the interconnected MaaS environment will come together continues to fluctuate, but one thing everyone can agree on is that it's going to do so sooner than anyone realizes.