Drone delivery leader Zipline has announced the introduction of its new Platform 2 (P2) that will enable "quiet, fast and precise autonomous delivery directly to homes in cities and suburbs." The California-based company said the technology can deliver packages up to seven times as fast as automobile delivery. Plus, Zipline claimed, the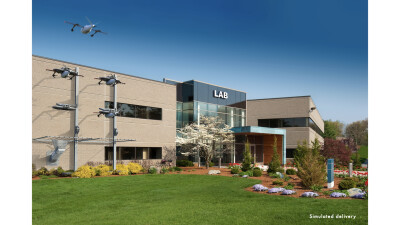 platform is more accurate than other delivery methods and "practically silent" in operation.
In a statement, Zipline co-founder and CEO Keller Rinaudo Cliffton said of the P2, "We have built the closest thing to teleportation ever created—a smooth, ultrafast, convenient, and truly magical autonomous logistics system that serves all people equally, wherever they are."
Advances in Hardware, Software, and Design
Technology advances found in the P2 include dual-use docking and charging hardware, software that works with third-party inventory management and ordering systems, an app that allows faster order tracking, and a proven autonomy system.
Moreover, the company stated, improvements in aircraft and propeller design will allow Zipline's drones (known as "Zips") to fly more than 300 feet above the ground and operate in near silence. The company explained that "(W)hen the Zip arrives at its destination, it hovers safely and quietly at that altitude, while its fully autonomous delivery droid maneuvers down a tether, steers to the correct location, and gently drops off its package to areas as small as a patio table or the front steps of a home."
A History of Delivery Success
The P2 builds on work that Zipline has been doing since 2016, when it partnered with the Rwandan government to create the first national drone delivery system in the world. The success of that program, which distributed blood to health centers in remote areas, led to expansion to Tanzania in 2018. As reported by Commercial UAV News, Tanzania deployed Zipline technology "to make on-demand drone delivery of blood transfusion supplies, emergency vaccines, HIV medications, anti-malarials and critical medical supplies like sutures and IV tubes."
Since that time, Zipline has gained customers in Rwanda, Ghana, the US, Nigeria, Japan, Kenya, and Côte D'Ivoire. The company reports that, to date, its drones have flown "40 million autonomous commercial miles, delivered almost 5 million products (including more than 8 million vaccine doses)."
Positioned to Compete in the Expanding Drone Delivery Market
Given its history of delivery success and the capabilities of the P2 platform, Zipline is positioned to be competitive in the increasingly expanding drone delivery market. The past year has seen tremendous growth in the drone delivery space, with Amazon launching its Prime Air package delivery service in California, Walmart expanding its drone delivery program, Wing's collaboration with DoorDash, and more. Despite the many logistical and regulatory hurdles associated with creating and growing a drone delivery program, companies like Zipline are moving forward, facing the competition, and meeting increasing customer demand.
For example, on announcing the new platform, Zipline stated that several companies have already signed on to use the P2. The restaurant group Sweetgreen will use the system for food ordering and delivery. Healthcare organizations Michigan Medical, Intermountain Health, and MultiCare Health System plan to use the P2 to fill prescriptions, expedite diagnostics, and deliver medical devices. In addition, the Government of Rwanda—Zipline's first customer—said that it will use the delivery platform "to enable urban aerial last-mile delivery to homes, hotels and health facilities."
Zipline said that customer deployment of the P2 is expected to begin after a testing period, which will involve "high-volume flight tests this year involving more than 10,000 test flights using about 100 aircraft."