Over the past two years I've been closely following the advancements on a particular segment of the UAV industry: delivery drones. Why? Because I'm convinced it will be the largest sector in terms of number of units and flights.
So far my focus has been
commercial deliveries
and the individual initiatives of behemoths such as FEDEX, UPS and Amazon and their feverish race to optimize the last mile on their delivery supply chain and overcome the BVLOS regulation obstacle. But there's another side to the issue of delivering packages, a more humane and urgent one: delivering life-saving supplies to areas that otherwise would require days to reach.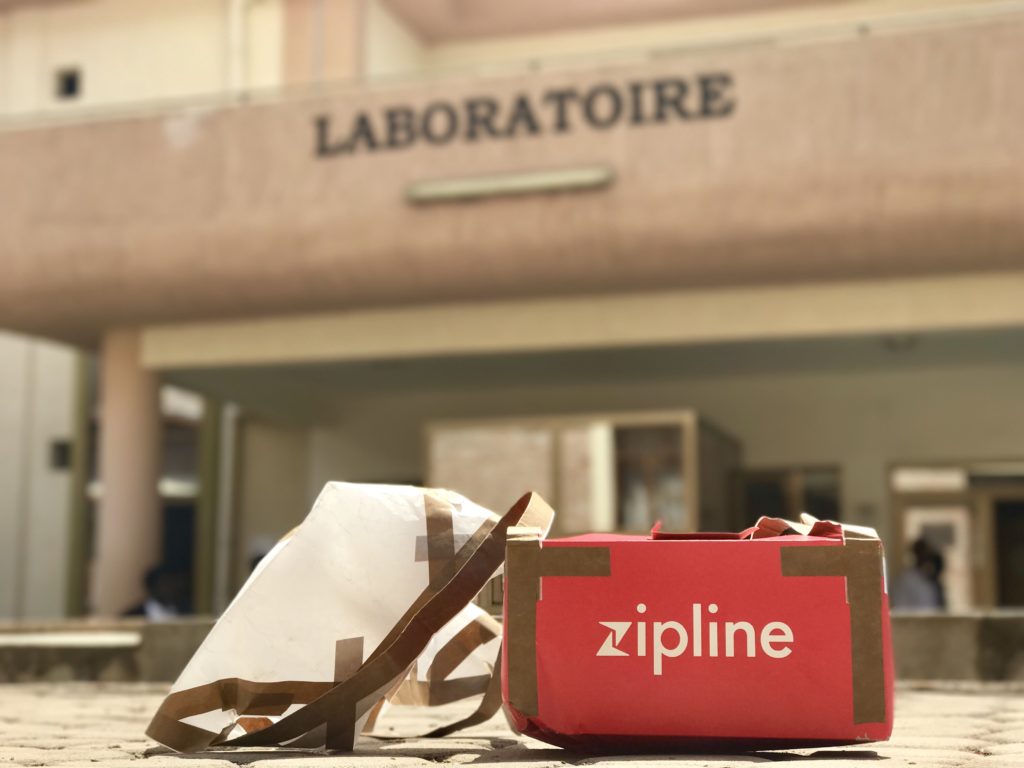 Zipline
, a company based in California, designs and operates autonomous delivery systems for lifesaving medicine to the world's hardest to reach places. Zipline is staffed by seasoned aerospace veterans with backgrounds from a variety of leading edge innovators such as SpaceX, NASA, Boeing and Google.The company has designed and currently manufactures a delivery drone with twin electric engines, which can deliver a 1.5 Kg (3.3 lbs) package within a range of 75 kms (40 nm) in less than 30 minutes at a speed of 110 km/h (60 m/h). The solution is not simply a drone but a comprehensive lifesaving distribution center capable of 500 daily deliveries, 24/7, under almost any weather conditions and with an average fulfillment time of 30 minutes. Orders are placed by medical professionals via text and packages are prepared for flight in these distribution centers maintaining cold-chain product integrity and delivered using a revolutionary parachute system to an area with a footprint of just two parking spaces. In other words, the small UAV never lands or recharge at the delivery site, avoiding the need for infrastructure or trained personnel at the destination.To begin service in an area where a distribution center would be deployed, a survey flight is performed to map the surrounding area in order to create the necessary topographic background to ensure reliable and up-to-date flying conditions. Within two days the system is fully operational and deliveries can be made."Millions of people across the world die each year because they can't get the medicine they need when they need it," said Zipline CEO Keller Rinaudo. "It's a problem in both developed and developing countries. But it's a problem we can help solve with on-demand drone delivery. And African nations are showing the world how it's done."Zipline has been operating in Rwanda for some time and on August 24
th
they announced the deployment of their service in a second country, Tanzania. The first distribution center, located in Dodoma, the country's capital, will begin its first flights in the first quarter of 2018.Tanzania will use Zipline technology to make on-demand drone delivery of blood transfusion supplies, emergency vaccines, HIV medications, anti-malarials and critical medical supplies like sutures and IV tubes. Working in conjunction with the Tanzanian Ministry of Health and the country's Medical Stores Department (MSD), Zipline will establish four distribution centers across the country.Zipline's long-term mission is "To build instant delivery for the planet, allowing medicines and other products to be delivered on-demand and at low cost without using a drop of gasoline."With support from a very impressive list of investors such as Sequoia Capital, Google Ventures, SV Angel, Subtraction Capital, Yahoo founder Jerry Yang, Microsoft co-founder Paul Allen, and Stanford University, the future looks bright for Zipline and its life-saving efforts.