Focused on enabling smart wireless battery charging for drones to land and charge autonomously, WiBotic recently introduced several new chargers and transmitters for drones and autonomous mobile robots that operate in all sorts of environments, even under the harshest conditions. The new products are the OC-262 and OC-150 onboard chargers, as well as the TR-150 and TR-300 transmitters.
As a passively cooled onboard charger developed as a ruggedized system for the Department of Defense, the OC-262 offers considerable benefits to customers operating in the oil and gas, mining, construction, marine exploration, and agriculture industries. Providing up to 300W of power, the OC-262 has no moving parts, supports all common robot battery chemistries, and pairs with a weatherproof receiver antenna for a complete outdoor solution. It is available in two models: the ST model with IP20 rating for applications that require passive cooling but can be more open to the environment; and the WP model with IP67 rating for use in outdoor or extreme environments.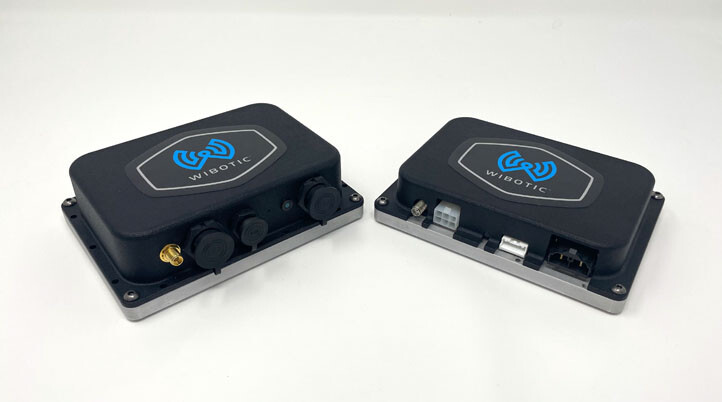 Primarily designed for UAVs and smaller robots, the OC-150 is a compact and lightweight onboard charger that delivers up to 150W of total power and up to 10A of current depending upon battery voltage. As with other OCs, it supports multiple battery chemistries and has an output voltage range of 9V to 58.5V.
Both the TR-150 and TR-300 are compact transmitters taking advantage of GaN Systems' latest gallium nitride (GaN) technology for maximum efficiency. While it supports all WiBotic OCs when deployed in diverse robot fleets, the TR-150 is designed primarily for use with the new OC-150 onboard, delivering up to 150W of power. On the other hand, the TR-300 offers the same core benefits as the TR-150 but delivers up to 300W of power when paired with WiBotic's OC-262 or OC-301 onboard chargers.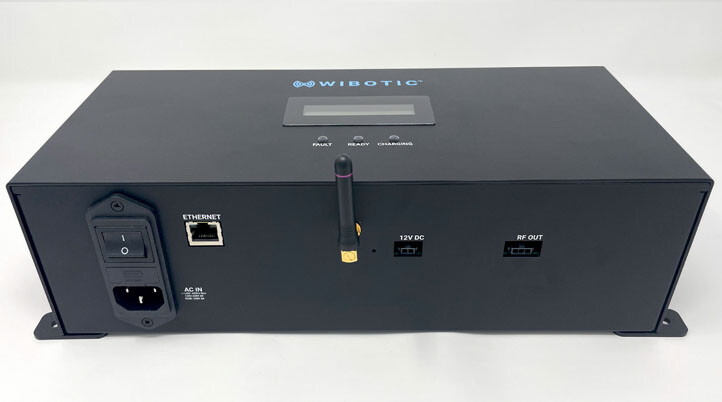 During 2021's AUVSI Xponential show in Atlanta, GA, the company demonstrated how its lightweight onboard charger can now track and report on individual battery charge cycles, termination voltage, charge rate (amps), and other critical factors that determine how a battery will perform day-to-day when used together with the new Commander Fleet Energy Management software. The software analyzes battery performance over time and predicts failures, before they happen, to avoid expensive downtime costs. Furthermore, it also enables personalized charging notifications and benchmarks battery performance across different chemistries and vendors for more informed decisions over time.
"When it comes to power delivery for autonomous drones and mobile robots, it's crucial to innovate with new technologies such as GaN to maximize efficiency," said Ben Waters, CEO at WiBotic. "These new products not only push that technical envelope but are also designed to survive in the most extreme operational conditions. And when used together with WiBotic software, they now let operators track and optimize the performance of individual batteries within large and diverse collections - whether charging is performed manually or fully autonomously."
It's important to note that Wibotic's technology isn't present on Earth only. Last year, the company was selected by NASA to develop rapid charging systems and energy monitoring base stations for lunar robots, including the CubeRover – a shoebox-sized robot designed by Astrobotic – that will operate autonomously and charge wirelessly on the Moon. To understand how WiBotic's technology can and is making a difference, what the new products have to offer, and what the future holds for the company, Commercial UAV News connected with Matt Carlson, VP of business development, WiBotic.
What are the advantages of wireless charging and where do you see the industry going in the next couple of years in terms of using the technology?
Key advantages are:
Reliability: There are no physical contact points to break or wear out over time, especially in high-volume operations where charging occurs several times per day.
Flexibility in positioning: Robots can more reliably dock and receive a charge with wireless charging, since they have approximately 5cm of side-to-side and longitudinal range. As long as the robot gets close to the charging station – it gets charged!
Universality: WiBotic wireless systems can be programmed for any battery type and voltage. The transmitter/docking stations can host any type of robot, making them perfect as a charging infrastructure for mixed fleets of robots. The is no need to take up space with multiple proprietary charging stations from different robot vendors.
WiBotic also provides a complete suite of software for monitoring and managing the charging process to optimize energy use and battery longevity. Most battery chargers are not intelligent and simply charge at one voltage and maximum current. This is not good for batteries long term. Our system allows adjustments in voltage and current over time, based upon the robot's duty cycle to ensure it has the power it needs when it needs it – while also maximizing battery lifespan.
There are different types of wireless power transfer solutions. Which one is used in your products and why?
WiBotic uses a system that is primarily based on magnetic resonance. This provides us with a much greater charging range than purely inductive systems – making it easier for robots to get a full-power charge by simply getting close to a charging station. Magnetic resonant systems are also safer since they do not heat up foreign objects that may come between the charging antennas the way inductive charging systems can.
What significant changes, if any, the introduction of passively cooled chargers brings to WiBotic's lineup of wireless power solutions?
Passive cooling allows us to fully seal the onboard charger component to provide IP67 rated solutions. This is very important for outdoor robots or those that operate in difficult conditions. Because passive cooling also eliminates the need for fans, there are no moving parts in our new OCs that wear out over time, and the OCs operate completely silently. Our actively/fan-cooled products are still excellent for most indoor robot uses, but the passively cooled models expand our market to include more types of robots and applications.
Is the new passively cooled onboard charger OC-150, designed for smaller robots, going to replace the OC-110 Onboard Charger used in your lightest solution for drones, or is the passively cooled onboard charger only going to be used for specific situations?
To be clear, the new OC-150 is an actively cooled unit, which allows it to be as lightweight as possible. It will be used by drones of all sizes and some smaller mobile robots. The new OC-262 is our passively cooled OC. Passive cooling requires the addition of a heat sink, though, which is a piece of aluminum or other metal that dissipates the heat directly to the surrounding air or an attached metal chassis. For that reason, the passively cooled models are slightly heavier than fan cooled models. But the OC-262 is still an excellent choice for medium-large-sized drones – especially those with high IP ratings themselves.
How does it feel to have been selected by NASA to deliver wireless charging capabilities to the next generation of lunar vehicles?
It was an amazing honor. NASA chose WiBotic as a part of the Astrobotic team to develop those solutions because they knew we had a great deal of experience and success with other types of robots. The lunar environment is very challenging, but it's exciting to develop new solutions for those extreme conditions. The resulting products will provide even more capabilities for challenging earth-bound applications as well.
Has your previous experience working for the military – and now reflected on the new products announced, as the OC-262 onboard charger -, contributed to being chosen by NASA? How excited is WiBotic by playing a role in space exploration and having its products sent to the Moon?
Yes, our work to improve the reliability and survivability of our products on various DoD projects was no doubt a key factor in NASA's decision. The new passively cooled OC-262 was developed initially for outdoor robots that could be directly exposed to rain, dirt, sand, corrosion, and a whole host of other environmental factors – and that even needed to drive through puddles where key electronics could be temporarily submerged. So, finding a way to completely seal our electronics was important then, and will be extremely important on the lunar surface where very fine regolith particles can infiltrate and damage electrical connection points. The lunar surface experiences far more extreme temperatures than anywhere on earth, so our new challenge is to expand the operating temperature range of our products to address those conditions. Finally, it's difficult for astronauts to make wired connections in space due to the bulky nature of their spacesuits and gloves. Providing the ability to charge devices simply by setting them next to a transmitter, or by having a robot autonomously navigate to a charging station, lets those astronauts focus on science and exploration – the real reason we're all so excited to go back to the moon!
And in addition to working with mobile robots on the moon, our technology would be perfect for recharging vehicles like the Ingenuity UAV that recently flew on Mars. With a reliable recharging system powered by a larger solar array, Ingenuity-type aircraft could fly repetitive missions to further explore Mars or other distant worlds.